The WP Affiliate Platform plugin can be integrated with the Contact Form 7 plugin to setup a Pay Per Lead affiliate model (the affiliate who refers a visitor gets a commission when the visitor submits a form).
Contact Form 7 Pay Per Lead Integration Steps
Step 1. Enable the Feature
Go to the "Integration Related" settings tab of the main affiliate plugin's settings interface. Then check the "Enable Contact Form 7 Pay Per Lead" option and save the settings.
Step 2. Configure the Additional Settings of Contact Form 7
Do the following:
Edit the contact form 7 form in question (the form where you want to use pay per lead feature).
Go to the "Additional Settings" tab of this form.
Enter the following in there. Replace "XX" with the commission amount that you want to pay for each lead (example value: 25).
wpap-ppl-commission: XX

It should look something like the following screenshot: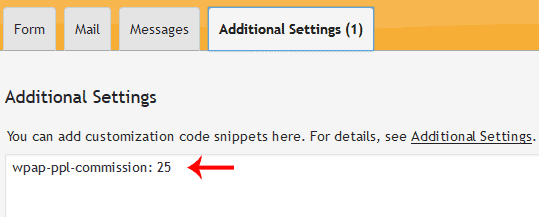 In the above example, when a user submits this contact form, the affiliate (who sent the lead) will be reward with $25.