Watch the following video for a good overview of the admin dashboard area of the affiliate platform plugin:

After you activate the WordPress Affiliate Platform plugin, the settings/options menu can be found on the left hand side menu similar to the following screenshot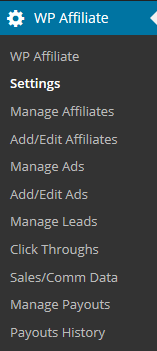 Short Description of Each Menu Item
In this section I have added a short description of all the menu items. I have also included some screenshots where I think it adds value.
WP Affiliate Dashboard
The WP Affiliate screen shows a summary stats.
Settings Menu
The Settings menu allows you to set various general settings of this plugin. This menu has 6 tabs in it (there are lots of settings options).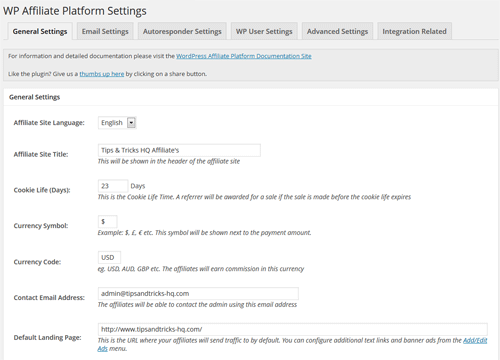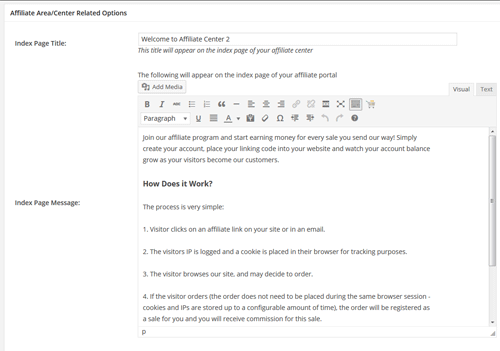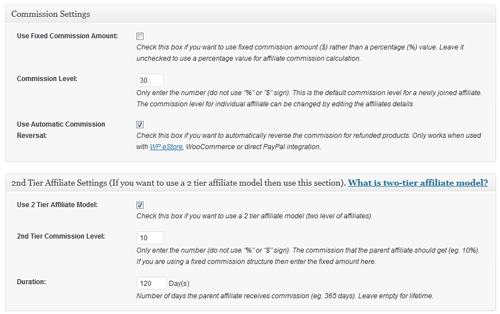 Manage Affiliates Menu
The Manage Affiliates screen allows you to manage your existing affiliates.
Add/Edit Affiliates Menu
The Add/Edit Affiliate menu allows you to add a new affiliate account manually or edit/delete an existing one.
Manage Ads Menu
Manage Ads menu lists all the existing affiliate banners/link ads you have configured.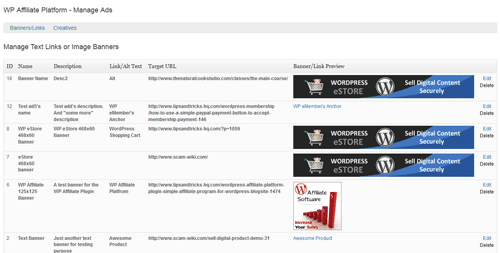 Add/Edit Ads Menu
The Add/Edit Ads menu allows you to add a new banner/link or update and existing one so the affiliates can use them to direct traffic. You can configure/create new creatives via this interface too.
Click Throughs Menu
The Click Throughs screen lets you see all the traffic your affiliates are sending to your site.
Sales Data Menu
The Sales Data screen lets you see all the completed sales that you got from the referrals of your affiliates.
Mange Payouts Menu
The Manage Payouts menu is used to manage affiliate commission/payments. You can generate the payout report based on how you want to pay your affiliates.
Payouts History Menu
The Payouts history menu allows you to see all the payouts you made to your affiliates. You can also see all payouts you made to an individual affiliate from the "Individual Affiliate Payouts" tab.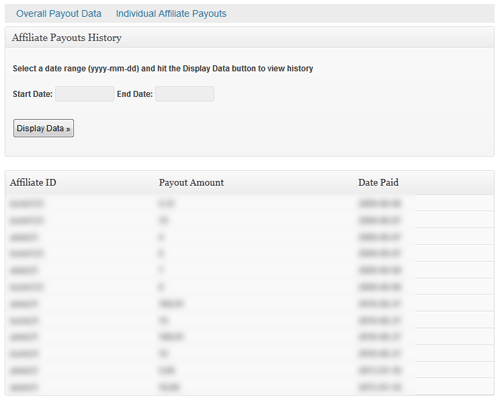 Manage Leads Menu
The Manage Leads menu lets you see all the leads you captured and award commission when necessary. You can add leads manually and view the leads by referrer too.
Feel free to leave a comment if you want to see more screenshots.