The WP Affiliate Platform plugin can be easily integrated with Madmimi Email Marketing solution. You can use this integration to add affiliates to your Madmimi email list when someone registers for an affiliate account.
Installing the Addon
You can install this addon the same way you install any WordPress plugin.
Using the Madmimi Integration Addon
Step 1) Go to the "Madmimi Settings" interface from the main affiliate plugin menu.
Step 2) Enter your Madmimi account details and the list name (where affiliates will be added to):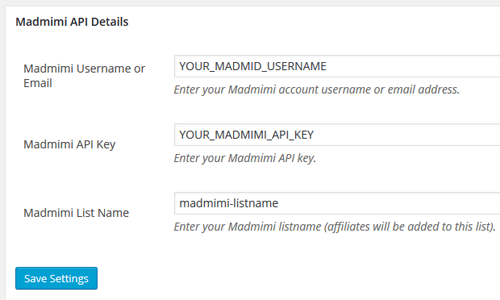 Step 3) Save the settings.
Now, when users register for an affiliate account, this addon will add that affiliate to your Madmimi list.
Download Madmimi Integration Addon
Click here to download this addon.