1. The first thing you should be doing after you install the plugin following the installation instruction is updating the settings page with your desired settings. The general settings screen look similar to the following (it will have a lot more options but you get the idea):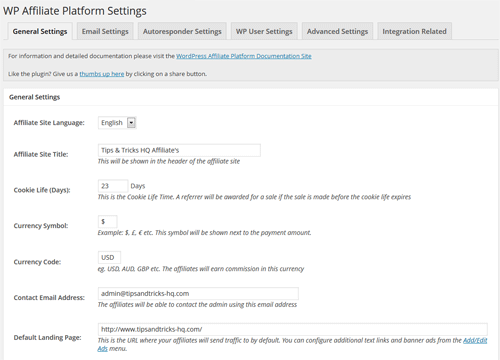 All the options are pretty self explanatory so you won't have any problem filling them up. Make sure to browse all the settings tab and save the desired settings.
2. The next thing you need to do is setup the dashboard area for your affiliates. The Setting Up the Affiliate View/Area post covers this topic in detail.
3. Now that you have the affiliate area all setup you can start to configure some banners, links or creative for the affiliates to use. The banners, links, creative can be configured from the 'Add/Edit Ads' Menu. The How to Create Banners for Affiliates to Use page has instructions on how to create a product ad so that your affiliates can use that to send potential clients.
4. Finally, you need to make sure that the ecommerce plugin you are using notifies the WP Affiliate Platform when a sale is made. If you are using the WP eStore plugin then you don't need to worry about anything as the WP eStore (v2.1 and above) plugin is pre-configured to work with this plugin. If you are using some other ecommerce plugin to sell your products/services then you need to check the "Integration" section from the documentation index page to find a suitable solution.