When your customers checkout using the standard PayPal checkout option in eStore, PayPal figures out (using a cookie) if the user has PayPal account or not. Then it presents the checkout option (Paypal account or Credit card) accordingly. The customers can always switch between the checkout options from this page and make the payment.
If you want to force the credit card checkout option to be the default option, then use this addon plugin on your site. When the customers land on the PayPal checkout page, the credit card payment option will be open by default.
Note: You need to have a PayPal business or premiere account to accept credit card from your customers.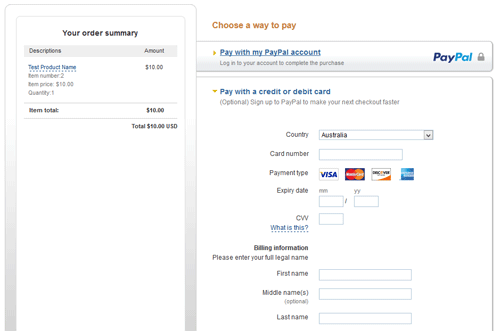 Installing the Addon
You can install this addon the same way you install any WordPress plugin:
Go to the "Add New" plugins screen in your WordPress admin area
Click the "upload" tab
Browse for the addon file (estore-card-default-paypal-checkout-option.zip)
Click "Install Now" and then activate the plugin
Using the Addon
You just have to keep this addon active.
Download the Addon
You can download this addon from the addon download area of our customer only support forum.