In this tutorial I will explain how you can charge a "Pay What You Want Price" to sell your products.
There is an option in the eStore that allows you to make products where customers can choose what they want to pay you for a product.
How to Setup the "Pay What You Want" Feature
Step 1:Â Create a product as you would normally do.
Step 2:Â Specify the minimum amount you want your customers to pay in the "Price" field for this product. Example: $5.00
Step 3:Â In the product settings under "Additional Product Details" section, check the following option:

Now, when you put the "Add to Cart" button on the page for this product, it will have an option to enter a custom price field next to the button. This will allow the customer to specify how much they want to pay for this product. Example Below: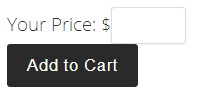 Using Pay What You Want Price with a Display Template
If you want to use a fancy display template with this feature, it will look like the following:
Customer Specifies a Price Demo
This is a test description. This description is here to show how the description of this product looks like.