If you want to set up your website with PayPal Payments Pro to accept recurring payments please follow these steps:
Step 1: Read our PayPal Payments Pro Setup Guide and configure everything according to the instructions.
Step 2: Login to your PayPal account and follow these instructions to set up your ipn (Instant Payment Notification) listener:
Click Profile on the My Account tab
Click Instant Payment Notification Preferences in the Selling Preferences column
Click Choose IPN Settings to specify your listener's URL and activate the listener
The following screen appears: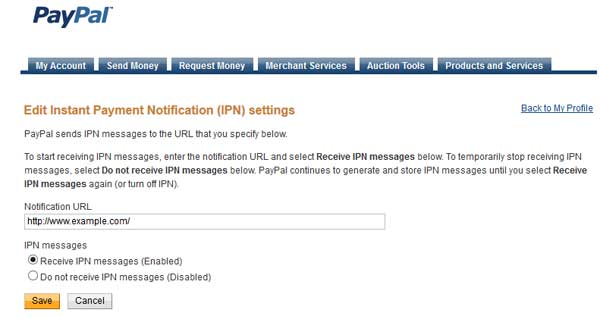 Specify the URL of your website in the Notification URL field
Click Receive IPN messages (Enabled) to enable your listener
Click Save
Step 3: Embed the following shortcode on a post/page to create a subscription button:
[wp_pg_eStore_subscription_button id="1" gateway="pppro_subsc"]
Make sure to replace the value of id with your eStore product id.
Now your website is ready to accept recurring payments (subscription) using PayPal Payments Pro gateway.