Want to keep your buyers up to speed on your newest products or specials? This guide will help you use MailChimp for WP Shopping Cart to automatically add customers to a mailing list when they purchase your products.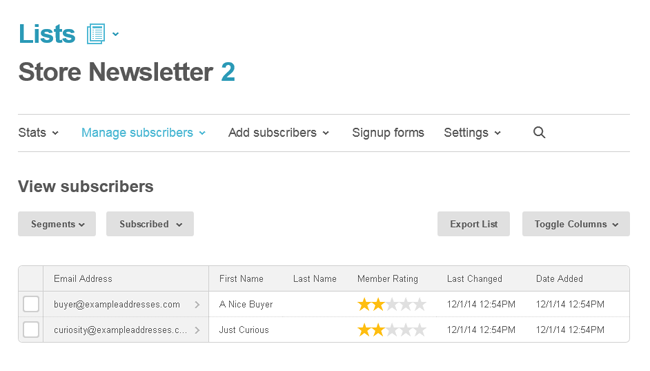 Installing the Addon
You can install this addon the same way you install any WordPress plugin:
Go to the Add New plugins screen in your WordPress admin area
Click the upload tab
Browse for the addon file (simple-cart-mailchimp-integration.zip)
Click Install Now and then activate the plugin
Setup and Configuration
Step 1) Create your list on MailChimp
To use the addon, you'll need to have a MailChimp account, so create one now if you don't already have one. Once you have signed into your MailChimp account, you can select Lists from the menu to create a new mailing list, or choose from lists you've created previously.
Step 2) Find and add your List Name
In your MailChimp account, open your list and select List Name & Defaults from the Settings menu. Copy the List Name displayed here to your clipboard.
Step 3) Enter the Mailchimp List Name in the Addon Settings
Now open MailChimp Addon Settings from the admin dashboard of your WordPress site, and paste the List Name you just copied into the List Name field.
Step 4) Create and add your API Key
In your MailChimp account, open your account/user page and get the API Key. Copy the long string of numbers and letters from the API Key field to your clipboard.

In MailChimp Addon Settings, paste the text you just copied into the API Key field.
Step 5) Additional settings
Finally, determine if you need to change any of the additional settings. The default options work fine out-of-the-box.
Now, when you get an order via the simple shopping cart plugin, that customer will get added to your mailchimp list.
Get the Simple Cart MailChimp Addon
The price of this addon is $29