The auto downgrade membership account addon lets you automatically downgrade any of your expired or inactive premium member's account to a free level. This lets your premium members who cancelled the payment to still be able to log into your site and browse content for a Dummy/Free membership level.
Installing the AddOn
Upload the "emember-downgrade-account.zip" file via the WordPress's plugin uploader interface (Plugins -> Add New -> Upload)
Activate the plugin through the "Plugins" menu in WordPress.
Addon Usage
Go to the settings menu of the addon and configure your preferences (See screenshot below).
You can create a new membership level to handle this. A membership level that doesn't have access to any premium content will do the job.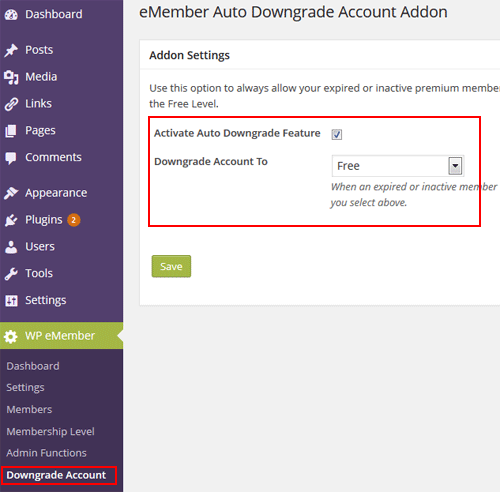 The auto-downgrade will trigger whenever a member (whose account is expired or inactive) tries to log into your site. As far as the members are concerned, they will just log into the site as usual and have access to content for the free level.
If you are using the WP User role option then the role of the user will be changed to match the one specified in the new membership level.
Example Scenario
The following points show what behavior you can expect from this addon:
A premium member cancels his payment for the membership
The plugin will set the account to inactive as usual to prevent him from accessing your premium content
Next time this user tries to log into your site, this addon will change his level to the one you specify in the settings.
This user will have access to all content for that level.
AddOn Price
The addon is FREE for all customers who purchased WP eMember plugin.
Download the Addon
You can download this addon from the addon download area of our customer only support forum.