This addon plugin allows you to show a printable membership card for your members. Your members will be able to visit a page on your site and print their membership card.
Installing the Printable Membership Card Add-On
Upload the "emember-membership-card-addon" file via the WordPress's plugin uploader interface (Plugins -> Add New -> Upload)
Activate the plugin through the "Plugins" menu in WordPress.
Printable Membership Card Add-On Usage
Create a new WordPress post or page. Then enter the following shortcode in this page (your members can go to this page to see a printable membership card):
[eMember_membership_card]
This shortcode will produce the following output. That print link will popup the option to print this card.
Adding a Featured Image in the Membership Card
You can add an image in the card (example: your company logo) by using the "image_url" parameter in the shortcode. Here is an example shortcode usage using the featured image:
[eMember_membership_card image_url="http://www.example.com/wp-content/uploads/my-logo.jpg"]

Using Member's Profile Photo in the Membership Card
You can show the member's profile photo (if you are using profile picture option in the membership plugin) by adding the "show_profile_photo" parameter in the shortcode.
Example shortcode usage below:
[eMember_membership_card show_profile_photo="1"]

Printed Membership Card Example
When your members go to the page you just created and print the membership card, it will look like the following example: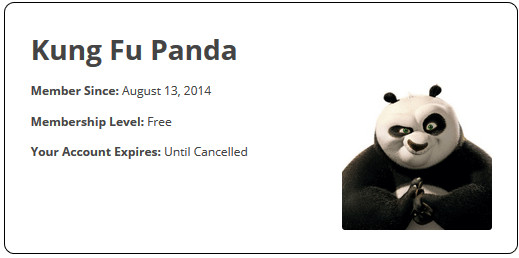 Get the Printable Membership Card Add-On
The price of this addon is $29.95