In this article I will share a few simple upselling tips that I personally use without irritating the customer and have had success with. Please note that my goal with upselling is not to trick a customer into buying something or sell them some junk.
My aim is to show the customer additional products or services that might better meet their needs or will add value to the product that they are already buying. It's a way of demonstrating that I am aware of my customer's needs and care about their satisfaction.
What is Upselling?
"Upselling is a sales technique whereby a salesperson induces the customer to purchase more expensive items, upgrades, or other add-ons in an attempt to make a more profitable sale. Upselling usually involves marketing more profitable services or products, but upselling can also be simply exposing the customer to other options he or she may not have considered previously." – Wikipedia
Upsell and Cross-sell Techniques
1. Place Offers on the Checkout Page
There are many places on your website where you can upsell. The most common would be the view cart/checkout page. Visitors who come to your checkout page are potential buyers and most likely have the credit card ready. So it is a lot easier to upsell them something relevant as it will most likely benefit them.
You can also introduce an upsell page that the customers have to pass before they can go to the "Checkout Page".
2. Offer Bundle Product and Discount
If you have multiple products that are relevant then offering bundled/packaged product at a special price works very good.
Giving out coupons that offer discounts when buying multiple items work well too. Most e-commerce software will let you configure coupons so use them. If you are using the WP eStore plugin then you could configure conditional coupons that gives discounts like the following:
Give 25% discount if the total amount is greater than $50.00
Give 20% discount if the total number of items in the cart is more than 5
Give free shipping if the total amount is greater than $100.00
3. Offer Special Discount Coupon
You can give special discount coupons or promotional offers to customers after they make a purchase. This usually gives them incentive to buy more from you. All you have to do is place your offer on the Thank You (Post payment landing page).
Again,if you are using the WP eStore plugin then you can configure a block of Text/HTML (your customer only special offer) that automatically gets displayed to the customer with the transaction result on the "Thank You" page like the following screenshot: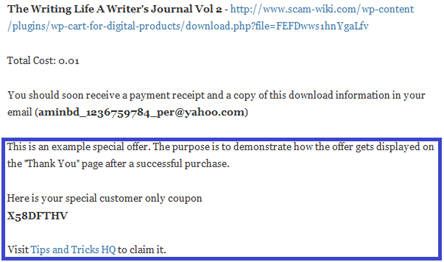 4. Use words like "Special Offers" to communicate
Use words like "Special Offers", "Great Deals" to draw customers attention. It is very easy to communicate "savings", "value" using those words and everybody likes to save.
5. Slightly Advanced Option for Upselling
You can use the following feature of eStore to design your flow of checkout so you can upsell products along the way.
This option is useful if you are trying to create multiple different pages with upsell offers and then every page has an option to checkout or add another item by going to a new page (which adds the new item to the cart in the process).
For example: You can have a landing page that has two links for two products (one link goes to page A and adds product A to the cart, the other goes to page B and adds product B to the cart). Now on these pages, you can have other upsell product links. One can be a link to the checkout page (so the customer can go there if he doesn't want to take the offer), the other link can be an offer to purchase another product (so it will be a link to Page C which adds product C to the item). And so on.
6. Use a Sidebar Widget with Popular Items
You can have a small list of your popular products on your sidebar (using a widget). This allows your customers to see your popular products when they are on your site.
7. Use a Sidebar Widget with Random Items
Similar to the popular items widget, you can have a small list of random products on your sidebar. This allows your customers to see a different set of products randomly when they are browsing various pages of your site.
WP eStore plugin has a shortcode that you can use to show a small number of popular or random products on a sidebar widget.
Video Tutorial
The following video shows how to apply the up-selling tips mentioned above:
Some Things to Keep in Mind
Don't be unethical… you want to give customers more than what they pay for so they go away happy. Never sell them unnecessary items just to make a sale.
Don't be too pushy and make your checkout page like GoDaddy (I am not sure if I am the only one who gets annoyed with their checkout system).
Don't overdo and clutter your page with every offer you can think of.
Don't promote competing products on the view cart page.
As a general guideline… try to keep in mind that the key to successful upselling is to focus your efforts on meeting the customer's needs, rather than simply pushing more products and services.
I have shared some of my upselling tips now it's your turn. Please share your upselling tips in the comment area below so I can learn more.