The All In One WordPress Security and Firewall is the ultimate security plugin that will take your WordPress site's security to a whole new level.
This security plugin offers the latest recommended WordPress security practices and techniques as easy to use features. It is designed and written by experts with the user in mind. You don't have to learn complex htaccess rules to apply good firewall rules to your site anymore.
WordPress is already a secure platform in the way it is designed but the common security holes and issues found in most WordPress websites usually come from careless users or bad security practices, poor hosting configuration and poorly coded plugins or themes.
Therefore it is very important to add some extra security and firewall to your site by using a plugin such as this one which enforces many crucial security practices on your site.
All In One WP Security and Firewall also uses an unprecedented security points grading system to measure how well you are protecting your site based on the security features you have activated.
The security and firewall features are categorized as "Basic", "Intermediate" or "Advanced". This allows you to safely enable a group of security features without breaking functionality of your site as soon as you activate the plugin.
Summary
App Category
Software Name
All In One WordPress Security Plugin
Version
Date Modified
Operating System
Requirements
Price
Description
An all in one security and firewall plugin for WordPress site
Landing Page
File Format
WordPress Security plugin Feature List
Security Feature Difficulty Classification System
All of our security features and firewall rules are categorized into "basic", "intermediate" and "advanced". The features which fall under the basic category are generally non-invasive and will not break any functionality.
These types of features should be activated immediately in order to provide you with the minimum security you should be applying to your site.
The features which fall under the intermediate and advanced categories can break certain functionality depending on your setup and which plugins you are using. These types of features usually apply more complex security measures.
Using our feature classification system you can easily activate features and apply firewall rules progressively without breaking your site's functionality.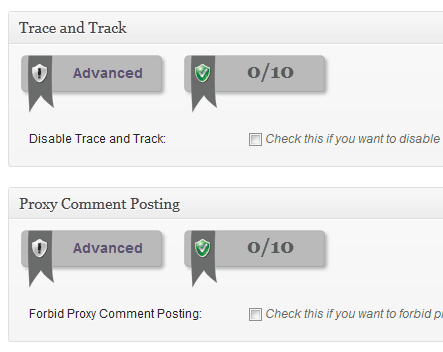 Security Points Score System
In the dashboard page you will find a security strength meter gauge. The purpose of this gauge is to keep you informed of how secure your site is based on how many of the available security features you have applied to your site.
This is done using our security points system which will calculate your current security score out of a maximum achievable total score based on which features you have activated or applied.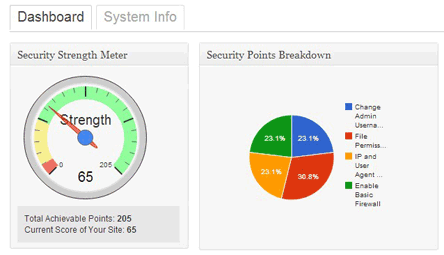 Critical Security Feature Status Notification
The dashboard will also highlight the most important features which you should apply to your site to achieve a minimal acceptable level of security. These are displayed in a panel which also shows whether they are currently active or not.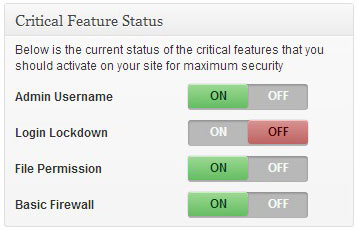 This security plugin should work smoothly with most of the popular WordPress plugins.
Plugin Compatibility
Works with the latest version of WordPress.
Download The Plugin
Download the plugin now and secure your site
Helpful Troubleshooting Links and Tutorials
Frequently Asked Questions (F.A.Q)
Q. I enabled various firewall features from this security plugin but now I am locked out of my site. How do I fix it?
A. Restore the htaccess file of your WordPress site. This will remove any firewalls and allow you to start from the beginning.
Q. I enabled maintenance mode and now I am locked out of my site. What should I do?
A. First, restore the .htaccess file then access your WP Login form using the following URL:
http://your-domain.com/wp-login.php
Q. I have a WordPress Multi-site (WPMS) install. I do not see some of the menus of this plugin on my sub-sites. Why is that?
A. WordPress multi-site uses one single file system for all your sub-sites. So some of the security features only need to be enabled on your MAIN site. The sub-sites won't show you the menus for these features. You can configure those settings from the main site of your WPMS install.
Q. Is there any recommended hosting?
A. The plugin should work on any properly configured servers. However, it is a good idea to get a good WordPress hosting (if you don't have one).
Q. Is there any recommended website malware and virus scanner?
A. You can try the malware scanning solution from site-scanners.com
Malware Scanning Solution
Check our malware scanning and site monitoring solution to keep your site malware free.