After registering your domain name or website name, you need to find a good WordPress hosting provider. A web hosting service provider provides all the tools and services to make your website accessible on the internet so people can access it. Website data is stored on special computers provided by the web hosting companies, they are called servers.

When you are looking for the best hosting solution for your WordPress sites, you will need to consider a few things. It's pretty much like renting an office space for your business, where you have to consider a few factors like location of the office, security of the building, floor plan, room for your company to grow, and of course the rent. The factors are obviously going to be different for choosing web hosting but the concept is similar.
Choosing WordPress hosting can be daunting if you are new to this or don't know much about the hosting market. To choose the right web hosting for your websites, the key is to understand your hosting needs. Like all good businesses, you should have plans for your websites. Back to the office space example, if your office space is only big enough for five employees and in future when your business grows, how will you accommodate additional employees without moving to a new office or a bigger space? And we all know moving is a pain and can be expensive. Same with web hosting, selecting a wrong hosting could be an expensive mistake. Read my personal hosting journey to find out some of the lessons I learnt the hard way.
If you are a newbie, always start with a cheap but decent hosting plan. Shared WordPress hosting is cheaper, easy to maintain and offers sufficient resources for new websites. Example of shared hosting is like renting an office floor in a building where you share the lifts, reception area, cafe, parking lot with other offices from the same building. Once your site and traffic grows you can always move to a dedicated hosting plan to have all the resources (bandwidth, disk storage or CPU consumption) to yourself.
I have made a list of some important factors that you should consider to make an informed decision to choose the web hosting plan that is right for your site.
Know Your Web Hosting Needs
Whether you need hosting for an existing site or building a new site from scratch, your intention of how to use the site will influence your hosting choice.
Are you planning to make money from your website or is it just for fun or personal use?
If you are running a personal blog or just want to set up a website for fun then there are many free hosting options out there like wordpress.com, blogger.com that offers you a great blogging platform and tools for free. On the other hand, if you are planning to make money from your website then you will need to treat it as a real business and understand your needs and requirements.
Types of Hosting
There are various types of hosting services that most web hosting providers offer these days. It is important that you understand the difference of hosting types before signing up. Don't worry if you are feeling a bit confused at this stage, with hundreds of hosting companies offering hundreds of different web hosting plans things can easily get confusing.
As your online business grows, your hosting needs will increase. What was suitable for you yesterday may not suit you today that's why there are different types of hosting services to handle your business needs (don't mix hosting types with hosting plans).
1) Shared Hosting
On shared hosting, your website is hosted on a server that is shared by other websites and maintained by the hosting provider. That means you will be sharing the server including the software applications and resources with other websites. For example: It is exactly like sharing a room in a flat with few flatmates who has the same access to the same bathroom, kitchen, electricity as yourself. If you are new to hosting and watching your budget then shared hosting will be a good place to start.
2) Dedicated Hosting
It means you rent the whole physical server from the hosting company. You can have access and full control of the server. With dedicated server, you don't have to worry about other websites taking up your resources and slowing your websites down. For example: It is like renting a house all by yourself without sharing with anyone. Once your business grows into a presence that is attracting a lot of traffic, you should consider getting a dedicated server. Cost of a dedicated server is significantly higher than the shared hosting.
3) VPS Hosting
A VPS (Virtual Private Server) hosting is typically a dedicated server within a shared hosting environment. Virtual private servers share one physical server but acts like multiple, separate servers. Unlike dedicated hosting you do not rent the entire server, only a portion of the server without sharing that portion with any other websites. For example: It is like you are renting a granny flat in a house with your own kitchen, bathroom and bedroom. VPS hosting is less expensive than dedicated hosting but at the same time it gives you more power and control like a dedicated server.
4) Cloud Hosting
Cloud hosting is very similar to VPS hosting. In cloud hosting, hundreds of individual servers work together like one giant server. That means when your traffic grows it can accommodate the surge of traffic by adding more hardware and resources from the network of serves within the big cloud without shutting it down. If you are thinking of upgrading from a shared hosting plan then consider cloud hosting.
5) Reseller Web Hosting
Reseller hosting package basically allows you to use your allotted hard drive space and bandwidth to host websites on behalf of your clients. If you are planning on selling web hosting as a business then you should get reseller hosting. For example: It's like subletting a room in a flat that you are renting.
6) More Specialized Hosting (WordPress)
Web hosting companies offer various tools to manage and build your websites depending on the Content management systems (CMS). Most common CMS platforms are WordPress, Joomla and Drupal.
I will only cover WordPress in this post as it is the most popular CMS for creating small business website and blogging at the moment.
Why Use WordPress Hosting?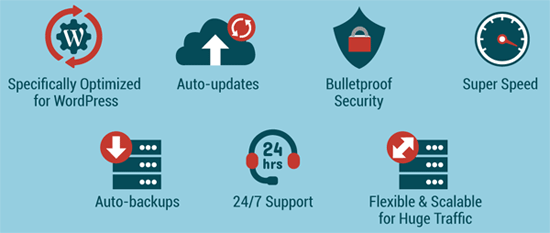 Almost all hosting companies provide server space and basic support and tools to manage your websites and claim that their server can run WordPress sites. But if you are running a WordPress site then you will need more than just the basic tools. You need a hosting provider that knows and can handle all the core technical WordPress stuff and provide the platform that is built specifically for hosting WordPress sites.
What to Look for in a WordPress Hosting Plan
Disk Space
All the data on your website is  stored on the servers provided by the web hosting companies. If you have a lot of data to store such as high-quality images, videos etc then you must check how much disc space or storage amount the prospective hosting company is offering. These days most hosting companies offer unlimited disk space but you should still check to confirm it to avoid any surprises later.
Data Transfer Capacity (Bandwidth)
Once you have confirmed the disk space, you will need to check the bandwidth allowance. Each time a visitor visits your website, the images, the data of your web pages get sent to the visitors' browser.
For example, if you have a 1MB image on your website and 1 thousand visitors view the image, 1 GB'(1MBx1000) of data have been transferred. This measurement of data transfer is called Bandwidth. Each web hosting company offers a maximum level of bandwidth for their tiers of hosting plans. So, understanding the nature of your website will help you choose how much bandwidth you need for your site.
Multiple Domain Hosting
How many domains or websites are you planning to host? Most basic plans usually allow you to host one domain or site. If you need to host more than one websites or in future if you want to add more websites then with the basic plan you won't be able to host multiple websites. So, choose a plan according to your needs.
Server Reliability / Uptime Scores
It is important to have a reliable web host that operates on a powerful server and stable network connections. You should aim to get to 100% uptime but 99.9% is more realistic. Anything below 99% is unacceptable. Make sure you compare the uptime scores of the hosting companies. We will talk more about the importance of server uptime at the end of this article.
Price (Sign up and Renewal cost)
Web hosting is a very competitive market and companies offer cheap plans to attract new customers to sign up. Don't get fooled by the cheap price. These plans might look very appealing but later down the line you might find yourself paying more in other ways. Read everything the plan offers. Also at the beginning most companies offer somewhere from 20-50% off the plan to get you on board. Once the initial contract is over, price can go up significantly. So, make sure what the hosting company will charge you once the contract is over.
Option to Upgrade
Always check your options for upgrading your plans. At the beginning your traffic is less but when your business start growing the traffic of your site will increase as well. The bandwidth in your initial plan won't be able to handle the increased traffic and it will cause your site to shut down when it reaches the bandwidth limit.  Ask the hosting company about their available plans for future upgrades and the process of switching plans and see if it is suitable for you. When you are running a busy website, downtime can cost a lot of money. It is good to plan ahead to handle this situation easily in the future.
PHP RAM Memory Limit
Sometimes the hosting company will offer unlimited storage but a very low PHP memory limit. This can significantly impact the page load time of your site if you want to use a few plugins (to run an e-commerce site for example). I would recommend aiming for at least 128MB PHP RAM memory.
Security
Security of your website is very important. You can always put your own measure to secure your site from the hackers or the cyber criminals but it is also important that your host also has strong security measures in place and features to secure their servers. Check on the information the hosting companies provide about the security measures taken to protect their servers.
SSL Certificate
Have you noticed that some website addresses begin with http:// others start with https://? The added s means that the site has SSL security. SSL stands for secure socket layer. SSL keeps sensitive information like credit card details, social security numbers, usernames and passwords secured from the hackers. In a nutshell, SSL protects the data that flows between the internet users' computer and your server. If you are running an e-commerce business and you receive sensitive information from your customers then you must have SSL Certificate installed on your site. Your SSL certificate shows the internet users that any data entered on your site will be sent to the server securely. It also shows that you are serious about security.
Additional Services
Check what the additional services a hosting company is offering. Most web hosting companies offer the following services as part of the plan. If not then some of these services are worth having (even for an extra cost).
Email account
Email disk space
Backup service
Disaster recovery
Customer Support
It doesn't matter how reliable the hosting company is and how good your IT skill is, something will go wrong at some stage and you will need a support team that is skilled and accessible when you need them. Website business is a 24/7 business and you would not want your site to be down or compromised for a single minute. Also check what channels of contact option they offer like live chat, phone, email, support ticket etc.
Reputation
The last thing to consider would be the reputation of the hosting company. Google the hosting company name and read the feedback and review of their customers. Sometimes competitors will pay users to write bad things about their opponent. So try to read reviews from sources that you trust.
A good Web Hosting Plan Can Also Help Your Site's Ranking
Did you know that choosing the right web hosting company can help you with your search engine ranking? There are couple of factors that search engines consider when they rank a website.
Site Speed
Search engines love speed. You know how frustrating it is when a website takes too long to load? Search engines like to offer the best experience for their users so they are more likely to rank the websites higher that are fast and responsive than the slow sites. In 2010 Matt Cutts, head of Google's Webspam team highlighted the importance of the page load time in his blog.
Good web hosts will generally offer better site load time as they will use modern computer and network equipment and latest server software.
Always aim to get a server with SSD drive. It makes a big difference in page load time if the server is using SSD drives.
Server Uptime/Downtime
Servers can go down for many reasons. When they are down, your website is not accessible on the internet. If your site is inaccessible frequently due to the server downtime then search engines may flag your site as unreliable.
Always make sure that you pick a reliable and reputable web host that guarantees at least 99.9% uptime so that your website is always accessible for users and also for search engine crawlers.
Server Location
Geographical location is a major ranking factor for organic SEO. Search engines like google looks at your IP address of your webserver. So, if your webserver is based in Germany then search engine will think it is more useful for the German users. So, if your business is in Germany and your target market is German population then hosting your website with a company that has servers in Europe or Germany will help your site rank well for the German traffic.
A good web hosting company has servers in various continents so you can decide where your server should be located given your target audience.
Security of Your Server
Protecting the privacy of the internet users is always a top priority for all the search engines specially Google. So, Google announced HTTPS as a ranking signal in 2014. Not only SEO, it also boosts your customers trust when they are sharing information with you. When you install an SSL certificate on your server it creates a secure connection between your website and user's web browsers.
You should check to see if the hosting company offers automated backup of your site. This can be very useful as you can restore your site if it ever gets hacked/compromised.
If the server has firewall to protect against DDOS and other common attacks then that is a bonus. You shouldn't have to worry about this when you are starting out but knowing that these options can be added later (if you need them) is a plus.
Our WordPress Hosting Recommendation
1) A2 Hosting
Price:Â $3.93/mo
Uptime: 99.91%
Various Server Locations: Yes
SSL: Yes
SSDs and Turbo Server for up to 20x faster pageloads
Host unlimited websites and enjoy FREE site transfer
A2-optimized plugins and 1-click installs for WordPress
A2-optimized caching with OPcache and Memcached
FREE HackScan with restore options
Money-back guarantee
View A2 Hosting WordPress Plans
2) Inmotion Hosting
Price: $3.49/mo (you get a big discount if you use our link)
Uptime: 99.96%
Various Server Locations: Yes
SSL: Yes
Free SSD drives
WordPress pre-installed
FREE SSL certificate and unlimited bandwidth
FREE domain, site transfers, and data backups
Host unlimited WordPress sites on one account
Money-back guarantee
Choice of data center locations
View Inmotion WordPress Hosting Plans
3) Bluehost
Price: $3.49/mo
Uptime: 99.98%
SSL: Yes
FREE domain and site builder
1-click WordPress installs
Unlimited site traffic and in-house support available 24/7
Industry-leading hardware and uptime
4) HostGator
Price: $5.95/mo
Uptime: 99.99%
SSL: Yes
Easy-to-use control panel
FREE Weebly site builder
Unlimited disk space, emails, and bandwidth on all plans
No contract required and 45-day money-back guarantee
5) Godaddy
Price: $7.99/mo
Uptime: 99.9%
Unlimited traffic
WordPress integration
Money-back guarantee
99.9% uptime guarantee
24/7 security, DDoS protection
View Godaddy WordPress Hosting Plans
6) Dreamhost
Price: $7.95/mo
Uptime: 99.99%
Unlimited bandwidth
One-click WordPress install
Supports multiple WordPress sites and domains
97 Day Money Back Guarantee
View Dreamhost WordPress Hosting Plans
7) WP Engine
Price: $29/mo
Free SSL certificate
25k Visits/month
10GB local storage
60 Day Money Back Guarantee
View WP Engine WordPress Plans
My Personal WordPress Hosting Journey
I have been using WordPress for 8+ years. Read my personal hosting journey to find out some of the lessons I had to learn the hard way.
Disclosure
If you click on the links in this article and sign up for a hosting account, we will receive compensation from the companies whose services we have recommended in this page. We only recommend products or services after we have thoroughly tested it ourselves. We are independently owned and the opinions expressed here are our own. We use the fund to improve our free WordPress plugin development and support.