WP eMember uses a concept of membership level. This is designed to give you (the site owner) the ability to easily control and assign what content your members can and cannot see on your site.
When a visitor becomes a member, he is assigned to one of the membership levels you created. The member will then have access to the site's content based on the permissions you defined in the membership level.
The membership level also controls how long a member of that level has access to the content. For example: if you have created a level with a 60 day duration, then members who belong to that level will get access to the content for 60 days from the date they joined. After that time, their account will expire and they will need to renew or upgrade their account.
You can create as many membership levels as you want to. So create a membership level for each different variations of access that you need to offer on your site. Then you can assign members to a membership level based on the kind of access to content and expiry you want for them.
Creating a Membership Level
To add a new membership level, you need to browse to the "Membership Level" menu of the plugin.

From the "Manage Levels" tab you can click on the "Add New" button to add a new membership level.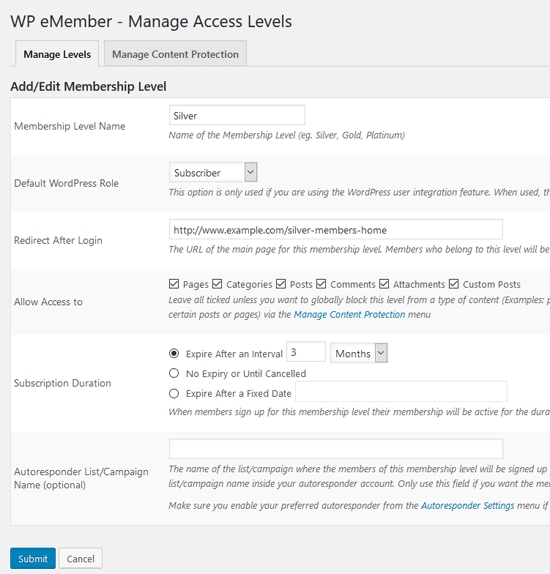 The Membership level addition menu has help text next to each field to guide you. You can edit or delete an existing membership level from this "Manage Levels" interface too.
Understanding the Account Expiry Condition
The expiry of a member's account is controlled by the membership level assigned to that member. So the value that you set in the Subscription Duration field will control how the account will expire.
Read the following resources to get a better understanding of this so you can set the Subscription Duration value for a membership level according to your needs.
Video Tutorial
Read the manage content protection documentation to learn how to apply protection to your content for different membership levels that you create.