The first thing you need to do after you activate the WP eMember plugin is head over to the settings menu page to configure some settings. Most of the settings fields are self explanatory and have help text next to it.
It is a good idea to read the Typical Membership Registration process documentation before you start setting up WP eMember plugin.
The settings/options menu for the WordPress eMember Plugin can be found on the left hand side of your wordpress dashboard similar to the following screenshot (on WordPress version 4.0 or above)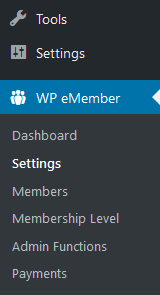 WP eMember General Settings
Click on the "Settings" tab and configure the "General Settings" first. The settings menu looks similar to the following screenshot (it may look slightly different based on the version you are using).
You just need to read through the options and the help text to see which options you want to use.
Other General Settings
WP eMember Pages Settings
This is the most important settings tab and needs to be filled in carefully. Basically, you need to create a Page for each option(s) where necessary and put the appropriate tag (shortcode) on that page then use the URL of the page in the appropriate field (The help text on each field should guide you).
You can also customize which fields appear on the "Registration" and "Edit Profile" forms from the "Pages Settings" menu. This is explained in the How to Customize Which Fields Appear on the Registration and Edit Profile Page documentation.
WP eMember Email Settings
Click on the "Email Settings" tab in the menu bar at the top when you are finished with the "Pages Settings" page. The "Email Settings" page lets you customize the email that is sent to the members when they pay for a membership on your site.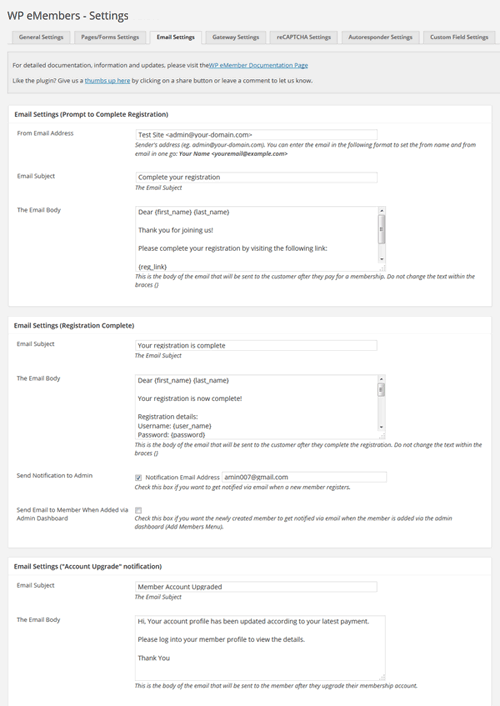 WP eMember reCaptcha Settings
The reCAPCHA settings tab is useful if you want to add reCAPCHA to the member registration form.