Choosing a WordPress theme that will go good with the content of your blog and will stand the test of time is not an easy task. Sometimes it takes days for me to find that ultimate WordPress theme that I really like and has all the essential features that I want. I spend more time choosing a theme upfront even though the WordPress theme of a Blog can be changed anytime is because sometimes it can be a hassle to change the theme in the middle when I have made a lot of custom changes to the existing WordPress theme.
What to Look for When Choosing a WordPress Theme
Non Technical side of things
The first thing to pay attention to when choosing a WordPress Theme for your blog is the look and feel of the theme. Look and feel of a theme is very important. You want your visitors to feel comfortable when browsing your site. I try not to choose a theme that hurts the eye at the first look. The theme also gives your visitor an idea about your blog's content. So try to choose a theme that's relevant to the content. For example, if your blog is about Christmas then try to choose something like the following: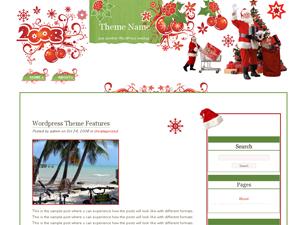 I would avoid choosing a theme like the following for the Christmas blog as it doesn't give a Christmas expression:
The second thing to look at when choosing a theme is the theme layout like how many columns it has, does it have a bottom bar? etc. The reason I think the theme layout is important is because if you are thinking about earning money from your blog later by selling ad space for example then a theme with three columns may give you more space than a two columns theme.
Finally, you want to look at the different pages of the theme (single post, pages, archives, categories etc) and make sure it doesn't have any major flaws. Make sure that the body content section has the same width, the sidebar is visible etc.
Technical side of things to look for in a theme
Make sure the theme has valid code by default. Run your website through a Markup Validation service like W3C with a default setup of the theme. You don't want to start with a WordPress theme that has coding error in the default setup.
Make sure that the WordPress theme you are choosing supports latest WordPress features like Widgets, Tags etc.
Remember, even though most of these theme related flaws are changeable but you may end up spending a lot time fixing it when you can save all those valuable time just by choosing a theme that already has the things you want by default.
Where to Find Your WordPress Theme
When looking for a WordPress theme, the first place to go to is the Official WordPress Theme Directory (There are thousands of themes to choose from)
Below is a list of some websites with some nice themes that I have discovered so far:
83 Beautiful themes you probably haven't seen
And of-course there are many others that I haven't discovered yet… Feel free to leave any WordPress theme related suggestions in the comment area below.