If you intend on offering downloadable content from your WordPress website, using the Simple Download Monitor Plugin will allow you to do so. Furthermore, if you wish to collect say your user's name and email address in a neat and tidy popup window before the download commences, then the Squeeze Form Addon can be used. You may choose to add the information provided from your user to an autoresponder list or you may choose to manually use it for marketing at a later stage.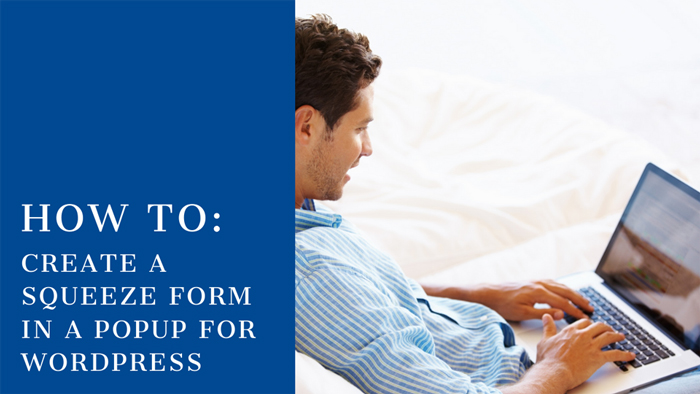 What is a Squeeze Form Popup?
When speaking about the Simple Download Monitor, a squeeze form basically allows you to collect information in exchange for a digital product. Others refer to this as email locking a download. It gives you the ability to 'squeeze' information out of those who wish to download your content. While a general squeeze form will be filled out on a website post or page, in this tutorial we look at how you can create and display a squeeze form that displays above your website content in a neat and tidy popup window. You can choose to provide your user the download then and there, or alternatively it can be automatically sent to their email. Sending the digital content to the user's email address ensures that they provide an accurate address in order to get the digital content.
Using a popup window eliminates any other distractions on the static website page and directs your user's attention to the squeeze form information they need to fill out in order to get the digital item.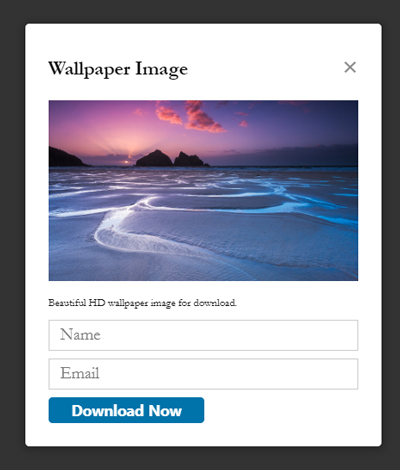 Why Should I Include a Squeeze Form for my Downloads?
While it does not make sense to include a squeeze form for all downloads, for some websites that may be offering good quality downloadable items free of charge, a squeeze form may be used. A squeeze form gives the website owner an opportunity to get to know their main audience but more importantly, allows them to collect data such as an email address that they can then add to their email marketing software. While the user may have been able to download one item free of charge in exchange for their email address, the squeeze form information provided may be valuable to admin who will use this to push their premium website downloads or products.
How Can I Ensure Users Provide an Accurate Email Address?
You can choose to send the digital content to the user's email address provided in the squeeze form rather than allowing them to automatically download the content in their browser. This ensures only those who provide an accurate email address will be rewarded with the digital item. You can edit the email body and ensure you have the 'Deliver the Download via Email' checkbox enabled from the 'Squeeze Form' menu.
How Can I Use the Squeeze Form Addon to Display a Popup Download Window?
Video Tutorial:
Written Tutorial:
The Squeeze Form Addon, like the name suggests, is primarily used to 'squeeze' information from users prior to a download. This addon may be used by those wishing to gather an idea about their userbase, or for others wishing to collect downloader's email addresses for later marketing. While there are a number of basic templates that you can use to display your download button and squeeze form, one of the templates allows you to display a simple button that when clicked displays a popup window with the squeeze form fields. This is known as Squeeze Form template '4'.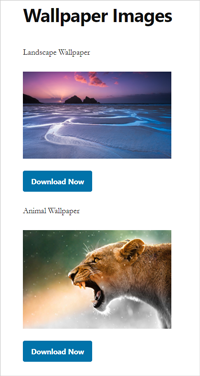 To get started you will need the free Simple Download Monitor and Manager Plugin as well as the premium Squeeze Form Addon installed and activated on your WordPress website.
Once this software has been activated, you will see a main menu in your WordPress dashboard titled: 'Downloads' and then under this a submenu titled: 'Squeeze Form'.
You will be able to configure your downloads from the 'Downloads' menu and view your squeeze form submissions from the 'Squeeze Form' menu at any time.
Create your very first downloadable item by clicking on the 'Downloads' menu and then on 'Add New'. You can read further information about creating your download here.
Once you have 'Published' out your download, take note of it's 'ID'. The ID of any of your downloads can be found by glancing at the ID column on the 'Downloads' page.
Create a WordPress post or page where you would like to display your squeeze form and a download button for your digital content.
Add a 'Shortcode' block and enter the following shortcode, replacing the id with the actual 'ID' of your download. Publish out your page or post.
[sdm-squeeze-form id="210" fancy="4" button_text="Download Now"]
Now when you view the page/post from the front end of your site, you will see a 'Download Now' button. If you click this button, the squeeze form popup will appear. This is where your potential downloaders would need to enter their email and name to be able to proceed to download your digital content. They will either be able to download the content within their browser or the content will be sent to their email address depending on how you have set up the addon. You can test out this process yourself if you would like.
Viewing Popup Squeeze Form Submissions
Once you have set up your popup squeeze form on your WordPress websites, each time a user enters their name and email and then successfully clicks the 'Download Now' button, the information they have provided is recorded. This information can be found by clicking on 'Downloads' and then on 'Squeeze Form'. You can view the names and email addresses of those who have downloaded content from your website, or alternatively you may choose to use the 'Export to CSV' bulk action. If you have a Simple Download AutoResponder set up, you may choose to hook the squeeze form submissions to this so that you can later push marketing material to your user base.
Interested in finding out more about the Squeeze Form Addon? Click here.