Some users of our WordPress shopping cart plugins have requested us to create a shopping cart image and icon pack that they can use on their site.
Ivy (our graphics designer) has put together an image and icon pack with various shopping cart images that you can use to customize the look and feel of your shopping cart (you can use this with any cart software/plugin).
You get the following in this cart image and icon pack:
All images are in PNG format so it will easily match the background color of your site
Delete item from cart icon images
Empty cart icon images
Some Secure checkout buttons images
Some other useful shopping cart images
She has also made some color matched sets that can be used to match the theme of your site. Here is a preview: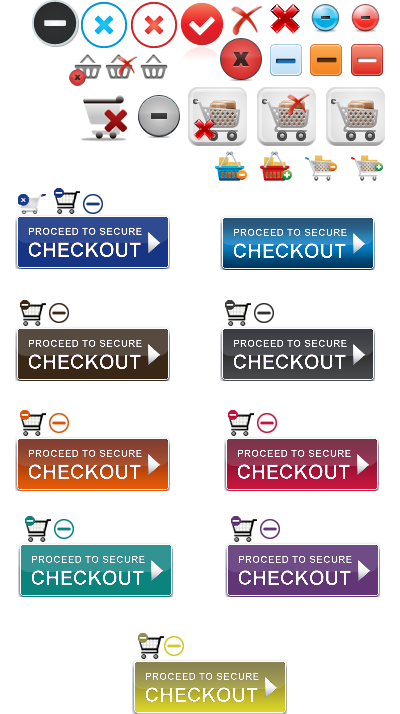 Download the Shopping Cart Image and Icons Pack

Download Add to Cart Button Images For Your Site
Check the Add to Cart Button Image page to download some free Add to cart button images that you can use on your eCommerce site.
If you want to use these images in the WP eStore or the Simple WP Shopping Cart plugin then do the following:
Find the image that you want to replace in the "images" directory of the plugin in question
Choose the image you want to use from this image pack
Rename your chosen image's file name to exactly match the one you want to replace (make sure the file extension match too)
Now, copy and paste this image file in the images directory (overwriting the original image)
I hope some of you find this useful.