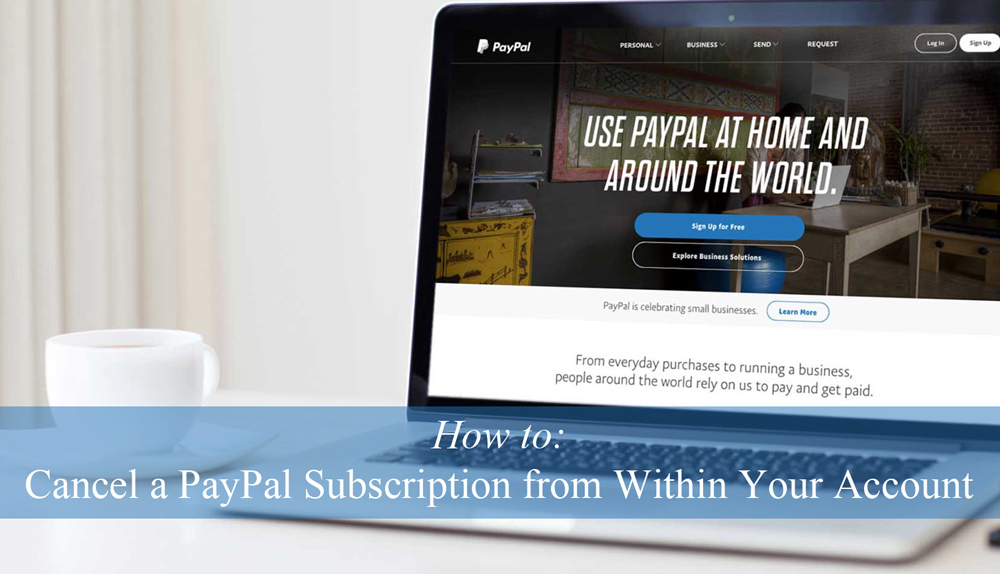 Have you signed up to a membership online? Or a charity organization that deducts recurring payments. The good news is, if you signed up to a subscription style website using your PayPal account, cancelling the subscription is most probably easier than starting it.
In this tutorial we'll take a look at the simple steps involved in cancelling a recurring PayPal payment.
There are two primary reasons you have landed on this tutorial.
You wish to cancel a PayPal subscription of your own.
You wish to find out how your customers can cancel a subscription they have signed up to.
Considerations When Cancelling a Subscription
To cancel a PayPal subscription you will need:
Access to your PayPal account
To know which subscription you wish to cancel
Before you cancel a subscription, ensure you are ready to end access to site site or place you have signed up to. When you cancel a recurring payment, if it was linked to a membership, your access to the membership area may be ceased. It is best to discuss options with the owner of the subscription website prior to going ahead and cancelling it on your own accord.
If you have a customer who has cancelled their ongoing subscription payments, ensure that they can no longer access paid content or are being sent/given subscription entitlements.
Why do People Choose to Cancel a PayPal Subscription?
When you create a PayPal subscription on your website, keep in mind that your customers will be able to cancel the subscription at any time without warning. If you run a membership site, the customers access will generally cease after the period they have paid for. For example, if they have paid for one month's access and cancel their subscription after the initial payment, they may still be able to enjoy one months worth of the membership.
If you find that you have a number of customer's cancelling their subscription, they may be doing so because:
The content provided is not what they expected
They are not seeing value for money
They have found themselves in a poor financial situation
They are moving out of the area
They have lost interest in the topic or activity
They have found a better deal elsewhere
If you find that a customer has cancelled a subscription to your site, sending them a polite email asking them the reason for cancelling may allow you to resurrect the problem to prevent further members/subscribers cancelling. To attract and keep subscribers, always ensure you are offering value for money.
Video Tutorial: Cancelling a Recurring PayPal Payment
In the following video tutorial, we look at the step by step procedure to cancel a recurring PayPal payment. You might like to have your PayPal account open so that you can follow along in cancelling an unwanted subscription of your own.
Written Tutorial: How Can I Cancel a PayPal Subscription/Recurring Payment?
Step 1) Log into the PayPal account that the recurring payments are being deducted from.
Step 2) Click on the 'cog' icon. Then click on the 'Financial Information' menu.
Step 3) Scroll down and click on the 'Manage Automatic Payments' button found under the 'Automatic Payments' section.
Step 4) Ensure you are viewing 'All' your recurring payments. Click on the 'Merchant' name for the payments you wish to cease.
Step 5) You will now see a 'Cancel' button at the top above the transaction details. Click this button.

Step 6) Confirm cancellation of the recurring payment if prompted to.
Step 7) Click the 'Summary' menu. If the cancellation of the recurring payment was successful, under your 'Recent Activity' you will see a record of the cancellation.

Step 8) You have now successfully cancelled any further subscription/membership payments from being deducted.