If you run a small or medium business and you need a set amount of cash to help your business grow further, than a PayPal Business Loan may be suitable for you. While some business do not qualify for a PayPal Business Loan, if you live within the United States and meet the eligibility either by completing the online questionnaire or speaking to a support person over the phone, a PayPal loan can be a quick and effective way to receive cash-flow quickly.
PayPal Business Loans are best for business owners who need a loan in the next number of days to fund expansion of their company such as buying new equipment or relocation expense.
PayPal Business Loan Features
While a PayPal business loan won't be suitable for everyone, those that decide to take out a loan with PayPal generally do so because of one of their attractive features. A PayPal business loan is:
Fast and your eligibility can be determined online or over the phone
Competitive and the interest is always a fixed fee
Free from fees associated to early repayments and processing
Suitable to many businesses as the loan amount and term is variable
Hassle free as payments are deducted weekly and automatically from your nominated bank account
Collateral free, only a personal guarantee must be signed
If we look at the cons of a PayPal Business Loan, they are much the same as any loan someone could take on although one of the downsides to a PayPal business loan is that there is no reward if you pay the entirety off sooner as the full initial fee must still be paid. Another con is the limited availability of PayPal Business Loans to only certain businesses located within the United States.
What is a PayPal Business Loan? – Video Tutorial
Why Should I Take Out a PayPal Business Loan?
Before you take out a loan of any size, it is important to consider whether your company has the means to pay back the loan weekly for the set number of weeks. Commonly a business will take out a PayPal loan if:
They need to cover expenses to do with payroll
They are investing in new equipment or technology
They are expanding or relocating
They are investing
They have other business costs
To date, PayPal has provided $10 billion of loans to over 225000 businesses.
Who is Eligible for a PayPal Business Loan?
If you meet the eligibility in some circumstances the loan amount will be available in your PayPal account the very next working day. Of course like any loan, there are certain conditions you must meet such as minimum revenue to be accepted. While a PayPal Business Loan shares similarities with a generic bank loan, it involves an easier and hassle free process and for the most part, the interest rate is lower and the money is available to the recipient sooner. Below we've listed the key eligibility criteria for someone looking to inquire about a PayPal Business Loan:
The recipient must have a 'Business' PayPal account prior to applying (You can create one prior to applying)
The business must have been operating for at least the previous 9 months
The total revenue of the business must exceed $42,000 USD
The business holder cannot be bankrupt
The business must be located in the United States
An active business record with Secretary of State is required
Must be an eligible business as some industries are excluded from PayPal Business Loans
Which Businesses are Excluded from PayPal Business Loans?
While many business are eligible for a PayPal Business Loans, there a number that are exempt due to the type of operations they delve into. Below you can find the list of businesses that cannot receive a PayPal Business Loan at the moment:
Agents of athletes, artists, public figures and entertainers
Attorneys or public administration businesses
Collection agencies or credit bureaus
Schools
Wildlife organizations
Financial services or gambling related businesses
Firearm businesses
Political businesses
Sole artists, performers or writers
Motor vehicle dealerships
Non-profit and religious organizations
How Much Money Can I Expect from a PayPal Business Loan?
The total loan you can receive is based upon the revenue and eligibility of your company. If eligible for a loan, the minimum amount you can expect to sign for is $5000 USD while the maximum loan available to certain businesses is $500,000 USD.
In terms of the length of the loan, this will depend on the total amount you have borrowed. The minimum length of the loan can be 13 weeks while the maximum period to pay back the loan is 52 weeks. The length of the loan will be determined when you apply and if you are eligible.
Once a loan is agreed on between you and PayPal's business support team, you will be able to nominate a linked bank account where a weekly amount will be withdrawn. You can specify a certain day of the week to have the loan amount withdrawn although once chosen, this day is set in stone for the entirety of the loan.
PayPal accept 56% of all small business loans in comparison to the big banks who approve only 26%.
What Fees and Charges are Associated with a PayPal Business Loan?
Just like any loan, there is always going to be interest and charges applied and PayPal business loans are no exception. The good news with a PayPal Business Loan is that you can pay the loan off early if you come into a positive financial situation; although the full amount including fees of the original term must be paid.
What is the Difference between a PayPal Business Loan and PayPal Working Capital?
If you have been searching for a loan for some time, you may have heard of PayPal's other borrowing program known as PayPal Working Capital. While our primary focus in this article is PayPal Business Loans, it is important to explore your options prior to deciding on which loan you will apply for.
The main difference between the loans is the eligibility requirements, the rate of the loan and the way in which the borrowed amount must be paid back. A PayPal business loan is most suited to larger scale businesses that may or may not already have a PayPal business account. On the other hand, a PayPal Working Capital is only available to customers who already have been using a PayPal business account for at least 3 months and have processed a minimum of $15,000 USD in the last twelve months directly via a PayPal payment channel.
While a PayPal Business Loan has a set amount that is deducted weekly from a linked bank account. A PayPal Working Capital loan differs in the way the business owner pays back the total amount. A PayPal working capital loan is deducted as a percentage from every sale you receive to your PayPal business account. While there are minimum payments required, a PayPal working capital loan can work out better for smaller businesses as the money is only deducted as cash-flow comes in.
In recent years, Square and Amazon have also started lending services which are worth looking into if you are seeking out a small business loan.
Comparison Table: PayPal Business Loan vs PayPal Working Capital
| | | |
| --- | --- | --- |
| Comparison | PayPal Business Loan | PayPal Working Capital |
| Funds Available | As early as the next business day | Within minutes for certain businesses |
| Fee | Competitive fixed fee | Affordable fixed fee |
| Repayment Method | Weekly payments deducted from nominated bank account | Percentage of each sale until entirety of the loan is paid |
| Early Repayment Penalty | Not applicable | Not applicable |
| Total Funding | $5000 – $500,000 USD | $1000 – $300,000 USD |
How Can I Apply for a PayPal Business Loan?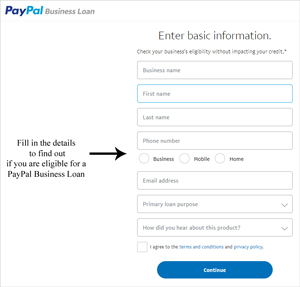 The process to apply for a PayPal business loan is simple and easy. The loan eligibility can be checked online or over the phone.
What Information Should I Have Handy When Applying?
Just like any application, it is important to gather the required documents before you sit down and start filling in the required information. Whether you intend on applying for the loan over the phone or online, make sure you have the following information or documents within arms reach:
Your basic contact information such as your phone number
Your social security number
Information about your business and current revenue numbers
Recent bank statements that you can supply the business manager
Steps to Applying for PayPal Business Loan
You will need to check the eligibility of your business. This can be completed online at PayPal's website by filling out a short questionnaire.
If you are eligible, you will then be able to select a loan amount and term within the accepted ranges for your business.
PayPal will determine if further documents are needed and if so they will contact you via your PayPal dashboard.
If the loan amount and term is agreed on, you will need to sign the loan and then the money can be available to you as soon as the following working day.