ShareYourCart enables product sellers to reward their customers for spreading the word about their products/services to their friends, by offering them a coupon code for their purchases, thus helping increase sales conversion.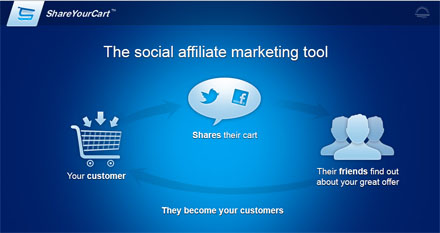 You can choose how much of a discount to give (in fixed amount, percentage, or free shipping) and to which social media channels it should be applied to. You can also define what the advertisement should say. Currently it can be integrated with the following three WordPress shopping cart plugins:
WP e-Commerce (Instinct)
eShop (Rich Pedley)
WP eStore  (Tips and Tricks HQ)
The developer of the SharYourCart plugin informed us that he integrated the plugin with our WP eStore shopping cart plugin. So if you are using the WP eStore shopping cart plugin and like the idea of what the ShareYourCart plugin does then download this free plugin and try it out.