The upcoming WordPress 3.2 release has moved from beta to release candidate (RC) which means the final release is just around the corner. You can download and install the WP3.2 release candidate (RC1) and install it on your test server to test and make sure that the plugins and themes that you use are working correctly. We have already tested some of our popular plugins (WordPress Shopping Cart, WordPress membership plugin etc) on this WordPress version and they are working fine.
1. Minimum MySQL5 and PHP5 Required
This is good news for any plugin or theme developer as you do not have to make your plugin or theme work with the older version of PHP or MySQL. This should also force the hosting providers to sell hosting with newer version of PHP and MySQL. In my opinion it is very unfair to the customer for hosting providers to sell hosting that uses very old version of PHP.
If you happen to be on a server that is still using PHP4 or MySQL4 then you need to contact your hosting provider and get them to upgrade it so when WordPress 3.2 gets released you can upgrade your site. If your hosting provider refuses to upgrade then consider changing your hosting provider. You do not want to get stuck in time and forced to use the old version of WordPress. As time goes on WordPress will continue to fix security bugs in newer releases and you want to be able to stay current all the time.
If you are not sure as to which version of PHP and MySQL your server is running you can find this information from the "phpinfo". Alternatively, you can install the WordPress phpinfo plugin which will give you all the details.
2. New Look for the WordPress Admin Interface
The admin interface got a new fresh look which is streamlined to make better use of your screen real estate.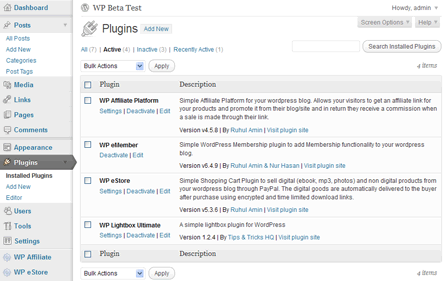 3. No More Internet Explorer 6
This is another good news for developers who got tired of trying to make a theme or plugin output look the same way as it does on Firefox, Chrome or newer version of Internet explorer. Trying to get certain things to work on IE6 was a nightmare for me so this makes me very happy 🙂
4. WordPress 3.2 is Faster
WordPress will get a performance boost in v3.2. A lot of this is resulting from point #1. Now that the minimum requirement is PHP5 the developers were able to remove a lot of the legacy old code from the WordPress core which makes it lighter and perform actions faster. I was able to notice some difference in page load time even when I was browsing through the various admin pages in my beta test server (they load much faster). This should help with the WordPress site optimization for speed since the site speed is now a search ranking factor for Google search.
5. New Twenty Eleven WordPress Default Theme
Twenty Eleven is the default theme for WordPress in 2011. There are tons of really cool improvements and features packed into it — more Post Formats, beautiful new header images, alternate color schemes and layouts, even custom link colors. All those features add up to the best part of Twenty Eleven: just how customizable it is. It looks great as a blog, a showcase of all your posts, and even a tumblelog or photolog.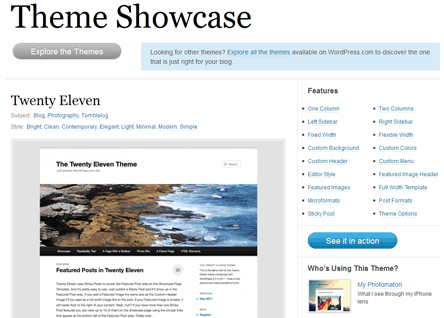 6. Incremental Upgrade of WordPress Core
At the moment when you upgrade your WordPress version it downloads a fresh new copy of WordPress core and completely replaces the current core code. This method can cause some issues from failures related to download. WordPress 3.2 is going to introduce the incremental upgrade which means only the difference in the code will be upgraded.
I think one of my sites hosted on Media Temple might still be running on an old version of PHP, so I need to take care of that. How about you? Are all your sites WordPress 3.2 ready?