You can integrate the WP eMember plugin with Infusionsoft so that the members can be automatically signed up to your Infusionsoft account.
When members register on your site, this extension will add them to your Infusionsoft list. You will be able to specify a Tag ID for each membership level to indicate where you want them added to (depending on their membership level).
Installing the Infusionsoft Integration Addon
You can install this addon the same way you install any WordPress plugin:
Go to the "Add New" plugins screen in your WordPress admin area
Click the "upload" tab
Browse for the addon file (emember-infusionsoft-addon.zip)
Click "Install Now" and then activate the plugin
Addon Usage
Step 1) Click on the "Infusionsoft" menu link from the main eMember plugin's admin menu.
Step 2) Enable the integration then fill in the API key and the APP Name. Then hit the "update" button to save.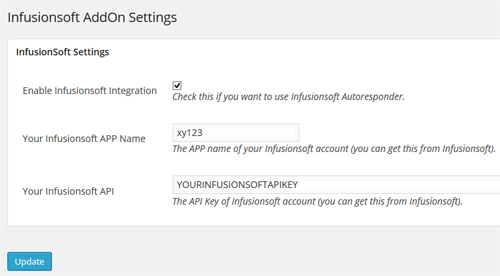 API Key – You can get the API key from your Infusionsoft account.
APP Name – The appname is the subdomain value of your account URL. For example, if your Infusionsoft account URL is the following:
https://xy123.infusionsoft.com/Admin/home.jsp

Then your app name is xy123
Step 3) Edit the membership level in question and specify your Infusionsoft Tag ID in there (this is the Tag/Group where the member will be subscribed to):
Get the Infusionsoft Integration for eMember
The price of this addon is $29.95