The WordPress Donations Plugin allows you to collect donation for a cause from your WordPress powered site. The main difference with this donation plugin from our other PayPal donation plugin is that this one shows the visitor your Donation Goal and how much you have raised so far. It creates a nice pie chart to show the amount you have raised.
Create unlimited donation campaigns with goals
It integrates with PayPal IPN and updates a progress meter in real time
Accept donation for a cause via PayPal
Easy to use user interface for creating donations
Download the WP Donations Plugin
Compatibility
Works with the latest version of WordPress.
Requires
Requires WordPress 3.0 or higher.
WP Donations Plugin Installation
Go to the Add New plugins screen in your WordPress admin area
Click the upload tab
Browse for the plugin file (donations-plugin.zip)
Click Install Now and then activate the plugin
WP Donations Plugin Usage
Step 1: Go to the Settings menu of the donations plugin and configure your PayPal email address (where the donation money will go to )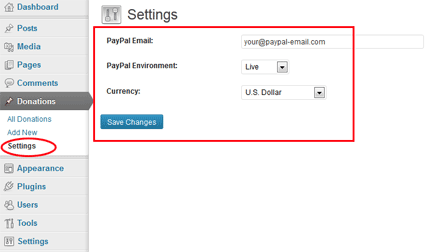 Step 2: Click on the "Add New" link to create a donation (see the following screenshot).
Step 3: Take note of the shortcode that it generates when you create a new donation (see the following screenshot).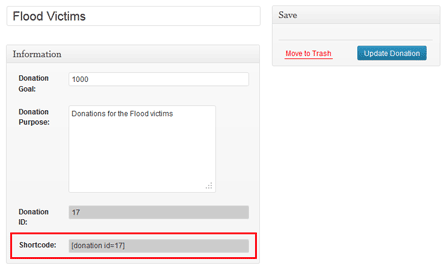 Step 4: Place the shortcode on a post, page or sidebar widget to place the donation widget. The donation widget looks like the following: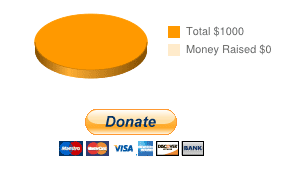 Your visitors can see what your donation goal is and how much you have raised so far. They can also click on the "Donate" button to make a donation.