Infinity Remix is a multi-functional clean WordPress theme with a simple and unique design that displays the content in a stylish and traditional way. The Infinity Remix theme has a unique home page, consisting of a featured posts section, a blog module and lots of stylish widgetized spaces.
When choosing a WordPress theme, I tend to look for the following important elements in the theme:
The WordPress theme is Light and clean so it loads quicker in the browser.
Standards Compliant (has Valid XHTML + CSS code to the search engine bots can index content easily).
Fixed width, two columns and the sidebar is on the right side.
The size of the sidebar (if the sidebar is too narrow then it is very hard to fit in the most popular advertisement units such as the 300×250 pixels unit)
Unique design (this is important for the blog/site to stand out from the crowd)
The Infinity Remix theme was designed keeping all the above points in mind. I tried to keep the structure clean and organized. This theme is perfect for anyone who wants their WordPress blog to stand out in the crowd as this theme has a professional and elegant design.
Every theme needs a little tweak here and there no matter how good it looks. If you need a few tweaks or additional stuff just leave a comment below or post it on the support forum.
Please note that this theme does not have admin options and is not ideal for anyone who does not want to manually edit the template files for any design tweaks you may need.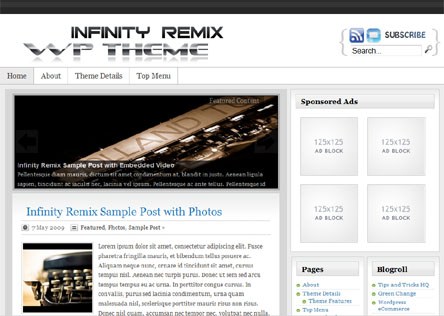 Main Features
Firefox compatible
IE6 + IE7 + IE8 compatible
Google Chrome compatible
Safari compatible
Opera compatible
Netscape compatible
Compatible with Latest WordPress
Featured Articles Section
Gravatar ready
Advertisement Ready
Widget ready sidebars
Custom thumbnail images
PSD file of the Header logo
Valid XHTML + CSS
Smooth design
7 widgetized areas (3 footer modules and 4 sidebar modules)
Comes with all the necessary plugins
Works with WordPress 3.0 +
Buy the Infinity Remix WordPress Theme
Product Name: Infinity Remix
Product Description: WordPress Theme
We are not selling this theme any more. Please check our projects page to find out alternatives (we have developed a few child themes that you might like).