PayPal and Venmo are both payment platforms that can be used to accept money from friends, family, employers or customers. They are both leading digital wallets and while they share common features, a number of factors set the two companies apart. In fact, if you've noticed the similarity of these payment giants, you wouldn't be surprised to learn that PayPal actually owns Venmo. In this article, we will look at what the difference is between PayPal and Venmo and why certain people choose one platform over another.
PayPal: "An eCommerce company that allows for payments between two parties through the online transferring of funds".
Venmo: "An online service that allows for an easy, safe and fun way to pay friends and family".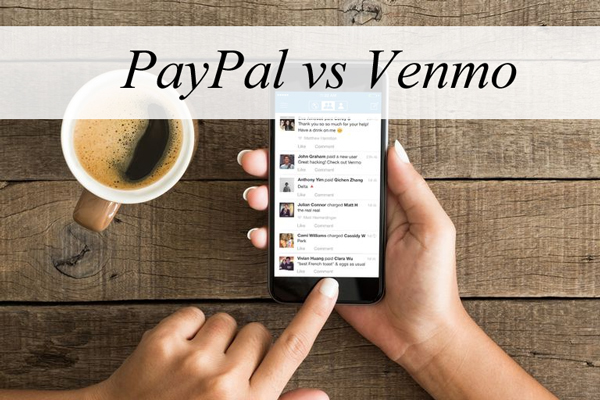 What is the Main Difference Between PayPal and Venmo?
While the majority of online business owners have heard of or even used PayPal, many may have not yet heard of Venmo. The reason for this is that Venmo is mainly used by the everyday users rather than business owners. In fact, you cannot currently accept Venmo payments for goods or services unless you are already using Braintree or PayPal and have been approved. This differs in the way that any merchant with a PayPal Business account can use PayPal's API, or a plugin such as our very own Simple PayPal Shopping Cart to accept payments for goods or services online.
Venmo in fact is even partly a social media feed, where a user can make a transaction public so that all Venmo users or just their contacts can see the transaction. Due to Venmo being a trendy way to make a payment to an acquaintance, friend or family member, there is no surprise that millennial's are the largest group of users. While there are some businesses that have jumped on board to accept Venmo, the majority of companies still prefer their sister company PayPal.
While both PayPal and Venmo are digital wallets, the main difference is that PayPal is widely used by small and large scale businesses, whereas Venmo the majority of the time is used for transactions between friends. With PayPal you can look at as the professional approach, whereas Venmo allows you to add personal touches to a transaction you send.
| | | |
| --- | --- | --- |
| Comparison | PayPal | Venmo |
| Availability | 200 Countries | Restricted to the US |
| Primary Company Focus | Business Owners (Merchants) | Everyday Users (P2P) |
| Security | Secure | Secure although Public Transactions can Pose Some Risks |
| Transfer Limit | $10,000 USD | $3,000 USD |
| Application Fee | Free to Use | Free to Use |
| Withdrawal Timeframe | 1-2 Days | 1 Day |
| Acceptability | Widely Accepted Online Across the Globe | Limited to a Handful of US Based Retailers |
| Cross Country Transfers | Available | Not Available |
| Payment Methods | Credit, Debit, Bank Transfer or PayPal Funds | Credit, Debit, Bank Transfer or Venmo Funds |
| Credit Card Fee | 2.9% +30c | 3% |
| Debit Fee | 2.9% +30c | Free |
| Bank Transfer Fee | Free | Free |
| Integrations | Large Pool of Integrations | Limited Integrations |
| Account Title | Tied to Email Addresss | Tied to Phone Number |
| Use for Business | API or PayPal Plugins Allow you to Set Up a Way to Collect PayPal Payments from Customers. | Business must Already be using Braintree or PayPal Checkout. |
Comparing PayPal and Venmo – Video Tutorial
How Does Venmo Work?
Similar to PayPal, Venmo allows you to link a bank account and credit cards as a means of payment. If you choose to use your Venmo balance or your bank account to send money, you can expect to pay no fee while using your credit card will incur a 3% transaction fee. Just like PayPal, once someone pays you from their Venmo account, the money will appear in your app/dashboard which you can then send to your bank account or allow to sit.
Venmo unlike PayPal was designed for smaller transactions such as splitting a dinner bill among friends. For this reason, the Venmo developers have invested much more time into setting up a phone application that is smooth and simple for their users. Once you have the application on your phone, you can add payment contacts by linking your Facebook account, entering their name or username or directly scanning their Venmo QR code if they have their application up on their mobile device. Venmo is more of a social transacting platform as you can make transaction descriptions public if you wish to. Many people use this as a way to interact with others using the platform.
While Venmo is popular among the younger generation for fixing up debt to friends, in the larger scheme PayPal is still the most popular mainly due to the buyers protection they offer. The buyers protection gives a buyer some come-back if the seller does not provide the goods or service within a reasonable time frame. On the other hand Venmo does not.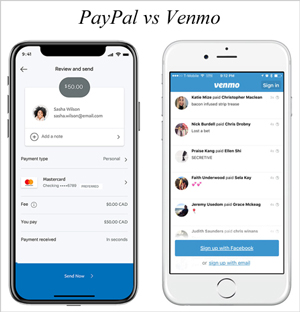 Venmo is Best for:
PayPal is Best for:
– Splitting up a bill between friends
– Accepting money from friends
– Paying for shared accommodation
– Socially sending payments

– Sending money to friends and family overseas
– Accepting/sending large payments
– Purchasing items online
– Selling items online

Can I Have a PayPal and Venmo Account?
If you're wondering if you can run a PayPal and Venmo account at the same time, you'll be happy to know that the answer is yes. This is especially important for business owners who wish to use PayPal for their business transactions and Venmo for their personal transactions. This allows one to separate their personal and private life.
Separating the accounts for their uses makes the most sense. If you have customers flowing onto your website to buy physical or digital items, it makes the most sense to use PayPal to accept their payment. If you are out for dinner and you need a neat way of evenly splitting the bill, if you live within the US Venmo will be your go to application.
Summing Up PayPal Versus Venmo
If you are an everyday US citizen looking for a digital wallet, Venmo may work out a fee free way of transacting money with your family and friends. If you are a business owner on the other-hand, in our opinion PayPal or Stripe are still the best eCommerce solutions which you can read more about here.
You can look at PayPal as the big sister to Venmo. PayPal was first established in 1998 while Venmo didn't hit the eCommerce world until 2009. This gives PayPal many more years of development and integration opposed to Venmo. For this reason, they have a larger pull in the eCommerce world with a greater following of general personal account holders and business account holders.
Last year in 2018, Venmo accounted for $19 billion in payments while PayPal accounted for hundreds of billions of dollars in transactions. While Venmo may always remain the smaller company, under PayPal's belt Venmo is sure to become increasingly popular and feature rich in the coming years.