When setting up an e-commerce website, one of the first questions that comes to mind is 'Which payment gateway should I use?'. The majority of us have heard of PayPal, a long serving processor of online payments but have you considered Stripe? These companies reputable business practices, free customer support and fast payouts have landed them in first and second place for the most popular payment gateways in the world. The chances are when you purchase an item online, your payment is being processed by one of these payment gateways.
At Tips and Tricks HQ we highly value both of these payment gateways and continuously produce new plugins that work with both. The intent of this article is not to favor one over another but to purely outline what each of these companies is currently offering to their customers. On completion of this article, we hope you have a better insight into which gateway will better suit your online business – PayPal or Stripe.
PayPal's Selling Point:
"Whether you're looking for a payment gateway or want to add PayPal as an additional and more secure payment method on your website, we can help you get set up."
Stripe's Selling Point:
"Stripe is the best software platform for running an internet business. We handle billions of dollars every year for forward-thinking businesses around the world."
PayPal vs Stripe: Video Comparison
PayPal and Stripe – The Top Two Payment Gateways
PayPal and Stripe are both payment processors that allow a merchant to accept payments from their customers. When you use either of these payment gateways on your website you can be assured that you and your customers details are secure. The best part about using these companies is that anyone can use them meaning you don't have to have coding knowledge. PayPal and Stripe are not the cheapest options available although they provide a reliable and easy to use payment process system that will allow you to collect credit card payments from your customers.
These two payment gateways are PCI compliant and can be integrated with a large range of other plugins on the market. Stripe and PayPal are both transparent with the fees they charge meaning they do not mislead their potential customers. In saying this, the fees related to PayPal are more complex than those related to using Stripe. Being highly well known and respected companies they will not spam you with unwanted offers to your inbox which is also a plus. The best part about PayPal and Stripe is that they do not lock you into a contract meaning you can try one and if that does not work for your company you can simply switch to the other.
Fees and Rates
In the United States, both of these gateways charge their customers a flat rate of 2.9% and 30c for every successful transaction. This means for every $10.00 these companies will charge you approximately $0.60. Although the fees and rates these companies offer vary depending on the country you are in, they remain similar to one another.
What Does PayPal Offer in Terms of Fees and Rates?
No fee to open a PayPal account
A percentage of transaction and fixed fee is charged per credit card transaction:Â 2.9% + 30c
A charge back fee of $20.00
Accepting American Express payments will be charged at 3.5%
International credit card fee of 3.9% along with a fixed fee (depending on the country).
For payments under $10.00 PayPal will charge a transaction rate of 5% but a lower fixed fee of 5c
When a refund occurs PayPal will refund you the the fixed fee they charged
PayPal generally payout within one day
What Does Stripe Offer in Terms of Fees and Rates?
No fee to open a Stripe account
A percentage of transaction and fixed fee is charged per credit card transaction: 2.9% + 30c
Dispute fee of $15.00. If dispute is solved this money will be reimbursed to your account
Transfers can take up to two days to appear in your Stripe account
No fees for failed transaction or refunds
Ability to accept Apple Pay, Android Pay and Bitcoin
No additional charges to accept American Express
When a refund occurs, Stripe does not refund the fees they have charged
Read our detailed Stripe fees guide tutorial to learn more about the fees charged by the Stripe gateway.
Comparison Chart of PayPal and Stripe Transaction Fees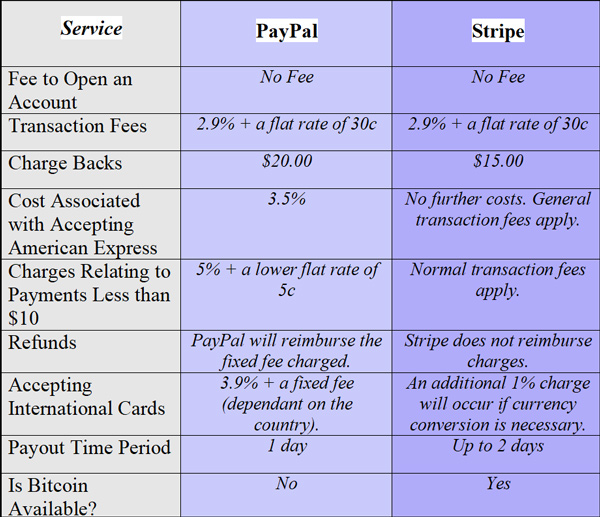 Features That These Payment Gateways Offer
Are you looking for additional features that are specific to your website. Both PayPal and Stripe offer a range of additional features that may win you over. Many people recommend Stripe for developers as the 'Buy Now' button configuration is more advanced than that of PayPal's. Stripe was originally designed for developers although this does not mean it is a requirement. Many non-developers are using Stripe successfully for their online businesses. Below we have listed some of the main features offered by each of these companies.
PayPal Features
POS software integration
Ability to sell digital goods
Subscription type payments
Option to collect donations
Mass payout tool
Express, standard and pro checkout options (three different service plans)
Bill Me Later
Shopping Cart
Inventory Tracking
Stripe Features
Customizable checkout
Option to have subscription payments
Ability to offer coupons
Ability to offer free trials
Option to invoice
Ability to accept the following: Alipay, Android Pay, Apple Pay, Bitcoin and ACH
Simple and well documented API
Security
Using either of these companies to collect payments from your customers will give you peace of mind. Being the two payment gateway "giants" their systems are robust and secure.
The sensitive data (example: credit card info) is sent directly to their servers meaning that if someone was to hack your server, your customer's sensitive information would never be compromised.
PayPal and Stripe are continuously working on improving security and are at the top of the most secure payment gateways available.
Customer Support Offered
Both these companies offer their customers support. PayPal offers extensive support through the following channels: community forum, email support, self-help centre, developer centre, social media (not as reliable) and phone support (between specific times) while Stripe offers support through emails, documentation, Freenode (a chat styled support system) and social media. At this current time Stripe is not offering phone support. Many non-developers can find this difficult and therefor choose to go with PayPal. On the other-hand, Stripe's documentation is more in depth than what PayPal offers.
Pros and Cons for PayPal and Stripe
Payment Processor
Pros
Cons
PayPal
Widely recognized and accepted. Has many integration options with other online platforms (eg Xero).
Does not accept Bitcoin.
Secure and simple to setup and use.
Chargeback fee of $20.00.
Payments appear in the account within a day.
PayPal is not supported in some countries for example Iran and Pakistan.
Good customer service with the ability to talk to someone on the phone to receive assistance.
Exclusion of some currencies for example 'Rupee' is not an accepted currency.
Long history as a good payment processor (has gained trust of online sellers and buyers).
For some of the integration, customer detail transfer process passes through your  server.
 Stripe
Accepts American Express for no additional charge. No additional charges for the majority of international card.
Does not have special rates for micro payments or refund transaction fees for refunds.
More affordable as they don't charge for many things that PayPal do
Not as user friendly to setup
Chargeback fee of $15.00.
Does not have a phone support system
Developer functionality.
Funds are issued on a 2 day basis
Works with all major credit cards and mobile functionality available.
Merchant accounts are only available in specific countries.
Accepting PayPal and Stripe on Your WordPress Site
If you have a WordPress site then the following free plugins will help you accept PayPal and Stripe on your site: