We've previously taken a look at the notable differences between PayPal and Stripe, although in this tutorial we'll be focusing on the up and coming Square Payment Gateway and how it compares with Stripe. While both Square and Stripe share some similarities such as their branding and names, they each offer features which suit two entirely different business models. We will look at integrations, pricing, payment methods and ease of use to outline which payment gateway may better suit your business venture.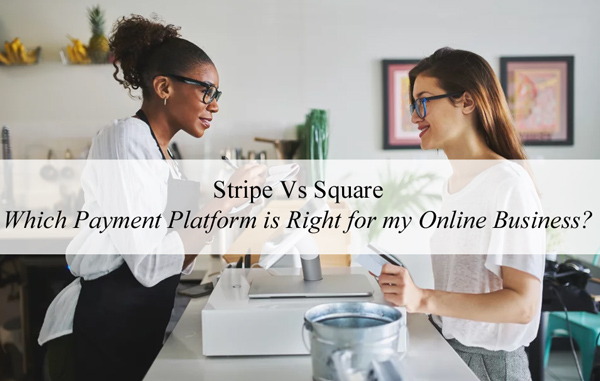 What is a Payment Gateway?
In short, a payment gateway's main role is to authorize payments (or decline payments) from a customer to a merchant.
The role of a payment gateway is to process a transaction from a customer to a merchant. Every eCommerce site uses a payment gateway such as PayPal, Stripe, Square etc and you may or may not even realize which one you are using when checking out as a customer. Each payment gateway has restrictions and fees of their own that the merchant will be aware of.

What Should I Consider Prior to Searching for a Payment Gateway?
You have an idea in mind for an online business, or perhaps you have a physical business and you are looking to also now branch out to an online store. Before you even begin looking for the 'right' payment gateway for your business, you'll first need to consider a couple of key elements. While one payment gateway may work out perfect for one business, this same platform may not meet the requirements of another. Take a look at the questions below to determine the key components that you need in a payment gateway that you will add to your eCommerce site.
What features do you need? Make a list of features that your business cannot thrive without.
Perhaps you require your payment gateway to accept American Express or Apple Pay.
Does a large percent of your customer base live outside of the United States?
If you find that you are accepting international transactions, you'll need to find a payment platform that offers reasonable rates.
Will you require support to set up the payment gateway?
If you do not have developer knowledge, you may need to look for a payment gateway that provides extensive documentation and phone support.
Is there a specific integration that you need?
Perhaps you are already using WooCommerce and require that the payment gateway you select has an already established integration.
Is your business a part of a high-risk industry?
Certain payment gateways are not offered for those businesses that are classified as 'high risk'.
The Main Differences Between Stripe and Square
Video Tutorial: Stripe vs Square
Comparison: Stripe vs Square
While there are shared similarities between Stripe and Square, determining the main differences will allow you as a merchant to best pinpoint which gateway will be the better choice for your business.

The largest difference that sets Stripe and Square apart is the fact that Stripe is primarily for online businesses whereas Square comes with the option of a POS system that allows business owners to collect in-person payments. While Stripe now has an integration with a POS system, this is entirely separate from the Stripe company.
Stripe has a greater established network of integrations that may allow you to accept a wider range of cards and payment types.
| | | |
| --- | --- | --- |
| Features | Stripe | Square |
| Start-Up Fees: | No start-up fees | No start-up fees |
| Basic eCommerce Transactions: | 2.9% + 30c / transaction | 2.9% + 30c / transaction |
| POS Transactions: | 2.7% + 5c | 2.6% + 10c |
| POS Card Reader: | From $59.00 | From $49.00 |
| Support: | 24/7 Phone, Chat and Email | 24/7 email support and day time phone suppport. |
| Payout Period: | Money will appear in your bank account within 2 working days. | Funds are deposited within 1 business day/ |
| Payment Types Accepted: | Visa, Mastercard, American Express, Discover, JCB, Unions Pay, Apple Pay, Google Pay, ACH and many other local payment methods such as SEPA. | Visa, Mastercard, American Express, Discover, JCB and Unions Pay. |
| Disputes/Chargeback Costs: | $15.00 USD (If decided in the customers favor. | No fees |
| Refund Charges: | No fees although initial transaction cost is not refunded. | No fees |
---
Stripe vs Square: Pros and Cons
Stripe Pros and Cons
| | |
| --- | --- |
| Pros | Cons |
| Global Sale Abilities | Customer Favored Chargebacks Cost the Merchant |
| Completely Customizable Checkout and Pre-Built Integrations | Daunting for those without Developer Knowledge |
| On-Site Checkout | Not Available for High-Risk businesses |
| 24/7 Support | Pricey to Accept International Cards |
Square Pros and Cons
| | |
| --- | --- |
| Pros | Cons |
| No additional fees for international cards | Lack of Integrations |
| User-Friendly | Not Suitable for High Risk Businesses |
| Strong POS System | Does not Offer Special Rates for Non-Profit/Large Scale Businesses |
| No Chargeback Fees | Currency is Limited |
---
Stripe Vs Square: Developer Abilities and Integrations
If you are a developer, there is no doubt that Stripe will allow you to achieve an unlimited amount of customizations. The developer documentation is extensive and so is the list of ready to go integrations. Stripe was originally designed for developers and this is one of their strengths. With knowledge, a completely custom checkout is possible when using Stripe.
On the other hand, Square was designed specifically for those companies that needed a POS system as well as the possibility of selling items online. It takes a simpler online approach which does not have the customization abilities that Stripe has when in the hands of a developer.
Common Integrations for Stripe and Square:
| | | |
| --- | --- | --- |
| Integration: | Stripe | Square |
| WooCommerce | ✓ | ✓ |
| Xero | ✓ | ✓ |
| Wix | ✓ | ✓ |
| MailChimp | ✓ | ✓ |
| Go Daddy Online Store | ✓ | ✓ |
| Big Commerce | ✓ | ✓ |
| Stripe Payments | ✓ | X |
| Bookeo | ✓ | ✓ |
| JotForm | ✓ | ✓ |
| SimpleTix | ✓ | ✓ |
While the common integrations between Stripe and Square may fit your website needs, for other websites, Square does not have a predeveloped solution whereas 9/10 times, Stripe does. There are many predeveloped integrations on the Stripe Marketplace compared to a meer 100 or so on the Square Marketplace. This is not to say though that Square integrations will not broaden over the coming years.
Winner: Stripe
Stripe allows developers to customize the checkout experience to make a unique experience for their customers. There are many ready to go free and paid integrations offered by Stripe.
---
Stripe Vs Square: Pricing
Both Stripe and Square do not charge their merchants to begin using them and take the same per transaction fee approach. For eCommerce transactions, both platforms charge 2.9% + 30c for each successful transaction.
Stripe has recently introduced an integration that allows merchants to set up a POS, their POS card reader starts at $59.00 USD compared to Square that offers a card reader for $49.00 USD along with many other hardware options. When speaking about in-person sales that are transacted through both Stripe and Square POS systems, Stripe charges 2.7% + 5c per transaction whereas Square may work out slightly more cost-effective charging of 2.6% + 10c for every successful transaction.
When speaking about disputes and chargebacks, Square, in fact, does not have any merchant associated cost whereas Stripe charges $15.00 USD when a chargeback occurs and is settled in the customer's favor. Both companies do not charge any additional fees for refunds.
Non Profit Companies: Stripe offers some discounts for non-for-profit companies whereas Square currently does not.
Recurring Payments: While Square has only recently introduced recurring payments, they only charge 2.2% for each payment whereas Stripe charges the normal transaction fee plus a small added 0.04-0.07% on top.
Winner: Square
While both companies offer the same rates for online eCommerce transactions, Square takes out the win for its competitive in-store transaction rates and no penalty for chargebacks.
---
Stripe vs Square: Accepted Payment Methods and Currencies
We know that both Stripe and Square are designed to accept payments in the form of credit cards, but it goes beyond this. Depending on where you live, one solution may work out better than the other if a popular payment method in your region is excluded by one of the payment gateways.
There is no doubt that Stripe offers more payment options and this is one of the reasons global companies have began using this payment platform. Any virtual wallet you can think of, chance is that your customers will be able to use it to check out when you have set up Stripe. This compares to Square that currently only accepts traditional credit cards such as Visa, Mastercard, and American Express.
If you run a business where you will be attracting customers around the world, Stripe may allow you to increase revenue by having a payment option that is inclusive to those in specific areas. We've listed a number of payment methods accepted by Stripe below:
Visa
Mastercard
American Express
Discover
JCB
Union Pay
Alipay
Amex Express
SEPA Direct Debit
SOFORT
P24
Apple Pay
Google Pay
Microsoft Pay
WeChat Pay
ACH
Alipay
Bancontact
EPS
Giropay
iDeal
One must also consider which currencies they can accept online payments in, especially those companies who will be selling to customers that do not reside in the same country as they do. Unfortunately, Square does not offer differing currencies, and the currency is determined by where the account is set up. The reasoning for this is that Square was predominately designed for POS transactions, which means that it makes sense for an in-person sale to ever only be in one currency. On the other hand, Stripe allows your customers to pay in 135+ different currencies depending on where they make the payment from. This allows large scale businesses to increase revenue by allocating preferred currencies for their main customer basis.
Winner: Stripe
If you are looking for a payment gateway that allows your customers to use a diverse range of payment methods and different currencies to that of your own then you can't go past Stripe. If you wish to mainly trade to customers who reside in the same country as you, Square may work out just fine.
---
Stripe vs Square: Ease of Use
When thinking of a simple payment gateway, it doesn't get much simpler than Square. Unlike Stripe, Square was designed for those business owners that may not have developer knowledge. Square relies on the merchant already having a shopping cart software, whereas Stripe allows you to create a checkout without additional plugins/addons. While this allows ease of use for Square customers, this does mean limitations and of course the set up is only as simple as the software you are using.
While Stripe can definitely be managed by someone without any developer knowledge, it'll require you to use a plugin or app that manages the checkout for you.
Winner: Square
If you are looking for a simple payment gateway that is easy and quick to set up, Square will be a suitable selection for you.
The Verdict: Stripe vs Square
We've now taken a look at the separating qualities of what may have seemed like two identical payment gateways. While there is no doubt that Stripe and Square do have some similar features, they both appeal to two different types of businesses.
For those with limited developer knowledge or even those who wish to sell in-person to customers, currently Square makes for a better payment gateway. Due to the fact it was built around a thorough POS system, everything is ready to go. While the eCommerce aspect of Square isn't as feature-filled or developer-friendly as Stripe, for many businesses Square offers the necessities.
On the other hand, large scale businesses that sell goods or services to customers across the globe need a payment gateway that can handle differing methods of payment and multiple currencies. This is where Stripe is a real winner as it allows companies to expand with no limitations. The thorough amount of integrations or the possibility to develop your own means that any checkout experience can be handled with Stripe.
While the POS integration for Stripe is definitely not as strong as Square, it can still be used to accept in-person payments. If you primarily will be selling from a storefront, and you do not require specific integrations or payment methods, Square may be a more suited payment gateway.
While there is no one winner to the Stripe vs Square debate, for individual businesses there is definitely a better choice between the two. It comes down to the features that your business requires, the scale of the business but primarily if the business serves more customers in person or online.
Companies Best Off Using Square:
Small Business Owners
Brick and Mortar Stores
Companies Best Off Using Stripe:
Merchants that are selling online
Large Scale Online Businesses
Global Companies