Another official major release of WordPress is due out very soon. WordPress 3.4 is scheduled to be officially unleashed to the public sometime in May 2012.
How time flies… it seems almost like yesterday that we were talking about the release of 3.3.
As you probably remember, the release of 3.3 contained a lot of major changes and tweaks but in comparison, WordPress 3.4 will be a substantially modest update.
Currently WordPress 3.4 beta 3 is available to anyone who wishes to take a sneak peak and perform their own testing, but as for all beta versions, it is highly advised that you play with it on a test site and not slap it directly onto your live sites, because it is after all only a "beta" release.
Before we go into the new things you can expect in WP3.4 I wanted to talk about something which you won't find in the 3.4 release; and that is the new and highly anticipated native WordPress theme called Twenty Twelve.
The Twenty Twelve theme was planned to be introduced in 3.4 early in the development stage but has now been pulled from this release and will make its debut in 3.5.
So now let's look at some of the most obvious things which are new in 3.4.
A handy theme customizer from the admin panel
In WordPress 3.3 and earlier if you traversed to the Appearance->Themes menu in your administration panel you would be presented with your currently installed themes with the ability to preview any of your non-active installed themes by clicking on the "Preview" link.
In 3.4 a similar thing is possible but the link called "Preview" has been removed and now you just click on the theme thumbnail image if you wanted to see a preview of a particular theme. But the major change you will notice is that upon previewing a theme you will be also be presented with a theme customization menu which will allow you to try out various changes to your theme on the fly as shown below.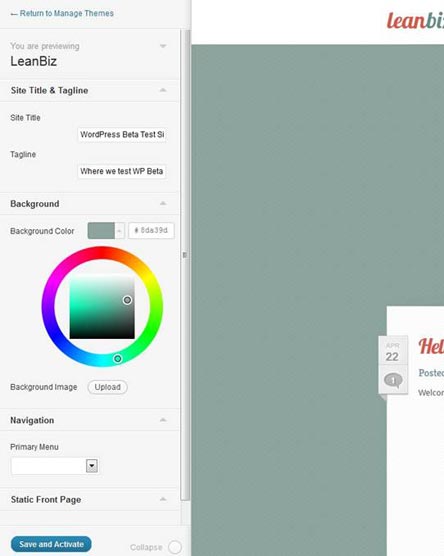 With the new theme customization menu you can now experiment with various options for your theme's background color and images using a handy color picker.
You can also make changes to things like your site title and tagline,  navigation menu, and if you're previewing something like the Twenty Ten or Eleven theme you can even change the header image on the fly by dropping an image file into an upload box (see below)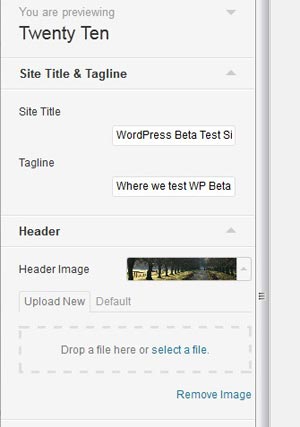 The cool thing about this theme customization preview menu is that it can allow you to quickly and conveniently experiment with various simple cosmetic changes without hacking theme files etc. Your changes are only temporary (kind of like making CSS changes in firebug) but you can also save and commit them simply by clicking the "Save and Activate" button.
Searching for and previewing new themes has been slightly improved
On a related note to the above, you will also notice some changes when you click on the "Install Themes" tab on the Appearance->Themes page.
For example if you're searching for a theme and say you click on the featured link you will be presented with a selection of thumbnails representing some available themes you can install.
In previous versions you would see an anchored popup window when you clicked on the "preview" link but in 3.4 the "preview" link and the short lines of theme info are gone and when you click the thumbnail you will get a near full screen preview window with a sidebar containing the theme's details and an install button (see below).
Flexible header sizes and images
WordPress 3.4 has also introduced the ability for allowing custom header images where users will be allowed to upload header images of varying heights and widths instead of being constrained to a certain size.
This is great for both theme users and authors alike because it adds that extra bit of flexibility to a theme and can negate the need for people to hack theme files or create a child theme just to achieve the purpose of simply adding a customized header image.
With the new version, all of the header support parameters will be included in a single array and can be enabled by calling the add_theme_support() function in your theme's functions.php file.
Theme designers need to to be aware that this flexible header support will need to be added into each theme and will not work automatically with pre-existing themes.
Improved Internationalization
There are numerous small improvements to localization/internationalization which will make WordPress easier to translate.
For instance there is a change to the way translation files work, in that these files will be split up differently to allow for better performance improvements and flexibility when loading translations. Detection of RTL languages has been improved also.
So those are the main and obvious changes. There are also more changes mainly under the hood which are described by WordPress as follows:
New XML-RPC API for external and mobile applications
Performance improvements to WP_Query by splitting the query (Please test!)
Performance and API improvements when working with lists of installed themes
Support for installing child themes from the WordPress Themes Directory
Also another handy little quirk I noticed by accident is that if you click anywhere on the Admin bar which isn't a menu or link, it will automatically scroll the page to the top.
So despite the 3.4 not being as earth-shattering as previous releases we should all remember and appreciate that with every release which WordPress make, the platform is evolving at an amazing rate and cementing its place as THE content management and blogging platform of choice for millions of bloggers and businesses on the web.