The WordPress Custom CSS plugin allows you to customize your WordPress site's appearance by enabling you to easily add custom CSS code without ever having to modify your theme or plugin files. This is perfect for adding custom CSS tweaks to your site.
WP Custom CSS plugin has an interface which accepts CSS code via the WP admin dashboard and applies the CSS code to your site automatically.
You will never have to modify the style-sheet file of your theme or a plugin and then re-apply them after an upgrade.
Specification
App Category
Software Name
WordPress Custom CSS Plugin
Version
Date Modified
Operating System
Requirements
Description
Allows you to apply CSS tweaks to your site without having to modify your core theme or plugin code
Landing Page
File Format
WP Custom CSS Plugin Installation
Go to the Add New plugins screen in your WordPress admin area
Click the upload tab
Browse for the plugin file (wp-custom-css.zip)
Click Install Now and then activate the plugin
WP Custom CSS Plugin Usage
Video Tutorial
Written Instruction
1) After activating the plugin click on the Settings->Custom CSS menu link.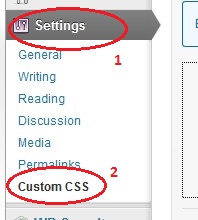 2) Enter your custom CSS code in the text box on the main settings page and then click the "Save CSS Code" button.
After saving your code the plugin will put it in a special CSS file and it will automatically include this CSS file inside the header area of your WordPress site.
Download Plugin