This WordPress Plugin allows you to create nice looking call to action buttons that you can use anywhere on your WordPress site using a simple shortcode.
You can get very creative with this plugin to create buttons. The following image should give you an idea of the kind of buttons you could create using this WordPress buttons creator plugin.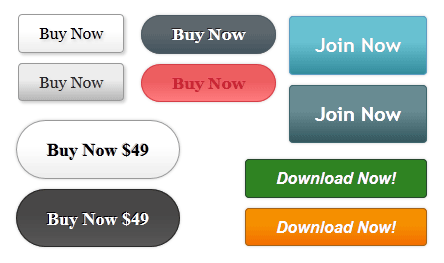 Specification
App Category
Software Name
Version
Date Modified
Operating System
Requirements
Price
Description
Allows you to create nice looking CSS3 buttons for your WordPress site
Landing Page
File Format
WordPress Button Creator Plugin Features
It is free 🙂
Great for creating CALL TO ACTION buttons for your landing pages
Can be used with the WP eStore plugin (plugin to sell digital downloads securely)
No Photoshop skills required
No coding skill required (point and click button creator)
Create unlimited number of buttons and place them on your site
Color picker that allows you to choose any color you like
Buttons are built dynamically as you enter and select options
Customize how the button looks in hover state
and more…
Download the Button Creator Plugin
Compatibility
Works with the latest version of WordPress.
WP Button Creator Installation
Go to the Add New plugins screen in your WordPress admin area
Click the upload tab
Browse for the plugin file (wpbuttoncreator.zip)
Click Install Now and then activate the plugin
WP Button Creator Usage
Click on the Add Buttons menu of this plugin to access the button creator interface.
Use the visual interface to customize how the button should look and save it (see the following screenshot).
Go to the Manage Buttons menu and get the shortcode for the button you just created.
Use the shortcode to place this button anywhere on your site.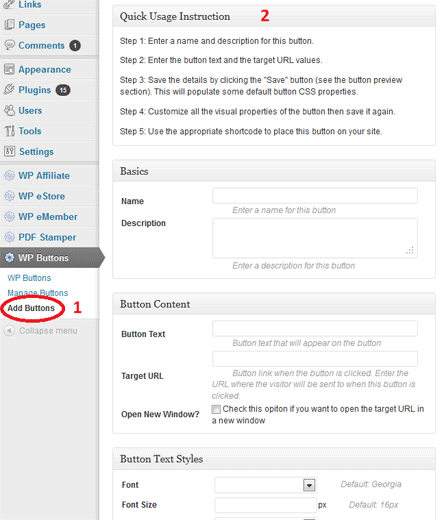 Additional Usage Documentation
Specifying a Different Target URL in the Button
You can optionally pass an additional URL value via the "target_url" parameter to specify a different target URL than the one specified in the button configuration. This can be helpful when you want to reuse the same button but for different URLs. Here is an example of the shortcode usage:
[wpbuttons ids="4_2" target_url="https://www.tipsandtricks-hq.com/development-center"]
Specifying a Custom Class to the Button Link
Use the "classes" parameter in the shortcode to specify your custom classes for the button link. Here is an usage example:
[wpbuttons ids="4_2" classes="my-button-class"]
You can apply multiple custom classes using the following:
[wpbuttons ids="4_2" classes="my-button-class my-class2"]