There is nothing worse than visiting a website that looks as though it is still set in the 1990's. As the years go on it is important to update your website's theme so that you are always using the latest responsive technology. Finding a quality theme that is also free can be hard to find. I've sorted through hundreds of free WordPress themes to bring you my top 10 pick.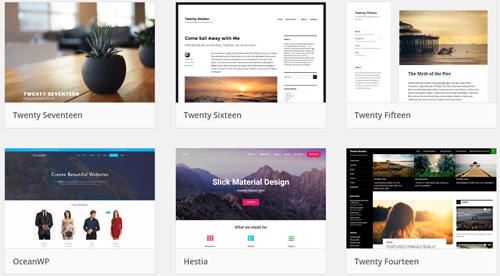 Pointers to Consider When Choosing a Theme
For new users of WordPress one of the first questions they come across is Which theme is right for my website? There is no number one theme as every theme meets the needs of a specific niche or eCommerce website. It is important to know the goals of your specific website and find a theme that will enable you to achieve this.
Making a list of what you absolutely need in a theme is a good starting point. This way you can mark off what criteria a specific theme meets and what is does not. There is no point choosing a theme that does not meet the essential needs of your website. Compiling all the suitable theme candidates and then selecting the most appropriate is the best idea. In some cases, there will not be a free theme that will meet the criteria of a website and in that case you may need to look into purchasing a premium theme.
Before deciding on a theme consider the points below:
Simple is Often Better
Although the flashy colors and animations of some themes may appeal to you, they may actually distract potential readers or customers on your website. A highly animated theme can also slow your website down. Choose a theme that allows your potential users ease of access. Aim for a theme with readable text and a simple yet stylish layout. Do not comprise the usability of your website for a 'flashy theme'. If you look at the layout of the top websites in the world, you will notice they use a basic theme to help them achieve excellent usability.
Ensure the Theme is Responsive & Browser Compatible
A responsive theme is one that adjusts the layout according to what device the user is viewing it from. This means that by choosing a responsive theme, someone using a mobile phone will be able to read your websites content just as easily as someone who is using a computer. This is such an import factor as you may be surprised to learn that usually more than half your user will be viewing your site from a mobile phone. The good thing is the majority of themes these days are responsive.
Furthermore, ensure the theme is compatible with multiple browsers. If they do not mention the compatibility in the theme documentation you should do the due diligence and run a test on some common browsers such as Google Chrome, Firefox, Safari and Internet Explorer.
Supports Top Plugins and Multiple Languages
You may not wish to use a variety of plugins to begin with but always think about the future of your website. Choose a theme that supports all of the top WordPress plugins. You never know the scope of your website in the future. Choosing a theme that supports multiple languages can also come in handy if your users will come from across the globe.
Customization Options
Ensure the customization options are enough to make the theme 'your own'. The customization options are especially important for those users who will not be touching any coding.
Includes Good Support
If you are new to WordPress, choosing a theme that comes with good internet or phone support will help you to set up your website. Look at the type of documentation available for that theme before going ahead and committing to one.
Investigate the Ratings and Reviews of the Theme
To find out if this theme is loved by other users do a quick Google search of the theme name. If multiple users are having issues with the theme or the support you will be sure to hear about it. Choosing a popular theme that is used across a number of websites is always one way to ensure it will be maintained regualrly.
10 Free Themes Perfect for a Range of Websites
by WooCommerce Core Developers 
For those user of WooCommerce who wish to have an eCommerce style site, the Storefront theme is an obvious choice. This free theme, created by WooCommerce team allows you to customize the layout and colors to suit your site. This theme is responsive and incorporates multiple widget areas which enables you to promote your products in a number of ways to those using a number of devices.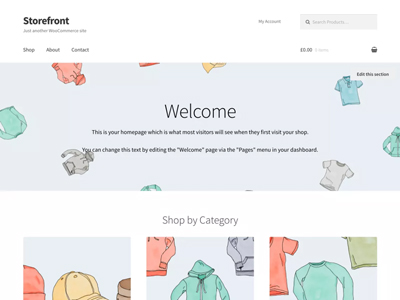 by Fancy Themes 
The Mallow theme is used on over 3000 websites and the best part is, the lite version is completely free. This theme enables you to create a simple blog style website. Using this theme you are able to add a custom logo, it is SEO friendly, it is fully responsive, has complete browser support and is updated regularly. This is a simple yet stable theme suitable for bloggers who are hoping to achieve a 'magazine' style website.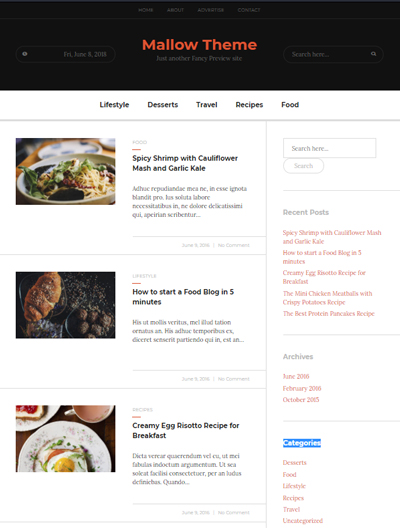 by Codeinwp 
Actively installed on over forty thousand sites, this theme is perfect for users of the WooCommerce platform. Shop Isle gives you the ability to display your products in a grid gallery display making it a suitable choice for a large range of stores. When using this theme, your homepage can have a large full-screen image along with a responsive blog sector. Furthermore, Shop Isle is compatible with widely used plugins such as JetPack.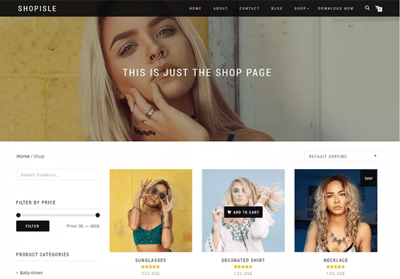 by Lyrathemes 
A simple blog theme perfect for recipe and food websites. This theme includes a front page with featured posts along with the option to show a post slider. Adding social media to this theme and integrating with WooCommerce is a breeze. Kale is a regularly updated theme that is used on over twenty thousand websites.
by Precise Themes
Envy Blog gives you the ability to show case your literature with a simple featured image attached. This is the ideal theme for those who primarily blog on one topic such as travel, fashion or food. This theme is fully responsive and is currently used on just over four thousand sites.
by Kaira
Nikkon is a heavily picture based theme that allows artists to show off their works in differing block sizes. This theme can then be integrated with WooCommerce for those who wish to sell their works of art. Using Nikkon you can add multiple header menus, footer menus and choose from an array of page templates.
by Chris Baldelomar 
Crimson Rose is a feminine theme that allows you to create a simple blog or sell items from a shop page. The inbuilt search bar allows users to easily search your blog posts and products while the feminine colors and text draws users attention. This is a relatively new theme with just over two thousand active installs.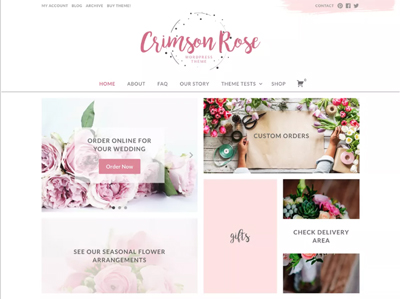 by Ben Sibley
A basic theme used primarily to post about news related topics. Mission News gives you an easy to read platform to post articles that has a 'New York Times' feel. This theme allows you two add three columns of content to neatly display your latest news articles. Currently this theme is actively used on over three thousand sites.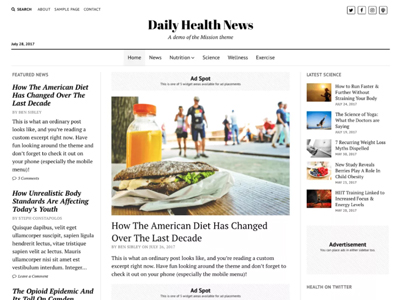 by Royal Flush 
An elegant them perfect for a personal blog about lifestyle, fitness, travel or beauty. This theme is mobile friendly and can be used with an WooCommerce shop. Bard uses the best SEO practices and gives you the option to incorporate social media on your site. A great, free WordPress theme for beginners.
by Anders Noren
Hitchcock is a popular theme for designers and photographers. This theme allows one to showcase their works of art. Hitchcock is a theme that can be customized through the addition of social icons, custom accent color and custom header images. This theme is actively used on over ten thousand websites.