The days of hard copy invoices are slowly dwindling away and with advances in technology, online payment platforms such as PayPal are now offering their users the ability to create and send invoices. The PayPal invoicing feature, that comes as standard with all PayPal business accounts allows merchants to create and customize professional invoices that their customers can pay with the click of a couple of buttons. Billing customers for products or services has never been easier.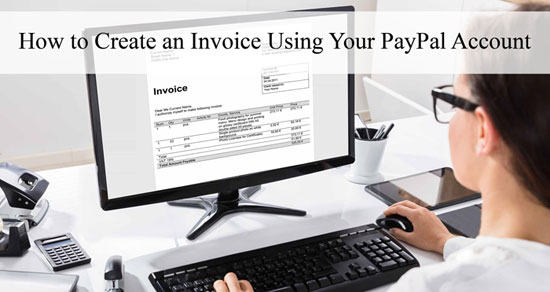 Who Uses the PayPal Invoicing Feature?
While not all companies will have the need to invoice customers where money is collected upfront on their website, for some businesses, especially construction companies, the work is completed and then the payment is billed to the customer. The PayPal invoice feature is commonly used by freelancers, contractors or anyone in general who needs to create a one time invoice or a recurring invoice.
One of the attractions business owners find with the PayPal Invoice feature is their customers are paying through a trusted channel. PayPal is a global name and their icon is widely recognized. If a customer makes a payment, they also know their money is safe with the buyer's protection that PayPal offers.
How Can Customers Pay for an Invoice?
Once a merchant creates and invoice in their PayPal account, they will see two options.
The first option is generally the preferred option and it allows PayPal to send the invoice directly to the customer. The notification sent to the customer will appear in their email account and in their PayPal dashboard.
The other option involves PayPal supplying the merchant with a special link that they can share with their customer via a messaging platform of their choosing. The customers can then click on the link and pay for the invoice that way.
All PayPal invoices can be paid via credit or debit card, PayPal funds or in some circumstances PayPal credit. Once the customer makes the invoice payment, the merchant will generally receive the funds in a couple of minutes. Within the manage invoice menu, the invoice will also be marked as 'Paid'.
How Much Does it Cost to Send a PayPal Invoice?
A PayPal invoice is entirely free to send out and the only associated cost is when the customer makes a payment, the general PayPal transaction fee will apply. This means that the merchant is not out of pocket any additional money for sending an invoice. While the only fee paid is the transaction fee, be cautious about sending invoices internationally as the conversion fee and transaction fees may be higher than what you first expected.
What Happens if My Customer does not have a PayPal Account?
You may be wondering what happens if you send an invoice to a customer that does not have a PayPal account. The good news is that they can still use their debit or credit card to make the payment online, or otherwise arrange an offline payment with you directly as a merchant. If an offline payment is made, you still have the ability to mark the invoice as completed.
What is the Difference Between Sending a PayPal Invoice and Requesting Money?
PayPal offers the invoicing feature that we have mentioned above but they also offer a feature where anyone can request money from customers, family, friends or acquaintances. While requesting money is a quick and easy process it is informal and does not allow for a lot of description regarding what the payment is being made for. On the other hand, the invoicing tool is comprehensive, allows you to add tax fees and gives your customer details about exactly what they will be paying for. In short, the request money feature should generally be used for personal use and the invoicing feature for commercial and business purposes.
How Can I Create a PayPal Invoice?
Video Instructions
Written Instructions (step by step)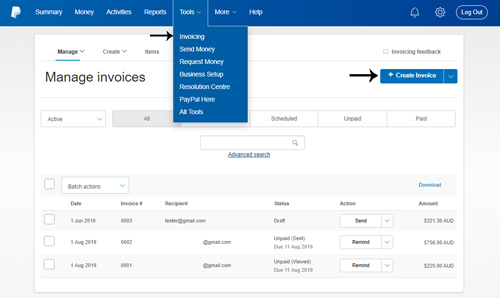 If you are business owner looking to create a PayPal invoice, we've outlined step by step instructions below.
Log into your PayPal account.
Click on the 'Tools' menu and then on 'Invoicing'.
This will take you to the 'Manage Invoices' page. This area is where you can go at any time to edit and manage the invoices that you have sent out to customers.
Click the 'Create Invoice' button.
This will bring you to a page with a number of fields that you will need to complete to bring your invoice to life.
You'll need to choose a 'Template' from the drop-down menu. The template you choose should be the best fit for your company. For example, a construction company that wishes to send an invoice for laboring would best suit the 'Hours' template.
Add your business 'Logo' to add trust to the invoice.
Choose the 'Frequency' of the invoice. For one time invoices, choose the 'Once Only' option. If you wish to send this invoice regularly, you may choose to select the 'Every Week' or 'Every Month' and so on options.
Choose an 'Invoice Date'. This allows you to back track your invoice to the date it should have been created if you need to issue a bill for a job that was completed in the past.
Add a 'Reference' and 'Due Date' if you choose.
In the 'Bill to' field, you will need to add the PayPal email address of your customer. If they do not have a PayPal account, simply add their email address. You can bill multiple customers at once with the same invoice if you need to.
'Customize' your invoice and add a description and amount for each charge. You can add 'Tax' and 'Shipping' charges as well. A 'Discount' can also be added which will be subtracted from the total as either a fixed amount or a percentage amount.
If you wish to allow for partial payments or customer tips, ensure you mark the appropriate buttons.
Add a 'Note to Recipent' or 'Terms and Conditions' if you wish to.
You may wish to also attach a 'File' if it makes sense.
'Preview' your invoice, and if you are happy with your invoice click the 'Send' button.
Example PayPal Invoice
Below we have added an example PayPal invoice so you can grasp an idea of what they look like and the detailed descriptions they allow for.