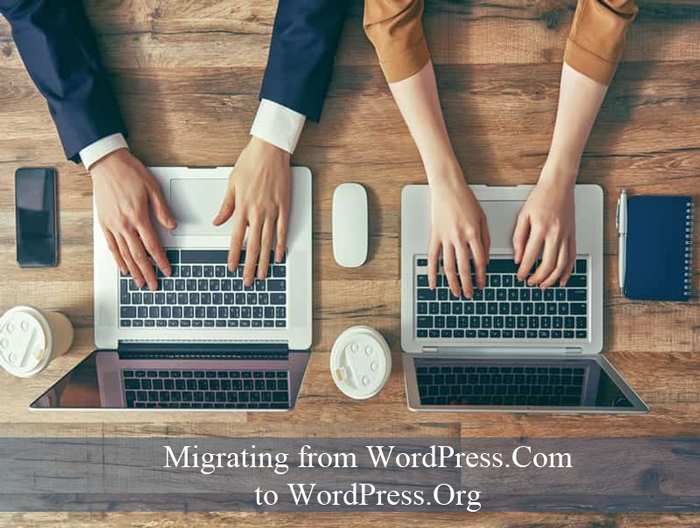 If you've began creating a website using WordPress.Com you may have noticed the limitations after using the platform for some time. While WordPress.Com is suitable for bloggers, if you wish to set up a membership or eCommerce website, the ideal platform is the self-hosted WordPress.Org. Using WordPress.Com opens up a whole new range of new avenues for your website.
You may be questioning if moving from WordPress.com to WordPress.org is possible. The answer is yes and we'll discuss how in this article.
What is the Difference between WordPress.Com and WordPress.Org
In short, WordPress.com is a hosted service where you can set up a blogging based website whereas WordPress.org is a software that can be downloaded for free and ran on hosting of your choosing.
Comparison Image: WordPress.Com Verse WordPress.Org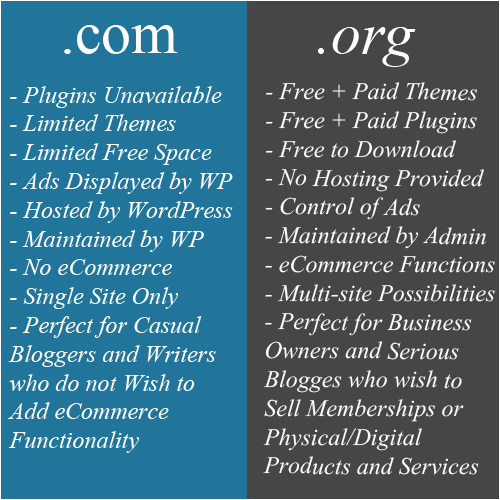 If you've previously been using WordPress.com you may be wondering what is different about WordPress.org or vise versa. While they are both WordPress websites, they are in fact very different from one another. The similarities in the names of each lead many WordPress beginners to select the wrong platform for their website venture.
WordPress.org is what most business owners are referring to when they boast about their WordPress website. This is the platform that is 'open source' and entirely free to use. It is self hosted meaning that owners will only need to pay to host their website. A WordPress.org website can be extensively customized using custom coding or through the use of many free and paid plugins.
On the other hand WordPress.com, created by the same man by the name of Matt Mullenweg that crafted WordPress.org is a hosting service where you can select between a number of plans depending on the needs of your site. WordPress.com is more commonly used for bloggers rather than those trying to market or sell an item. If you choose to use the free WordPress.com platform, third party ads will be displayed, a limited number of themes are available and eCommerce features are not a possibility. If you select a paid WordPress.com website than many of the WordPress.org features are available although there are still limitations and your site will still be hosted by the company rather than by hosting of your choosing.

Table of Differences: WordPress.Com Verse WordPress.Org
Feature
WordPress.Org
WordPress.Com
(Free Version)
Themes
Many free and premium themes are available. Themes can be edited and uploaded.
Limited themes are available and cannot be edit or altered.
Plugins
You can upload multiple free or premium plugins or add custom plugins to your website.
Plugins are not available for the free WordPress.com websites. There are some additional features in the core WordPress.com platform.
Domain Name
You will need to purchase a domain name of your choosing.
Custom domains are not available. You can only choose the sub domain for a free WordPress.com website
Advertisements
Using WordPress.Org you can advertise your own products or use a third party advertising agency.
Ads cannot be sold on these websites. If you have a high traffic website, you may be able to advertise with WordPress.com although they share a cut of the revenue.
eCommerce Functionality
You can use a free or paid plugin to sell goods or services from your website.
You cannot add eCommerce functionality to a free WordPress.com website.
Updates
You are responsible for updates on your website.
Your website is updated, maintained and backed up for you.
Hosting
You will need to set up hosting yourself and pay for hosting each month.
Hosting comes free with WordPress.com although it is only free for sites that use 3 GB of storage and under.
Why Make the Switch from .Com to .Org
For some the switch is always going to come. If you have aspirations of one day selling an item or a service from your website, it is inevitable that you'll need to switch to WordPress.org. For the majority of users, WordPress.com is like sampling an ice cream. WordPress.com gives users a free feel of what owning a WordPress.org site is like.
In saying this, many users of WordPress.Com, especially those freelance bloggers are happy enough to continue to use the platform. The streamlined, simplicity of WordPress.Com allows them to share their ideas and opinions online for free.
If you find you have hit a stand still using WordPress.Com, switching to WordPress.Org opens up a whole new number of opportunities. You may be thinking of making the switch if:
You cannot customize your WordPress.Com site the way you in-visioned
You wish to add a membership or eCommerce functionality to your website
You are receiving a noticeable amount of traffic and wish further monetize your website
Switching from WordPress.Com to WordPress.Org
If you are currently running a WordPress.Com website and wish to make the switch to a WordPress.Org site, this section will outline how to do so step by step.
Considerations When Swapping WordPress Platforms
Obvious enough you will need to have access to your WordPress.com website throughout the entirety of the swap to WordPress.org.
When swapping from a free WordPress.Com website to WordPress.Org you will need to consider the additional hosting expense.
Steps to Swapping WordPress Platforms
Export your WordPress.Com content.
Select hosting for your WordPress.org website
Purchase a domain name
Install WordPress.Org on your new hosting server
Choose a Theme for your WordPress.Org website
Move your WordPress.Com content to your WordPress.Org website
Step by Step Instructions to Swap WordPress Platforms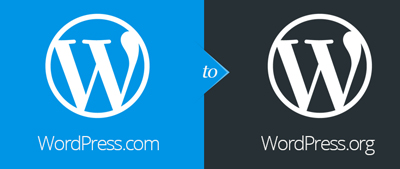 1) Export Your WordPress.Com Data
Step 1) Sign into your 'WordPress.Com' website and click on the 'WP Admin' menu.
Step 2) Click on 'Tools' and then on 'Export'.
Step 3) Choose the 'Free' export option and then hit the 'Start Export' button.
Step 4) Choose to export all your WordPress.com content by marking the appropriate check circle and then click the 'Download Export File' button. Step 5) A file with all of your WordPress.com content will be download to your computer.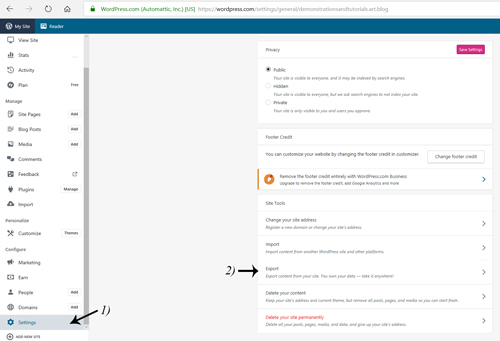 On some WordPress.Com websites, the export tool can be found under the Settings menu.
Once you click on the Export menu, you'll then need to choose to Export All. Then a Download button will appear where you can download the content of your WordPress.Com website. Ensure you Save the downloaded content as we will need this further on.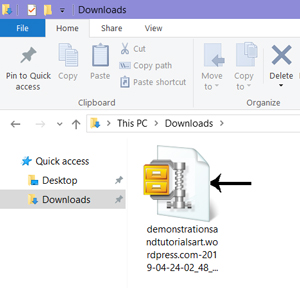 2) Set Up Your WordPress.Org Website
Now that you have your WordPress.com data stored on your computer, we'll need to create our WordPress.Org website. This is somewhat of a detailed process although once complete, importing the previous data is a walk in the park.
Step 1) Purchase a domain name. A domain name can cost from $15.00 a year.
Step 2) Sign up for hosting; either dedicated or shared depending on the scale of your company. Read a little more about hosting here if you are undecided on a hosting provider. Hosting can cost between $4.00 to $200.00 a month.
Step 3) Install WordPress (WordPress.Org) on your hosting server (many hosting companies now offer WordPress installation free of charge).
Step 4) Choose a theme for your WordPress website. If you are unsure how to install a theme, read more here.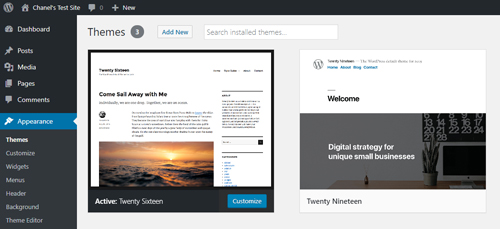 3) Import Your WordPress.Com Data
Now comes the easy part. Once you've set up your WordPress.Org website, you'll need to import your WordPress.Com content which we saved to our computer in step 1).
Step 1) Log into your WordPress.org website. Click on the Tools menu and then on Import. Click the Install Now button next to the WordPress import plugin.
Step 2) If you have installed the importer successfully, you'll see the option to Run Importer.
Step 3) Now you'll see a page with the option to Upload File. You'll now need to upload the downloaded WordPress.Com content.
Step 4) Now click the Upload file and import button.
Step 5) You will now need to assign authors to any pages/posts. Once you have clicked submit you should see a success message.
4) Redirect Visitors to Preserve Previous Web Ranking
Unfortunately when using WordPress.Com you are not granted access to
.htaccess. This means that it is somewhat harder to redirect and maintain your previous search ranking. WordPress.Com offer a paid option called Site Redirect which is the best option to maintain ranking of your content. Currently the Site Redirect feature is $13.00/year.
5) Ensure No Images are Broken
Once you have imported all your old content to your new website, it is a good idea to browse your pages/posts to ensure there are no broken images and links.
FAQ's – WordPress.Com to WordPress.Org
Q: How Much More a Month with WordPress.Org Cost Opposed to the Free WordPress.Com?
A. If you've been using the free WordPress.Com platform, you'll now need to consider the cost of hosting and a domain name along with the cost of the site redirect feature if you use this option.
Hosting Cost: Approx $20.00 a month
Domain Name Cost: Approx $15.00 a year
Site Redirect Cost: $13.00 per year
Q: Will my WordPress.Com Break When I Move my Content?
A. If you've followed the method above, you WordPress.Com site will remain intact the entire time. We only exported a copy of the data so the site will never go down.