While Stripe does not support pausing of a subscription payment, it is possible for your customer to end their subscription and then rejoin at a later date. While this can sometimes be inconvenient it ensures no further payments are withdrawn during a period that the customer will not be benefiting from the subscription. On the other hand, some customers may contact you wishing to have their subscription terminated or cancelled and we'll explain how you can also handle that in this tutorial.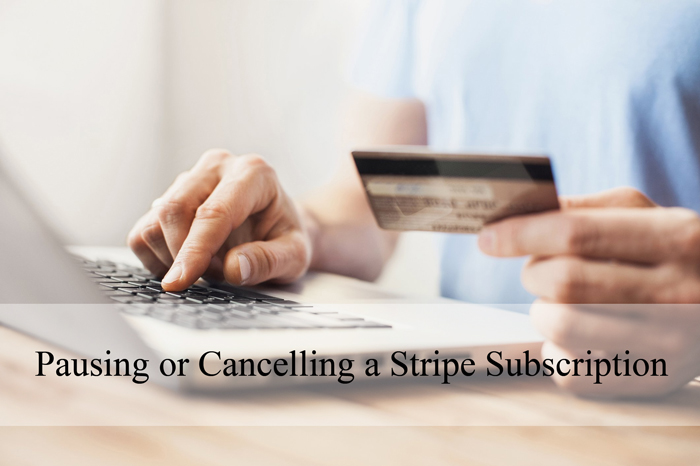 If you wish for your customer to remain as a member of your website or service, you can move them temporarily to a free plan so that they can continue to use the service and then swap them back to the paid plan at an arranged time. While most companies will not allow customers to continue to view content when they are not making regular payments, in some circumstances it does in fact make sense. For instance, there may be a period that you yourself will be away and there will be no new content so you have agreed to pause your customers Stripe subscriptions.
Why Would a Customer Need to Cancel a Subscription?
Unlike PayPal, once a customer signs up to a Stripe subscription it isn't as easy for them to cancel it from their end. In fact, the majority of the time, they will need to ask the merchant to cancel the subscription for them. Most of the time the customer will ask for the subscription to be cancelled as they are not enjoying the product or service they are receiving or they have ran into financial difficulty. Other reasons may include, they will be away for an extended period of time or they have joined another more suitable subscription.
As a Stripe merchant you have the ability to cancel any recurring subscription from your Stripe dashboard and within reason, you should respond to your customers appropriately. Always remember that if you choose not to cancel the customers subscription they have the ability to cancel their credit card to terminate payments and then may choose to poorly degrade the company. Within reason, cancelling a subscription is often the hassle free approach and will ensure that the customer leaves on good terms.
Why Would a Customer Need to Pause a Subscription?
While pausing a Stripe subscription is not entirely a possibility, many customers may wish to pause payments due to financial reasons, upcoming pre-planned holidays, temporary sickness or life events such as marriage or pregnancy. While as mentioned earlier pausing a subscription is not a possibility, once you cancel the customers subscription it is a good idea to note down when they plan to join again so that you can send them a friendly reminder when that time is approaching. This way the customer should rejoin the subscription if they are enjoying the product or service and this means you do not entirely loose their business.
How Can I Cancel/Pause a Stripe Subscription?
If your customer has asked you to pause their subscription you'll need to cancel it temporarily and then direct them to resubscribe once they are ready.
Video Tutorial: Cancelling/Pausing a Stripe Subscription
Written Tutorial: Cancelling/Pausing a Stripe Subscription

Locate the 'email address' of the customer. This way you'll easily be able to find their subscription within your Stripe dashboard (especially if you have a lot of recurring subscriptions).
'Log in' to your Stripe Merchant Account.
Click on the 'Billing' menu and then on 'Subscriptions'.
At this stage you can use the search tool to locate the subscription, or if you do not have a lot of subscriptions you may be able to locate the customers transaction easily.
Click on the 'transaction line' and this will bring you to a page with further details.
In the right hand corner you will see a button '…'. If you click on this button you will see the option to 'Cancel subscription'.
Once you have double checked this is the subscription that you need to cancel, click the 'Cancel subscription' button to proceed.
You will need to confirm again in the next step before the subscription is cancelled.
How Can I Direct my Customer to Rejoin the Stripe Subscription?
If your customer has indicated that they'd like to pause their subscription, than you will need to cancel the subscription and then direct the customer to rejoin once they are ready. Once your customer is ready to subscribe again, you will need to direct them to the subscription product you have set up, perhaps using a plugin like the Stripe Payments Plugin. From there your customer will easily be able to enter their credit card details and again join the subscription you are offering.