The days of your family member sending you money in an envelope from overseas are decreasing due to the risk of this money getting lost in transit or removed from your letterbox before you've arrived home. While many merchants and everyday people are sending money to family and friends abroad using PayPal, TransferWise is, in fact, more cost-effective, and follows somewhat of a simpler approach. In this article, we will look at how you can send money overseas whether that be to an employee, family member, friend or merchant using the cheapest international wire transfer platform: TransferWise.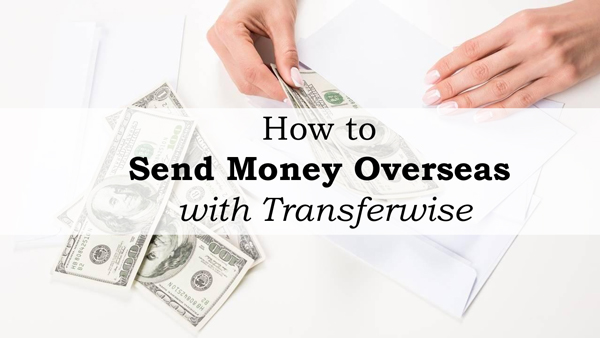 ---
Why Would I Need to Transfer Money Overseas (Abroad)?
There are many reasons why someone would need to send money via a wire transfer abroad. Transfers that occur from one account to a recipient within the same country are often straightforward as there are no differences in currency exchange. Overseas transfers are somewhat different in the fact that a currency conversion often needs to take place.
Some reasons you may find you need to make an overseas transfer may include although are not limited to the following:
Money needs to be sent to purchase a property or investment
An overseas bill needs to be paid
A staff member who lives overseas must be paid
Money needs to be sent to help a family member or is being gifted as a present
What are the Pros of Using Transferwise for Sending Money Abroad?
It is a fast and convenient platform that allows you to handle the international transfer of money entirely online
The fees are lower than that of other platforms such as PayPal
Transferwise uses the mid-market exchange rate
You have the ability to transfer in currencies
It allows you to send and receive money from 40 different countries around the world
A Transferwise account is free to create
Once you click the transfer button, the money will hit your recipients account in 1 to 3 days
What Will I Need to Transfer Money Overseas with TransferWise?
You will need to set up a TransferWise account to be able to make an international transfer. TransferWise accounts are free to set up and follow a simple approach.
You will also need:
To supply some personal details such as your address, birthday and phone number.
Your recipient's bank details.
A method of payment such as bank account or credit/debit card.
ID for some types of overseas transfers.
What Payment Methods Can I Use to Transfer Money Overseas?
TransferWise accepts funds from a bank account, debit card or credit card to make an international transfer. You will need to link one of these methods in the process of transferring money overseas.
How Much Will an International Transfer Cost Me?
If you choose to use TransferWise to complete an international transfer whether this be to send money to a family member for their birthday or to send a larger transaction to purchase a company, TransferWise always stick to the following transaction cost model:
A Fee: A Small Flat Fee and a Fixed Percentage of the Transfer Amount. This is all Disclosed to the Account Holder.
+
Mid Market Exchange Rate: Your Currency will Always be Converted at the Mid Market Exchange Rate. This is Generally the Best Exchange Rate at any Given Time.
What is the Mid-Market Exchange Rate?
The mid-market exchange rate, many often refer to as the 'real' rate of conversion. This rate is set between the demand and supply of a currency and dynamically changes. It is considered to be the fairest rate of exchange and is the exchange rate you will see on Google and Yahoo.
While you may have originally thought all wire transfer platforms use this rate, unfortunately, that is not the case. Unlike TransferWise, many companies such as PayPal add a small percentage on top of the mid-market exchange rate. If you didn't know the 'real' exchange rate at the time, you may have not even noticed this in the past. While less than a percentage may not seem like much at the time, this, in fact, adds up when you go to transfer large amounts of money from one country to another.
How Can I Determine the Total Fees I will Pay to Send Money Overseas with TransferWise?
TransferWise offers a nice feature that many other wire transfer companies do not. This feature allows you to determine the total cost of the transfer with no obligations. This means you do not even need to create an account to determine the total fees and the current conversion rate of your international transfer. To use the fee and currency calculator, simply head to the TransferWise website.
Below we used the TransferWise Calculator to determine the cost of sending $1000 USD to an Australian recipient on the 5th of December. Using this calculator not only were we able to see that our Australian recipient would receive $1, 446.46 if we were to transfer that money at that time, we could also see that the total fees we would pay to make this transfer would be $9.03 USD. If I was to make the transfer on that day, the 5th of December, my recipient should see that money within their account by the 6th of December.
---
Which Countries Can I Send Money to With TransferWise?
The countries you can send money to with TransferWise is dependant on where you are located. There are not many countries that you cannot send money to. If you live within Australia you can send money to the majority of African countries, American countries, Asian countries, European countries, and those countries within the Oceania region.
Steps for Transferring Money Overseas with Transferwise
Video Tutorial:
Written Tutorial:
Step 1: Head to the Transferwise website and in the 'You Send' field, add the amount you would like to send and pick the currency of that money from the drop-down menu.
Step 2: In the 'Recipient Gets' field, you will need to choose the currency of the recipient's account from the drop-down menu. The 'Recipient Gets' field will now dynamically display the total amount of money that your recipient will receive if you make this transfer.
Step 3: Click the 'Get Started' button to proceed. If you have an account, you will be prompted to sign in, otherwise, you will need to click the 'Sign up' button.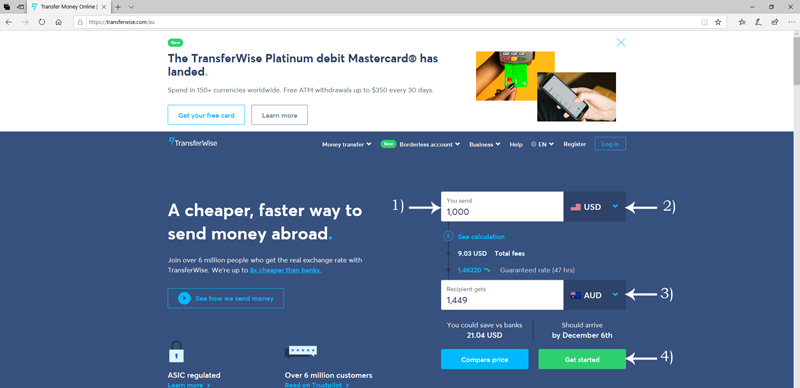 Step 4) If you need to create an account, you will need to choose between a 'Personal' and 'Business' account. You will need to enter your email address and choose a secure password. Click the 'Sign Up' button.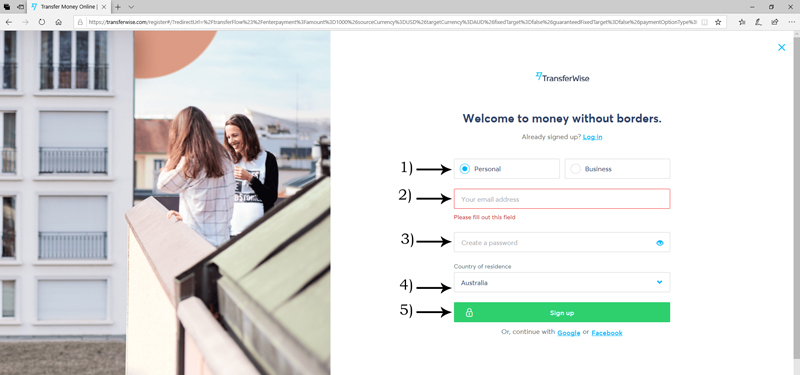 Step 5) Choose the 'Send Money Abroad' option and click 'Continue'.
Step 6) Choose how much you would like to transfer, the currency of the transfer and the currency of the recipient. Click 'Continue'. Choose whether the transfer is for 'Personal' or 'Business' purposes.
Step 7) Now you will need to fill in your details. These are details such as address, name, and phone number. Click 'Continue' once you have filled in your personal or business details.
Step 8) Choose who you are sending money to: 'Myself', 'Someone Else' or 'A Business or Charity'. To send money overseas choose the option to send to 'Someone Else'.
Step 9) This is where you will need to fill in the details of your recipient. This is where you will need to enter the recipient's bank account details. The required details will differ for each country. For example, if you are transferring to a recipient in the United States, you will need to enter their 'Routing Number' and 'Account Number'. Click the 'Confirm' button once you have entered your recipient's details and double-checked them.
Step 10) You will now be able to review the order before you make the transfer.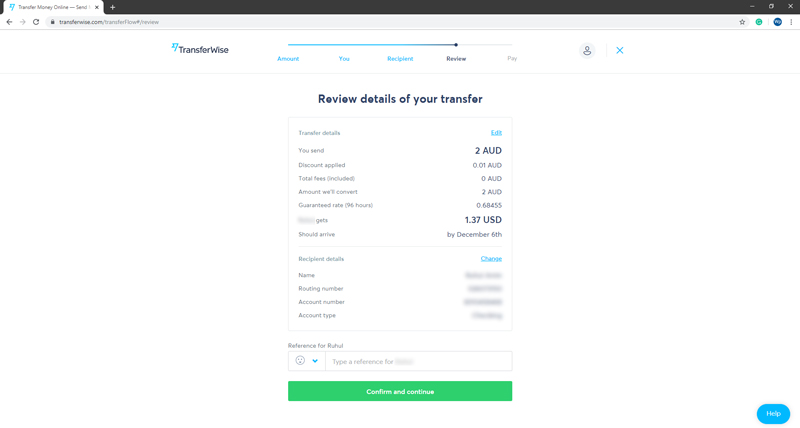 Step 11) You will now need to link a payment source to complete the international transfer. If your payment is going to be less than $3500 than you will have the option to use bank transfer, debit or credit card. If you have money already sitting in your Transferwise account, this is the simplest way to then make the international transfer.
Step 12) Accept the final review of the transfer. Once you accept the fees, rate, and transfer you will be sent a confirmation of the international transfer.