While we have covered a number of tutorials on PayPal in the past, in this tutorial we will look at a relatively new platform that goes by the name of TransferWise. I will discuss what TransferWise is and how you can use it with your PayPal account. I will also cover why this platform is so valuable to those who frequently transfer money internationally.
---
Video Tutorial: PayPal to TransferWise Money Transfer
What is TransferWise?
TransferWise is an online money transfer service that allows you to move money between accounts in a cost-effective way.
TransferWise was established in 2010 although it's major success has been in more recent years. This online platform allows individuals to create either a personal or business virtual bank account. Unlike a normal bank account that you may use to earn some interest by holding your money, TransferWise is more commonly used to temporarily hold money and then transfer it onto a desired location. TransferWise supports hundreds upon hundreds of different currencies and depending on where you are located, you'll have the option to create multiple differing currency accounts within your TransferWise.
So you now may be wondering what attracts people to create a TransferWise account? In short, the currency conversion rates are much lower than the big banks and even lower than PayPal. In some circumstances, transferring your money via TransferWise can allow you to save up to 90% of the fees you would generally pay when using other methods of moving money across international borders.
In 2018 TransferWise introduced the 'Borderless' account which drew more and more followers to this steadily increasing company. It is this borderless account that we will take a further look at below.
---
Why Should I Use TransferWise for International Money Transfer?
Sending money abroad only incurs a small fee
Best currency conversion rates
Transaction fees are transparent
Transfers can be completed entirely online
You can spend your balance using their debit card
Can be used for personal or business use
80% of transfers arrive the next business day
Sending money from one currency to another is never going to be free from fees although when you use TransferWise you may notice that the fees are recognizably lower than if you were to have transferred this money directly from your bank account. The total fee will be calculated by TransferWise depending on which currency you are wishing to send, whether or not currency conversion will need to take place and how large the sum of money is.
You will have the option to enter in the amount you wish to send to determine the fee prior to committing to making the transfer. This gives you the opportunity to compare the TransferWise fee with the fee of another payment platform. Generally, the TransferWise fee will sit below 1% whereas many of the big banks charge 3-7%. PayPal's currency conversion fee ranges between 3% to 5% (based on the currency you are converting).
TransferWise uses the mid-market exchange rate. This is often the best rate of transfer at any given time and the best part is TransferWise do not add any sneaky hidden fees. Not only is TransferWise a cost-effective way of transferring your money across borders, it is also relatively quick with each transfer taking a maximum of 2 business days.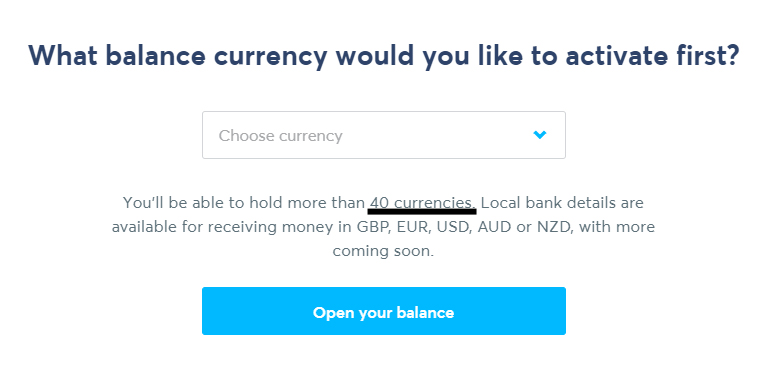 ---
How Can I Create a TransferWise Account?
Creating a TransferWise account is simple and easy, and follows much the same approach as creating a PayPal account. Complete the steps below to create your very own personal TransferWise account: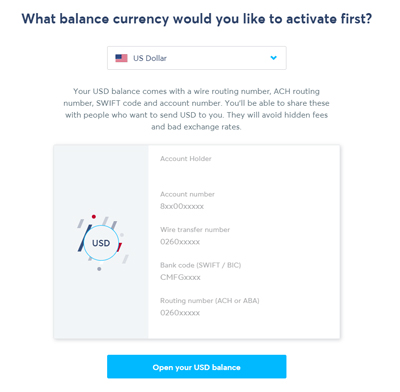 Head to the TransferWise website and click the 'Register' button.
Choose the 'Personal' account option and enter your email address and a strong password. Click 'Sign Up'.
At this point, you will need to verify your email address before continuing. Once you have verified your email address, you will need to enter in a couple of other personal details and your phone number. It is a good idea to verify your phone number to implement 2 step account verification.
If you now click on the 'Balances' menu you will see the option to 'Get Started'. Click on this button to create your first TransferWise balance account. Each balance you create will have its own account number.
Choose the currency that you would like to activate such as 'US Dollar' and proceed to create the account.
You can choose to have a hard copy card sent to you, or you can choose to do this at a later time if you will only be using TransferWise online for the moment.
You should now see your new balance account under the 'Balances' menu.
You will have the ability to transfer from your PayPal account to this TransferWise balance account.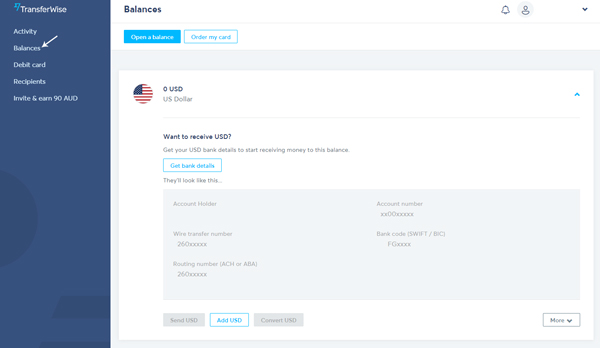 ---
TransferWise FAQ's
Before we discuss how you can transfer PayPal funds to your TransferWise Account and then onto your very own bank account or an overseas account, we've highlighted some frequently asked questions below that you may even be pondering upon yourself.
How Much Does it Cost to Create a TransferWise Account?
Creating a TransferWise account is entirely free. The only cost associated with this service is when you transfer money.
How Many Different Currencies can I Hold in my TransferWise Account?
While the amount of balance accounts for each currency you wish to hold varies depending on where you are located, it is generally around the 40 mark. While many individuals will only have the need to create a handful of currency accounts, large scale businesses may have the need to create more and TransferWise allows them to create each balance accounts for free.
How Much do TransferWise Charge to Convert Currencies?
The conversion rate when using TransferWise sits between 0.35% and 2%. They use the mid-market exchange rate.
---
Determining the Fee for Transfering Money Internationally with TransferWise
If you are looking at transferring a small or large sum either to an overseas account of your own or that of a family, friends or employees, you can take a look at the fee you will incur as well as the current exchange rate prior to sending the money or in fact even creating a TransferWise account.
Click here to work out the current 'total fees' you will incur if you send money from TransferWise. As you can see below, if we were to transfer 1,000 AUD to a USD account we would have incurred a small fee of $6.56 AUD. We were also provided with the mid-market exchange rate making TransferWise the cheapest way to send money to a US account on that particular day.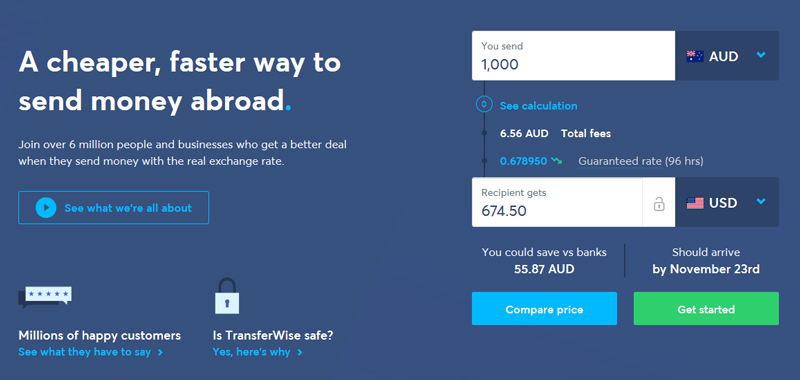 ---
How Can I Transfer Money from PayPal to TransferWise without Incurring a Fee?
Many large scale businesses have set up their online stores primarily relying on the PayPal payment gateway. While PayPal offers some great benefits for merchants, if the merchant needs to send money to perhaps another business partner overseas, the rates PayPal charges for currency conversion and overseas transfers will see the business owners losing out on valuable profits. This is why many business owners are beginning to send money to TransferWise and then allowing them to complete the overseas transaction.
The fees associated with TransferWise arise when currency conversion is involved. If you have a PayPal account and you wish to transfer money overseas this can be costly. There is a workaround though and this involves transferring your PayPal funds to a TransferWise balance account (of the same currency) and then onto the desired location. We've created a graphic below to better demonstrate this process:
Ensure you have created a TransferWise account and a balance account that reflects the currency you wish to transfer from PayPal. For example, if you have PayPal funds in USD, ensure you create a USD TransferWise Balance account.
Within your PayPal account, click on 'Money' and then on 'Transfer Money'. If prompted, choose the 'Standard' transfer option.
Click the 'Link a Bank Account Option'.
Locate the details of your balance account by clicking on the TransferWise 'Balance' menu. For example, if you are transferring US funds to a US balance account, you will need to locate the routing number and account number from TransferWise.
Link the bank account by entering the required information and then click the 'Link Your Bank Account' button.
You will now be able to send the amount you wish to from PayPal to TransferWise fee-free.
You will now need to wait a maximum of 2 business days for the funds to arrive in your TransferWise account.
Once the money reaches your TransferWise account you will have the option to send this money from the balance account to another account or platform of your choosing. While you may incur a fee from transferring one currency from TransferWise to an account that holds a different currency, this fee will be much less than that charged by PayPal and the big banks.
Take a look at the section above to find out how you can work out the total fees you will pay to transfer money from TransferWise to an international account.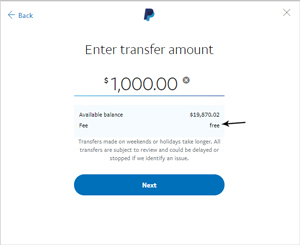 ---
Why is TransferWise Appropriate for International Transfers?
There are a number of business owners or even individuals that require an online platform that allows them to receive and transfer money across borders. While of course, the big banks will allow you to transfer your money to another account across the globe, they will heavily charge in the form of a poor currency conversion rate and in the form of a transfer fee.
TransferWise not only charges far less transaction fees, they also give you the best possible currency conversion rate on the day of transfer. This can make a world of difference when transferring large sums of money. A few cents for the dollar is definitely noticeable when you send thousands upon thousands, and this amount can add up in the long run if you are a business owner transacting with overseas companies regularly.
Take Amazon for example, they often payout affiliate commissions in USD although if you live within a country such as Australia that transacts in AUD, taking a USD cheque to your local branch will see you not only incur a cost of approximately $25.00 but you will also be short-changed in the currency conversion from USD to AUD as well. The same is true if you live in countries like Canada, UK, Germany, France, New Zealand etc.
This is why many citizens of non-US countries are setting up accounts on payment services such as TransferWise so that they can save on the currency conversion rate/fee. It helps them get more money on the other end.
Early in the year, TransferWise conducted a number of tests to compare the fees you would be charged by using their platform compared to PayPal. While in some circumstances, TransferWise worked out 19 times cheaper, it is safe to say that on an average basis TransferWise is at least 10 times cheaper than PayPal when speaking about international cross-currency transfers. You can read the full comparison here that TransferWise conducted although we've included a table below that was relative to us as we have had the need to transfer from AUD to USD in the past. This is just an example of how transferring your Australian Dollars to United States dollars using TransferWise will result in more money in your pocket (or the pocket of your friends, family members or employees).
| | | |
| --- | --- | --- |
| Comparison | TransferWise | PayPal |
| Amount Transferred | $2000 AUD | $2000 AUD |
| Exchange Rate (At the Time) | $1 AUD = $0.6921 USD | $1 AUD = $0.6616 USD |
| Exchange Rate Markup | -0.01% | 4.6% |
| Upfront Fee | $11.29 AUD | $0.00 |
| Total Cost to Send | $11.15 AUD | $91.92 AUD |
| Amount Sent to Recipient | $1384.10 USD | $1323.19 USD |
| Fees for Recipient | $0.00 | $58.52 USD |
---
Why Does PayPal Charges a Higher Transaction Fee Compared to TransferWise?
While both TransferWise and PayPal use the mid-market exchange rate, PayPal also adds their own fee on top of this rate which they keep as profit whereas TransferWise does not. TransferWise charge one small set fee. PayPal charges a small set fee although also adds a percentage into the exchange rate. Many people do not realize this unless they branch out to look for alternative money transfer platforms.
Below you can visually see what the fees TransferWise charge actually pay for in terms of their company: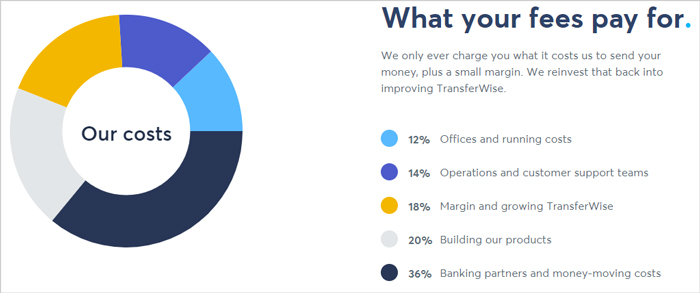 ---