If for some reason, you need to issue a refund to a customer from your PayPal account, this tutorial will guide you in doing so. If the customer has deposited the amount into your PayPal account, the process is simple and easy. If your customer has paid you via an alternate method, the good news is you can simply send them the amount from PayPal as a means of refund. We will not only look at how a refund can be handled but also some of the limitations and considerations when using the PayPal refund tool.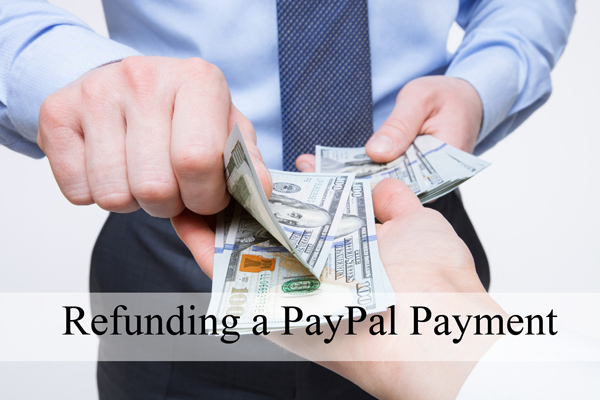 Limitations Regarding PayPal Refunds
Prior to outlining the steps involved in issuing a refund from a PayPal business or merchant account, we have disclosed a known limitation below. Have a read prior to continuing as this may affect whether or not you'll be able to issue a refund to your customer.
The Payment was made 180 Days or More Ago
If the customer is requesting a refund 180 days or more after making the payment, the refund option will not be available. You will manually need to use the 'Send Money' option within your PayPal account to issue them a refund. Make sure you locate their payment within the PayPal activity log to ensure you send them the correct amount and currency.
A refund that occurs after 180 days will not warrant the merchant a return of the PayPal fees paid. If this is an issue, make known your refund policy and ensure you only have a set time frame for refunds.
How Can My Customers Request a PayPal Refund?
If your customer has made a payment to you via their PayPal account, this may be directly, or through a PayPal plugin such as eStore, they can request a refund from their PayPal account. If you, the merchant, refuse the refund proposal, the customer may choose to open a PayPal dispute. If a PayPal dispute is opened, PayPal will ultimately decide whether the money is refunded or not (based on the evidence you submit to PayPal).
If the merchant issues a customer with a refund, if the money was originally paid from a credit card, the money will be refunded to the card via PayPal. If the customer used their PayPal balance to pay for the goods or services, the money will be refunded back to the PayPal account.
In many cases, a customer will contact the merchant via phone or email prior to disputing the amount in their account. If the customer has a legitimate reason for a refund, merchants should consider refunding the amount. Too many disputes (high percentage of the overall transactions) may lead to certain locks being placed on the merchant's PayPal account.
How Can I Avoid Refund Requests from Customers?
While no online business will ever go without seeing a handful of refund requests, there are a number of things a merchant can do to limit refund requests from customers.
Ensure you clearly describe the product or service and all the limitations involved. Misleading information about a product can lead to customers requesting a refund.
Follow up with your customers and allow them to provide you with feedback. Feedback will allow you to improve the product or service you offer and ensure future refunds are limited.
Provide information on the refund policy you have in place. For example, you may offer a credit rather than a refund.
How Can I Refund a PayPal Payment?
If you wish to refund a payment, perhaps your customer is unsatisfied with an item they have purchased, follow the simple steps below to ensure they are returned the correct amount of money that they originally paid.
Refunding a PayPal Payment: Video Tutorial
Refunding a PayPal Payment: Written Tutorial

Log into your PayPal Account.
Click on the 'Activities' menu and search for the transaction using either the customer's name or email address. Alternatively if you do not know the customers name or email you can scroll through your activity log and locate the transaction.
Once you have located the payment, you will see an option to 'Refund' where applicable. If the refund option is not available you may need to manually send the money to the customer from your account.
Once you click on refund, you can choose how much of the transaction you would like to refund. By default, the total amount for the transaction will be entered.
Ensure you are refunding the correct transaction and add a 'Note to Buyer' if you wish to.
Once you are happy with what is stated on the 'Issue Refund' page, click the 'Issue Refund' button located towards the bottom.
After clicking the 'Issue Refund' button, the payment will be refunded either to the customers PayPal account or credit card depending on what their original payment method was.
Your refund is now complete.
Can I Reverse a PayPal Refund?
Once you have proceeded with a refund unfortunately it cannot be reversed even if the money is in a pending state. The only option is to sit back and wait for the money to clear. If you have submitted the incorrect amount for a refund, you may need to ask the customer if they could return the money so that the correct amount can be sent. It is important to ensure the details are correct prior to hitting the 'Issue Refund' button as after the money is sent, it is out of your hands and PayPal's hands.
Why is My PayPal Refund Pending?

A pending PayPal refund generally happens if the money is being refunded from a card to a PayPal account or from a PayPal account to a credit card. The time it takes for a pending refund transaction to clear will depend on the bank. Generally it takes between 2 and 14 days for a pending refund to clear. A refund from a merchants PayPal account to a buyers PayPal account is generally instant.