Simple Download Monitor is a WordPress plugin that lets you offer digital files to your visitors. In addition to managing your files, the plugin will also track the number of downloads by visitors.
I have used a few different download management WordPress plugins over the years and I was impressed with how it works. It has everything you need, but is still very easy to use.
In this article, I would like to show you how easy it is to use the plugin to offer downloadable files to your visitors.
Using Simple Download Monitor
Simple Download Monitor uses a custom post type for downloads, so you will feel at home with the process of adding new download files. A title and description can be added for your download file easily. You can also assign tags and categories.
Files can be uploaded via the WordPress media interface. However, if you are having problems with uploading a particular type of file to WordPress, or if your file is being hosted elsewhere; you can enter the URL of the file instead.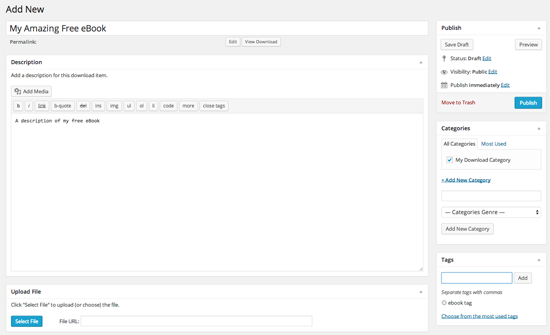 A thumbnail can be defined for each download file and then inserted into a post or page using a shortcode. A button is also available in the WordPress visual editor so that you can easily insert downloads into articles.
At the bottom of the page is a note of the current number of downloads. This number can be increased by a specified offset. This is useful if you are moving from another download solution and do not want your existing number of downloads reset. Or if you simply want to suggest that a file has been downloaded more times than it actually has been downloaded.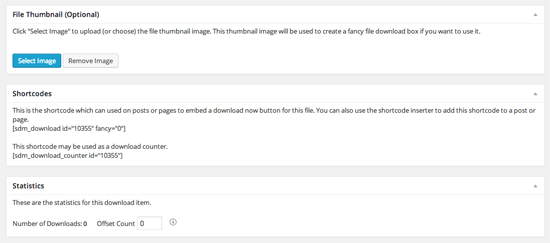 Once you have inserted your file into your post or page, it will be displayed in your article. The shortcode can be used in conjunction with member plugins and content protection plugins so that it is only shown to registered members.

The plugin tracks every single download of your files. It details the file that was downloaded, the time and date the file was downloaded, and the IP address of the person who downloaded the file.

The downloads page helps you see what downloadable files you have uploaded. Downloads can be rearranged by different factors, such as category and total number of downloads.
Simple Download Monitor has a basic settings area that allows you to remove the download button from the visual editor. You can also choose from one of ten colors for the download button.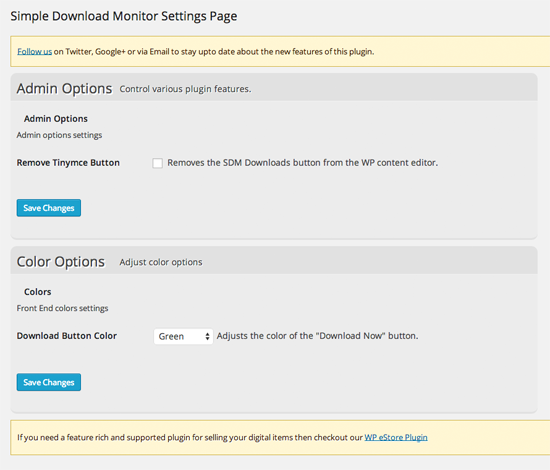 That is all you have to do to offer downloads through your website using Simple Download Monitor. As you can see, there are few steps involved in adding a download file to your website.
Check out the video below to see the plugin in action 🙂
Overview
Simple Download Monitor may not offer as many bells and whistles as some alternatives, however this means it is less complex and much easier to use.
If you are looking for a simple yet functional way of offering downloads to your visitors, I highly recommend Simple Download Monitor.
Thanks for reading,
Kevin