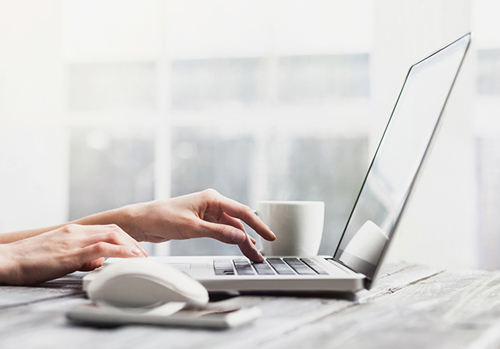 What E-commerce Solution is Right for my Online Business? Shopify or WordPress?
Starting an online business sounds easy doesn't it. All you need is one or two good ideas, a website and some customers to follow. But before you can go and promote your ideas to the world you need to get yourself a website up and running. You may be familiar with a few website solutions already but those who are new to the online e-commerce world often ask the following questions:
What platform is right for my business?
What will my site cost per month?
Do I need developer knowledge to start a website? 
While many small business owners get drawn in to the attractive and easy to set up Shopify sites, they may bypass other options such as a WordPress solution. In this article we will take a look at the differences between Shopify and WordPress to work out which solution is right for you.
Online E-commerce Solutions
E-commerce, stands for Electronic Commerce and is a word commonly used in the online business world. E-commerce solutions such as Shopify and WooCommerce for WordPress allow business owners to promote and sell their products or services to customers around the world.
E-commerce has changed the way we buy and sell with no time or distance barriers in place. In the last couple of years, more and more physical businesses have increased their sales by implementing an E-commerce solution. E-commerce has become a must have for any business owner, almost any business can benefit from a E-commerce website.
What Should I Look for in an E-commerce Solution?
If you are new to the online business world you may be confused as to what a good E-commerce solution should offer. Ensure you consider the following before selecting an E-commerce solution for your business:
Your Budget – Ensure the solution you choose meets your budget. Some solutions have a fixed monthly fee, while others require a paid developer (if you do not have developer knowledge yourself).
Will You be Able to Use it? – If you are not a developer, ensure you will be able to set up and use your E-commerce solution on a day to day basis.
Growth – Will your solution be able to grow as your business does? Ensure you pick an E-commerce option that allows for unlimited products. You may only be starting out small but it is always important to look at where your business could potentially go.
Payment Methods – A good E-commerce solution should offer the main payment gateways such as PayPal, Stripe etc. Offering your customers payment options can lead to better conversion on your site.
Security – The security of your customers credit card details should always be a priority when selecting an E-commerce solution.
Easy User Interface -Â How easy the option is for you and your customers to use the solution. Easy to use front-end options will cut down on customer frustration and cart abandonment. Good user interface in the back-end will save you time by allowing you to get your products up quicker.
What is Shopify?
Shopify is an online platform that allows anyone (with or without developer knowledge) to create a purpose built website to sell goods and services from. This web application was specifically designed for business owners who wished to launch an online store. A Shopify store can be fully customized and up and running for one cost per month. Using Shopify you have the choice of 70 different payment gateways with the ability to select from 50 different languages. While Shopify is a simple platform to use, and is the number one choice by many small business around the world, it does come with limited functionality.
What is the Cost of a Shopify Site? Shopify costs a set fee per month. The cost of having a Shopify website is between $29.00 to $299.00 depending on what features and functions you need. This cost per month basically includes everything you'll need to have a basic online business.
Is a Shopify Site Secure? When you use Shopify, the security of the site is handled by the company. As long as you create strong passwords, you can be ensured that your site is not at risk of security breeches. All Shopify sites come with a built-in SSL certificate.
What Support Comes with a Shopify Site? Shopify offers their customers 24/7 forum support. Email support is also available for Shopify customers.
Is there Content Restrictions on a Shopify Site? When you use Shopify it is important to abide by their policies. Any content that does not meet their policies can be removed by Shopify. Furthermore, if you continuously breech their policies, your site can be removed permanently.
What Type of Themes are Available for Shopify? There are multiple free and paid designs to choose from.
What About Site Maintenance for Shopify? All software updates are taken care of by the company.
How many People Use Shopify? Currently there are 600,000 online stores powered by Shopify.
What about Hosting for Shopify? Shopify is a hosted solution meaning you do not have to pay extra for hosting.
Who Can Use Shopify? To use Shopify to create an online e-commerce store you do not need to have any web development experience. In saying this, Shopify do allow access to HTML and CSS meaning those with web development knowledge can customize their website further. This allows a web developer to steer away from the 'typical' Shopify style site.
What is WordPress?
WordPress, often referred to as the most powerful content management, is used by bloggers around the world to write and share their content with viewers. Currently powering almost 30% of websites on the internet, WordPress is, and has been a trusted platform for many years. While WordPress alone does not provide users with an E-commerce solution, well-known plugins such as WooCommerce can be used to sell products from a WordPress site. While the WordPress platform itself is completely free you will need to pay for hosting and the cost for an E-commerce plugin.
Developer experience is helpful when using WordPress although the usage can be learnt simply without developer experience. When you use WordPress the E-commerce plugin you then choose to sell your products through is entirely up to you. A number of different plugins can be installed to allow you to achieve multiple functions on your site.
What is the Cost of a WordPress Site? You can sell items from a WordPress site for as little as $5.00 a month. The base WooCommerce plugin needed to create an E-commerce WordPress site is free. Depending on your selling needs, you may need to buy addons for the WooCommerce plugin or if you get stuck, a developer may need to be hired.
Is a WordPress Site Secure? The ultimate security of a WordPress site is the business owners responsibility. This includes ensuring all plugins and themes are up to date, creating strong passwords and having a security plugin in place. You will also need to purchase a SSL certificate for your WordPress site (some wp hosting providers do offer free SSL certificates).
What Support Comes with a WordPress Site? A WordPress site alone comes with no support. You will need to hire a developer or watch online tutorials if you get stuck. The good news is, if you use a well-known E-commerce plugin such as WooCommerce you have access to a support forum and email support. This support can assist you with the setup of the E-commerce side of your site.
Is there Content Restrictions on a WordPress Site? What content you put on your WordPress site is basically up to you. Of course within reason.
What Type of Themes are Available for WordPress? There are thousands of free and paid themes to choose from so that your website suits your business.
What About Site Maintenance for WordPress? You will need to maintain your WordPress site yourself. This includes updating your WordPress version and plugin versions when new updates are released.
How many People Use WordPress? There are over 65 million WordPress sites in existence although it is important to note that not all these WordPress sites will have an E-commerce solution.
What about Hosting for WordPress? It is on the owner of a WordPress site to choose their hosting.
Who Can Use WordPress? Many people believe you need to be a web developer to use WordPress. This assumption is wrong. Anyone who has a willingness to learn the software can succeed in creating a visually appealing E-commerce site. Visual editors can be installed and used to change the appearance of pages without needing to touch any code. Those users with extensive web development experience are the target audience of WordPress. The type of website that can be built using WordPress is endless with a little web development experience.
Shopify or WordPress?
Shopify and WordPress have individually been defined above although there may still be confusion on the main differences between them. In short, Shopify is a stand alone online service while WordPress is a software that you will need to install and host yourself. Shopify is similar to purchasing an already built house that you can only make so many adjustments to, while WordPress is like building your own home from the ground up.
A Shopify store can be created by visiting shopify.com, signing up for an account and then customizing your site to suit your needs. WordPress on the other hand requires you to purchase a domain name, secure web hosting, choose from a free or paid theme and download an E-commerce plugin such as WooCommerce. Don't let the longer setup of WordPress turn you away. Keep reading to find out why WordPress can work out better for some businesses.
When is Shopify a Suitable E-commerce Solution?
Shopify is the perfect solution for someone who doesn't intend on blogging regularly and purely wants to sell physical or digital products. Shopify allows someone with no web development experience to create a site that has all the e-commerce functions and also looks aesthetically pleasing. If you don't have a WordPress site, creating a Shopify store to sell your product or service may be the easiest option for you.
Reasons to use Shopify:
Shopify is easier to setup compared to WordPress
Hosting comes included
No developer knowledge is required
Your site maintenance is handled for you and the security aspect is mainly the responsibility of Shopify
24/7 forum support is available as well as phone support (with premium plans)
Pay per month style site
When is WordPress a Suitable E-commerce Solution?
Running an E-commerce business from a WordPress site is the most suitable option for a web developer or someone who already blogs from a WordPress site. For instance, if you have a blog about beauty tips, using a plugin such as WooCommerce to then sell beauty supplies directly from your site means that you do not have to pay for a new e-commerce store. Someone who is confident online can most definitely handle running their businesses from WordPress.
Reasons to use WordPress:
The software is free
There is a greater number of themes and plugins for WordPress
Basically any sort of website can be designed using WordPress
You can choose which E-commerce plugin you use
WordPress SEO is better than Shopify
It is easier to create multilingual sites when using WordPress
Exporting your WordPress content is easier
Comparison of Shopify vs WooCommerce (for WordPress)
In the table below, you'll find some side by side data that will you help you decide whether Shopify or WooCommerce for WordPress is the right choice for your online business. If you don't like the sound of WooCommerce but believe WordPress is the best choice for you, check out some of the other options towards the bottom.
| | | |
| --- | --- | --- |
| Shopify vs WooCommerce | Shopify – A Subscription Based Service. | WooCommerce – An E-commerce Plugin for WordPress |
| Support | 24/7 Support Forums | Email support for any WooCommerce issues. |
| Themes | 10 free designs that are all mobile responsive. | You can use a number of free WordPress themes that are compatible with WooCommerce. |
| Cost | Starts from $29.00 a month. | WooCommerce is a free plugin although you need to consider the cost of WP hosting, theme costs, domain name and an SSL certificate. You may also wish to purchase some WooCommerce addons for additional functionality. |
| Can you have Unlimited Products? | Yes | Yes |
| Is it a Mobile Friendly Structure? | Yes | Yes |
| Can you Sell Physical and Digital Products? | Yes | Yes |
| Adjustable Shipping Rates and Taxes? | Yes | Yes |
| Type of Platform? | Shopify is a closed platform meaning you can only edit your store to the extent that is allowed. | WooCommerce is an open source platform meaning you can modify your store completely. |
| Is Hosting Included? | Yes | No |
| How much File Storage is Included? | Unlimited file storage is included. | The file storage depends on your web hosting provider. |
| Can you Offer Coupons and Discounts? | Yes | Yes |
| What Payment Gateways are Supported? | Shopify offers over 70 different payment gateways. Included in this is PayPal, Stripe, Cash on Delivery and Bank Deposits. | WooCommerce supports PayPal, Stripe, Checks, Cash on Delivery and Bank Transfer. |
Alternative WordPress E-commerce Options
You like the sound of running an E-commerce store from WordPress although don't think WooCommerce is the right fit. Below we've listed some of the other alternatives that can be suitable for your project(s):
Wanting to Sell Basic Products or Services
If you wish to sell a handful of basic products or services anywhere on your WordPress site, the Simple Shopping Cart Plugin may be the best solution for you. This is the perfect lightweight solution that allows you to sell items and collect payments via PayPal.
Wanting to Sell Products Via Stripe
If you prefer Stripe over other payment gateways, then the Stripe Payments Plugin may be right for you. This plugin allows you to sell goods and services and accept credit card payments via the Stripe payment gateway on your WordPress site easily.
Wanting a Reliable Way to Sell Products
The WP eCommerce Plugin for WordPress is one of the original eCommerce solutions. This plugin allows you to sell your products anywhere on your site and then send your customers to a secure shopping cart. This plugin is great for those business owners that will be offering coupons regularly.
In Conclusion
While both of these platforms are suitable for an E-commerce site, the needs of your specific online business may have you leaning towards one over another. While WordPress is the more flexible option, Shopify is the purpose built option. Shopify allows someone to walk straight in and begin setting up their site. WordPress involves a longer process that may involve a couple of learning curves if you have no developer knowledge.
Due to the age of WordPress, the integrations, themes and plugins available will always outnumber those produced for Shopify (for now). Although in saying this, there is an adequate amount of apps in place for Shopify that the majority of users will be happy with.
In terms of cost, it is really hard to say which one will work out cheaper for you. Depending on your knowledge of WordPress and your businesses specific needs one can work out cheaper than another. Shopify has the benefit of peace of mind. Users of Shopify don't have to worry about security aspects and site maintenance. Also, they get the added bonus of 24/7 forum support.
At the end of the day, both Shopify and WordPress (with the addition of the WooCommerce plugin or similar) are widely used and supported E-commerce solutions. No matter which solution you choose, good products, good prices and good support are the basis of a business.
Not sold on a WordPress or Shopify Site? Checkout some alternative E-commerce solutions here. 
Used either Shopify or WordPress for your online business? Let us know your recommendations in the comments area below.