Many of us use a simple theme for our website and then go through the tedious process of finding plugins suitable for our sites to function correctly. If you are operating a directory site or plan to, why not choose the Vantage AppTheme.
AppThemes come with a base theme and plugins that enable you to monetize your website. Each AppTheme comes with a unique appearance and  all the required features and functionality to run a specific site.
In this post we will explain why many people are choosing to use the Vantage AppTheme for their directory website.
Pricing of Vantage
This AppTheme is currently priced at $69.00 for a standard site. This will give users a lifetime license, 12 months of support and 12 months of updates. This gives you a feature rich AppTheme that gives you the freedom to create a stand out directory listing site.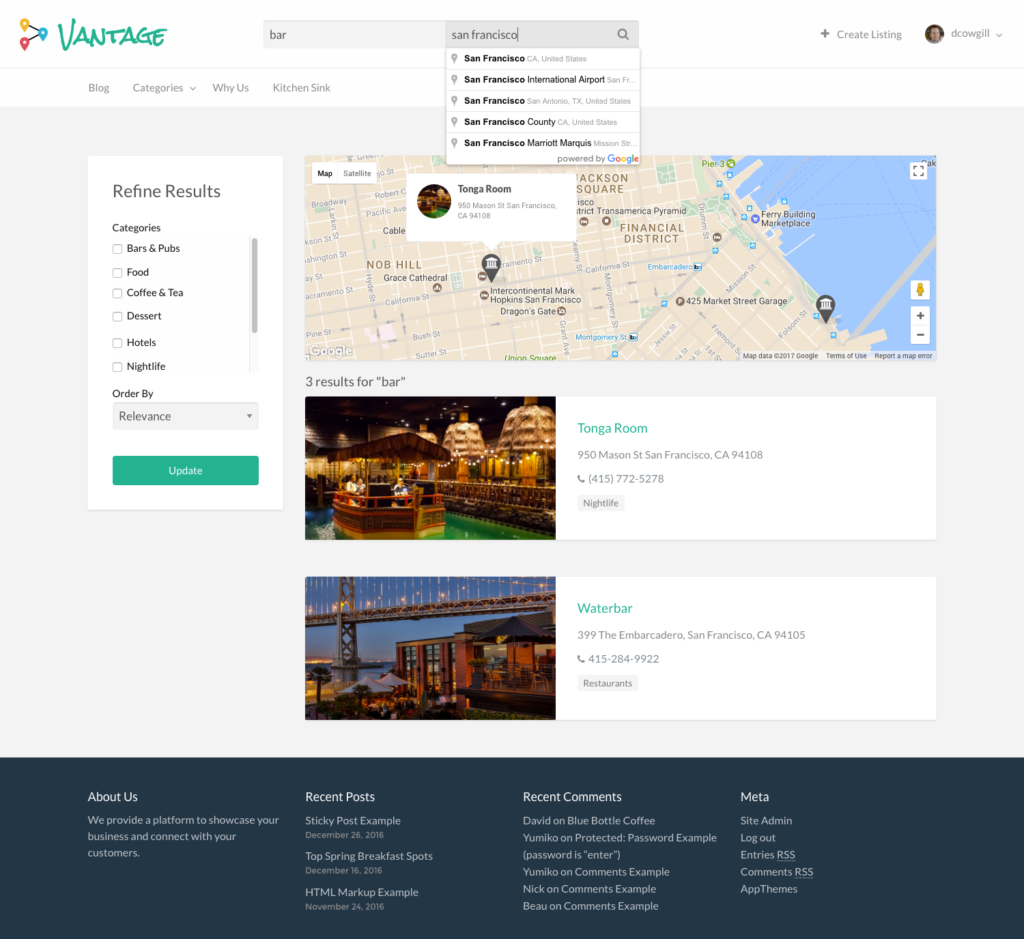 When to Use Vantage
Once you download and activate Vantage, all the basic tools to build a directory listing website will be available to you. Thousands of customers use Vantage to run their directory sites. Some of these include tourist, event, landmark, local and business directories.
Valuable Features that Come with Vantage
Responsive Design
Vantage is a fully responsive theme meaning that your site will be scaled perfectly on all devices. There is nothing worse than trying to view a non-responsive website on a mobile device.
Freedom of Pricing Plans- Monetizing Your Website
You can create pricing plans immediately after downloading this AppTheme. This includes offer pricing plans that include featuring customers listings on the homepage or on the listings page. This theme allows you to be in complete control of how you monetize your website. Generate a stable and reliable income by using the Vantage AppTheme.
You can choose to charge additional fees for certain categories (for example, you may wish to limit the fees associated with non-for-profit business listings)
You may choose to limit the charge associated with listings and focus on ad revenue and affiliate offers
Creating multiple pricing plans allows the business owners to decide how much they would like to invest in their listing
Accessibility to Search for Listings
Vantage allows your customers to easily browse your directory listings through the search bar tool, by specific category or business location. All your listings can be geo-located enabling them to be search by exact location and distance from.
Create Listings & Allow Them to Be Claimed
Vantage has a useful feature that allows admin to create listings and then allow them to be claimed by business owners. For example, as admin I create a listing for Tom's Burgers. The owner of this business then views this listing and decides he would like to promote it further himself. He is able to pay for this listing and have complete control of the information, images and comments displayed. This feature allows you to start your directory listing site immediately without the need for businesses to contact you first.
Listings Created by Business Owners
Listings can be created on the front-end of your website by business owners. They can choose the pricing plan that suits their needs. Business owners simply fill out a form on the front end (which you can customize) with all their business directory details. Admin can then configure the settings so that it must be approved before going live on the site. You can create multiple forms on the back end of your site that are specific to different business directory listings.
Easily Manage Listings
The user dashboard becomes the heart of your website. From the dashboard you are able to view the sites listings, edit profiles, manage favourites and see reviews that people have left.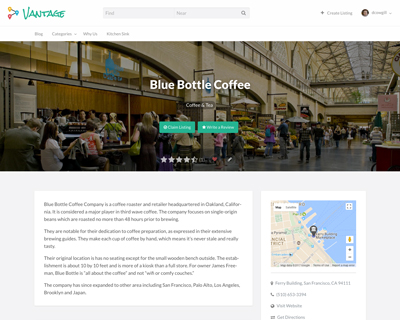 Endless Customization
Vantage can be customized to suit all directory websites both large and small. The custom form builder and custom fields allow you the flexibility to design an array of directory listing site.
Child Themes
Another advantage of choosing Vantage as the basis of your website is that you can change the entire appearance by using a child theme.
Option to Accept Reviews and Ratings
When you use Vantage, you can decide if you would like visitors to be able to leave reviews and ratings for listings on your site. This can work in your favor as it allows people to have their say and creates a community of discussion around your website.
More Reasons Vantage is the #1 used Theme for Directory Websites
Advanced search options
Option to receive recurring payments
Google maps integration
Separate blog page
SEO friendly
Multi-language support
2 payment gateways available on installation
10 or more possible payment gateways available from the marketplace
Option to mass import listings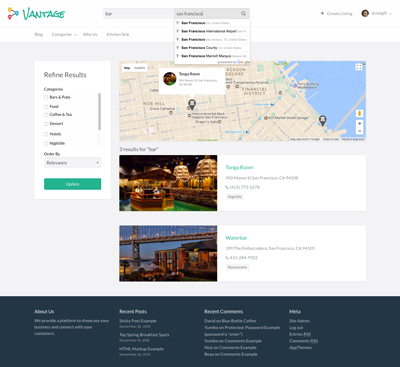 In Conclusion to the Vantage AppTheme
Vantage comes ready with everything you will need to set up your very own directory site. Vantage is a strong contender for the best directory theme for WordPress users.
If you are interested in finding out more about Vantage, you can find extensive information on the AppThemes Website.