If you are just starting up your website, perhaps you are selling tangible items, or you have a hit single that you'll be offering digital copies of, one of your pressing questions may be: "Which payment gateway should I use to accept payments from my customers?". While there are pros and cons of using any gateway, the good news is that you do not need to restrict your customers to only using one. In this article we will take a look at why allowing your customers to select between more than one payment gateway can benefit your online business.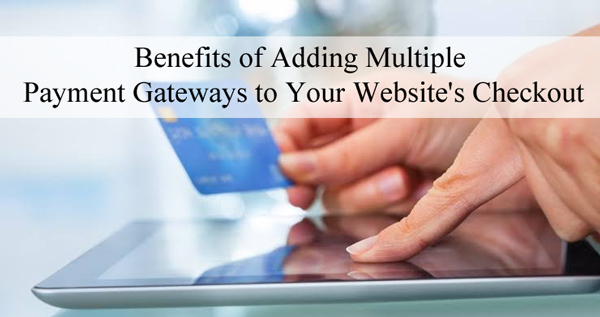 ---
What is a Payment Gateway?
Here at Tips and Tricks HQ, the majority of our plugins have eCommerce functionality which means that their primary use is to provide a platform to sell goods, services or digital assets. Every eCommerce platform needs a payment gateway to function. A payment gateway is the company that will process the payment from the customer to the merchant's account. Some well known payment gateways include PayPal and Stripe. Whether you are selling low priced, or high priced items online, you will need a payment gateway to process the transaction.
Top Payment Gateways to Add to Your Website
Below we have listed many recognized and trusted payment gateways. We suggest offering PayPal as a checkout option, along with one or two other payment gateways that will suit your intended customer base. The list of payment gateways below is in no order:
PayPal
Stripe
Braintree
PayPal Payments Pro
Amazon Payments
BlueSnap
AliPay
BitPay
Authorize.Net
WePay
Square
Skrill
SagePay
Bambora
2Checkout
WorldPay
eWay
Venmo
Consider the Demographics and Location of Your Customers Before Selecting Payment Gateways
Prior to deciding on a handful of payment gateways to add to your website's checkout, you will want to consider the demographics of your potential customer base. For example, demographics such as age, occupation, and education can play a part in a person's preferred payment gateway. You may find the younger generation is more in touch with platforms such as PayPal and those with low annual incomes may be seeking out buy now, pay later options.
Once you have considered the geographic location and demographics of your potential customer basis, you'll need to start shortlisting payment gateways that these customers will be able to successfully complete a payment with. From your shortlist, the next step will be considering the fees and features that the payment gateway offers. It is important to consider hidden fees such as costs associated with refunds and chargebacks. If you wish to offer membership style products, you'll need to consider payment gateways that allow for recurring payments. While the majority of well-known payment gateways are secure and mobile ready, it is another thing you must consider as a merchant. Below you can find out some more about the most popular payment gateways:
---
Pros and Cons: Adding Multiple Payment Gateways to a Website's Checkout
Video Tutorial:
Written Tutorial:
You've either landed on this page because you have an established website and you have recently noticed a decrease in sales, or you've designed an entirely new site and you are looking for some guidance. Let me tell you that there is no real downside to adding multiple payment gateways to your checkout. While it may come as more for you to manage as a merchant, such as having two different payment gateway dashboards, the benefits definitely outweigh any negatives.
A lack of payment options can definitely decrease the rate of successful payments, especially if you sell on a global basis. One of the main reasons for cart abandonment, in fact, is due to unsuitable payment methods. Before even selecting payment gateways, consider who will be purchasing from your website and where they live. Each payment gateway has their own restrictions and service different countries. The countries a payment gateway services should be listed on their website.
Below, you can see the cart abandoning statistics for 2019. While lack of payment options only accounts for 6% of cart abandonment, that is still 6 out of 100 transactions that you could potentially lose by not having appropriate checkout methods.
1) Increases Global Coverage
Tip: Trust increases when customers can purchase goods/services in their local currency. Look for plugins/addons that handle automatic conversion of the sale price.
While some payment gateways will allow your customers to pay in a different currency to that of your own, others do not. Furthermore, some payment gateways do not service customers from countries that are considered high risk due to a large percentage of charge-backs. Before deciding on a payment gateway, ensure you take a look at their website to see which countries are excluded from processing payments using their service. Take a look at our table below to determine the most popular payment gateways depending on the country in which the customer lives.
| | |
| --- | --- |
| Country/Region of Potential Customer | Popular Payment Gateways |
| United States | PayPal, Authorize.Net, Stripe, 2CheckOut |
| Australia | PayPal, Stripe, Braintree, eWay, 2CheckOut |
| Canada | PayPal, Authorize.Net, Braintree, BlueSnap |
| China | 2Checkout, Union Pay, Alipay, WorldPay |
| Germany | PayPal, Sofort, SEPA, Stripe |
| Netherlands | iDeal, GiroPay, Stripe, PayPal |
From the table above, it is evident that the majority of your customers will be able to either use PayPal or Stripe to make a payment on your website. If you have customers from a country that Stripe or PayPal do not serve, then you may need to look into which payment gateway is used within that region. For example, those living in Afghanistan cannot complete a PayPal transaction. In some cases, if a customer is keen on purchasing an item from your website although they live within a restricted country they will contact you directly, but the majority of the time these potential customers will take their business elsewhere.
2) Provides Customers with Choice
Providing your customers with as many choices as possible will decrease their reasons for abandoning a shopping cart. While some love using their PayPal account to process a payment, others prefer to be able to punch their credit card details into a form on your website which is a possibility with Stripe. A certain payment gateway logo that may be familiar to you, may not even be known to those living abroad. Staying in touch with your customer base and listening to their feedback can allow you to add additional payment gateways that may better suit them.
Many people have a favorite way to complete a transaction. There are customers who will not even checkout on your website unless PayPal is an option. This is due to the buyer protection PayPal offers. Different generations of people have different payment preferences. Credit card payments seem to be a preferred method of payment in the older generation.
3) Provides Customers with Security
Tip: If you wish to increase your website security choose recognized payment gateways such as PayPal, Stripe and AliPay. Research shows that between 17-19% customers abandon their cart as they don't feel confident to enter their payment information.
For a customer to enter their payment details on your website, you will have needed to earn their trust first. Many associate PayPal with being a trustworthy payment gateway. If a customer can relate trust to a payment gateway on your website, there is a higher rate of conversion. The customer may perceive your website as being 'trustworthy' if you have taken the time to set up a number of payment choices on the checkout.
4) Increases Conversion Rates
Statistics show that if you offer the top 3 payment gateways on your website's checkout for your intended customer base, your sales can increase by 30%. Having an aesthetically pleasing checkout, where the customer base has a choice between a number of payment options leads to an overall better experience and in turn increases conversion on your website. Each payment gateway will offer slightly different options that will appeal to a variety of people. Some prefer a quick express checkout, others prefer a checkout where their details are saved for easy additional purchases, while others are looking primarily for a big brand name such as PayPal that they trust.
5) Ensures One Method is Always Available
If you have set up your payment gateway correctly, it is unlucky that there will be a circumstance where it fails for no reason but in case of these unlikely circumstances, having a backup gateway will ensure payments can still be processed on your website. Technical glitches, while unlikely, are inevitable and having multiple payment gateways is just one precautionary measure we recommend merchants take.
Cons of Adding Multiple Payment Gateways to a WordPress Checkout
As mentioned earlier, the pros of adding multiple payment gateways definitely out way the cons. While we definitely recommend providing consumer choice to your checkout, some of the cons you may encounter if you add multiple payment gateways include:
Additional time spent managing the payment gateways you offer. For example, if you need to process refunds, this may involve logging into two different payment gateway dashboards.
Differing fees can cause confusion.
Volume pricing allowances will take a longer period to reach as revenue is split between a number of payment gateways.
How Can I Add Multiple Payment Gateways to my WordPress Website?
If you have a WordPress website, there are a number of plugins designed to allow merchants to add multiple payment gateways. While some plugins allow you to add multiple gateways without the need for additional addon charges, others have specific addons that allow you to add a number of payment gateways. Below we have listed a number of plugins that give you the ability to have a checkout experience with multiple payment options for your customer to choose between:
The following screenshot demonstrates how a multiple payment gateway checkout can be enabled using the WP eStore Plugin. In this checkout, the customer can either use PayPal or Stripe (Credit Card) to complete a transaction.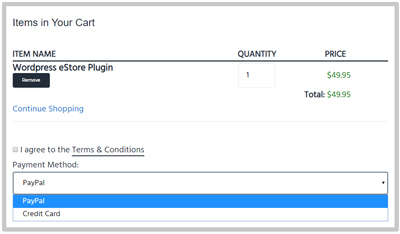 If you do not have a WordPress website, using a platform such as Shopify will allow you to achieve a checkout with multiple payment gateways for your customers to choose from. Shopify allows you to choose between 100 different payment providers to create a checkout experience that can suit a wide variety of customers.
Interested in adding PayPal and Stripe to your checkout? Find out more about their fees and features here.