With more and more online marketplaces popping up, many individuals prefer to pay for items, whether they be new or second hand using the PayPal Goods and Services option. The PayPal 'Goods and Services' option gives buyers further peace of mind with the PayPal guarantee. If the seller does not provide what they have described, the money is often returned to the purchaser.
When a buyer uses the 'Goods and Services' option to send money to a seller, the fee will be incurred at the seller's end. The seller is forced to 'eat' the fee. This is why it is important for established businesses to factor this into their pricing structure. If you are purchasing from an individual seller, perhaps you are buying a second-hand dress on the Facebook marketplace, you as the buyer need to consider how much the seller is asking and consider if you need to add an additional amount to cover the 'Goods and Services' fee. If a marketplace seller is asking for $20.00 for a second-hand dress and you use the 'Goods and Services' PayPal option, unfortunately, the sell will receive less than the $20.00 purchase price as PayPal will minus the fee meaning they will get short-changed. It is important if you are purchasing from a marketplace that you calculate the fee and add that to the amount you are sending to ensure the seller receives the total amount they are asking for.
In this article, we will take a look at how you can calculate the PayPal goods and services fee the seller will incur depending on your geographic location.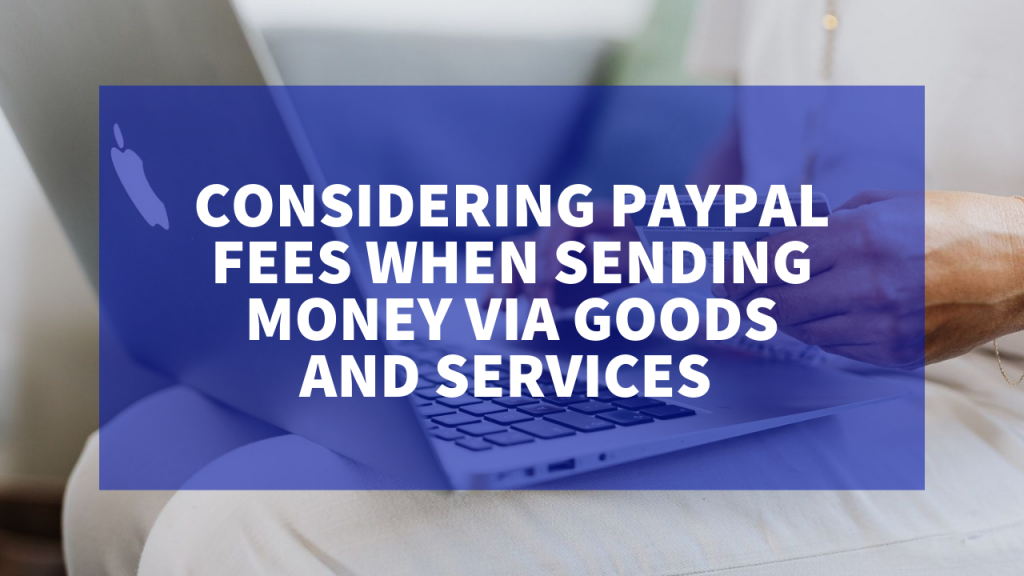 ---
What is PayPal Goods and Services?
If you are new to PayPal, perhaps this is the first time you are purchasing from a marketplace you may not have used or even heard of the PayPal 'Goods and Services' option. The 'Goods and Services' option is one of two options that PayPal offers when sending money from your account. The other option available is 'Friends and Family. It is important to understand the difference between the two options which will allow you to select the right option depending on who you wish to send money to.

As it sounds, the 'Friends and Family' option really should only be used when sending money to someone you know, your friends or family. This option does not come with PayPal buyer protection. When sending money via 'Friends and Family' it should be as a gift, without expecting anything in return.
If you are purchasing goods or services from an unknown seller, or anyone, as a matter of fact, it is always important to send the money using the 'Goods and Services' option. This option charges the seller a small percentage although comes with valuable buyer protection. This means that as a buyer, if the seller does not produce what they have promised, you have a chance of having your money returned.
If an online merchant asks you to use the 'Friends and Family' option this is a warning sign. Sometimes untrustworthy online sellers may ask purchasers to use this option so that it is harder for them to gain their funds back as the PayPal Buyer Protection is non-existent once this option is used. Be mindful that if you are purchasing goods and services, choose the 'Goods and Services' option which may or may not be autoselected.
What are the Terms and Conditions When Using the PayPal Goods and Services Option?
While the 'Goods and Services' option does come with the PayPal Buyer's Protection, there are a number of terms and conditions that touch on how compensation can be achieved if the item or service is different than what was described at the time of purchase.
To ensure you get the most out of the PayPal Buyer Protection when using the 'Goods and Services' option, ensure you:
File a dispute within your PayPal account within 180 days of making the purchase if it differs from what you expected
Keep in mind that only purchases up to $20,000 per item are protected entirely
Only dispute legitimate misconduct
Are knowledgeable about what items are not included under the buyer's protection
Send the item back to the seller if asked to do so by PayPal
There are two types of areas that the PayPal Buyers Protection can apply to. These are:
When you as a purchaser did not receive the item at all from the seller
or
You received the item as a purchaser but the item was different from what you ordered
What Items and Transactions are Not Covered with Pay Buyer's Protection
There is a list of items and transactions that PayPal's Buyers Protection does not cover. These are clearly outlined in their terms and conditions page and if you have any doubts on whether an item or service you wish to purchase online is covered or not you should do your due diligence to ensure it is not on the ineligible list prior to transacting money with your PayPal account. The list below covers many of items/transactions that are not covered by PayPal Buyer's Protection:
Real estate
Investments
Vehicles
Machinery (industrial)
Gift Cards
Gold exchange
Services/products of the gambling nature
Donations
Items collected in person (some exclusions)
Items intended for resale
---
Video Tutorial: Considering the PayPal Fee When Sending Money via the Goods and Services Option
How Much Does PayPal Charge When Sending Money via Goods and Services?
As a buyer, you do not usually need to worry about the amount that PayPal will charge a business when you purchase an item online. This somewhat differs when you are a buyer purchasing from a marketplace seller. If a marketplace seller is asking for $10.00, they are expecting to be sent that full amount, not $10.00 less the PayPal 'Goods and Services' fee. This is why in this section we will delve deeper into how much PayPal actually charges when you select to send money for 'Goods and Services' from your personal PayPal account.
If you send money within your own country and you use the 'Friends and Family' option, no PayPal charge is incurred as long as you are using a bank account from within your country and no currency conversion is involved. While this sounds great, if you choose to use this option you do not have the safety net of your money meaning that PayPal will not refund your money if the seller never delivers what is expected.
When speaking about the 'Goods and Services' fee charged to those on the receiving end, it differs from country to country. In Australia, this fee is 2.6% + 30 cents (AUD) as long as it is Australian dollars being sent within Australia. In the United States, if the buyer selects to send money via the 'Goods and Services' platform, the seller will incur a fee of 2.9% and 30 cents (USD) as long as it is United States Dollars being sent within the United States. The fees incurred to use the 'Goods and Services' options change depending on which country you reside in and whether you are sending to a domestic or international seller. For this reason, you should consult the PayPal Fees page to learn more about the exact fee connected to your transaction.
If you intend on sending money via PayPal to a marketplace seller who will ship the item to you, although you wish to send enough money to cover what the seller is asking for along with the PayPal fee start by including the fixed fee amount. You will also need to consider that depending on the country you reside in, a 2-3% fee is also deducted from the total amount. Adding 3% on top of the amount the seller is asking for plus the fixed fee will ensure you do not cut the seller short.
Note that the percentage fee is calculated on the total amount.

---
How Can I Send Money with PayPal for Goods and Services?
If you are a new PayPal user you may be wondering how you can use your account to send money for 'Goods and Services'. Perhaps you haven't even created a free personal PayPal account, so you'll need to run through setting up that first. Once you have completed the general PayPal settings, sending money for items or services is simple:
Log in to your PayPal account.
Click on the menu option: 'Pay & get paid'.
Click on 'Send Money'.
Enter the PayPal email address of the seller, or their phone number.
Enter the amount you wish to send (include the fee if you wish to pay for the fee on your end) and choose the currency you wish to send the money in.
You can add a note if you wish to followed by clicking 'Continue'.
Ensure you select the 'Paying for an item or service' option. Click the 'Change' button if 'Sending to a friend' has been automatically selected.
Click 'Send Money Now'.
Buyers Protection for Goods and Services Does Not Cover Goods that You Pick Up in Person. Ensure Marketplace Purchases are Sent via Registered Post.
---