It is no surprise after the success of Afterpay; the leading company in the 'Buy Now, Pay Later' battle, that PayPal has followed suit with their very own version known as 'Pay in 4'. Similar to many of the other pay later platforms such as ZipPay, Sezzle, Quadpay, LayBuy, and Latitude Pay; 'Pay in 4' allows customers to purchase a product or service and pay it off over a number of weeks.
'Pay in 4' allows the customer to pay off an item interest-free, while the merchant still receives the total cost of the item or service upfront. It's a win, win payment solution!
In this article, we will delve deeper into what 'Pay in 4' is, why it may benefit your eCommerce business, how the consumer completes a buy now pay later transaction and we will see how it adds up against other leading BNPL platforms.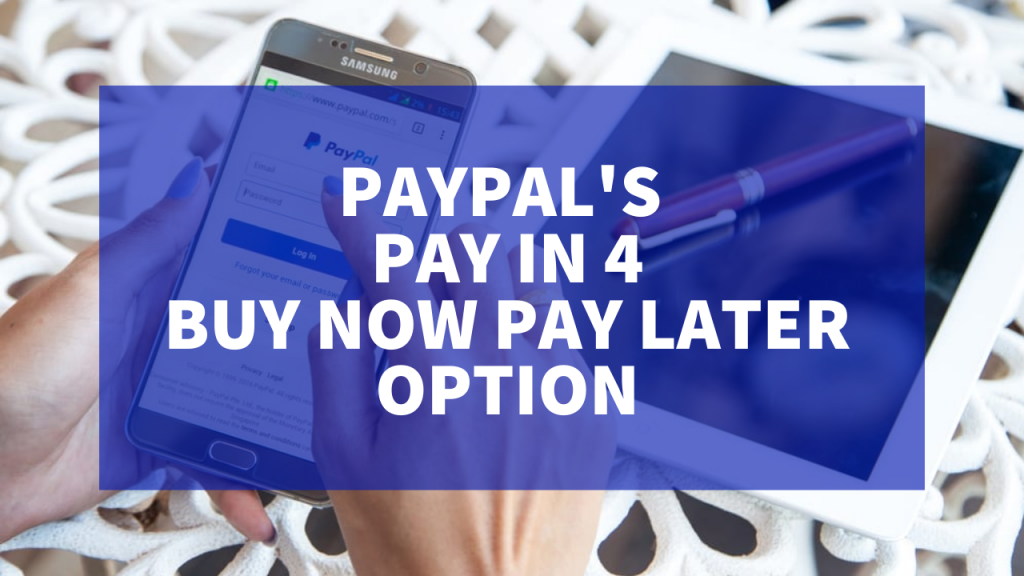 Pay in 4 –
The Simple Way to Purchase What You Want When You Want, Followed By Making Four Equal Payments Over 6 Weeks.
---
What is a 'Buy Now Pay Later' Transaction?
PayPal is not the first platform to offer customers the option to 'Buy Now and Pay Later' and they are more than likely not going to be the last. Pay later providers supply their customers an interest-free solution to pay off the total for goods or services over a set period of time. When speaking about PayPal's 'Pay in 4', as the name suggests, customers will need to make four payments to conclude the amount owing. These are four equal payments although the benefit of 'Pay in 4' is you can pay off the total amount sooner if you have the finances available.
Buy Now Pay Later solutions are seeing many faze out their credit cards. The ability to pay off an item is attractive for many consumers who wish to purchase an item and pay it off as they receive their next paychecks. Spreading the cost of an item over four payments often reduces the stress for consumers during expensive periods of the year such as Christmas. Pay later checkouts allow the consumer to spread the cost of an item over a number of weeks. While an item selling for $1000 may seem out of someone's budget, when this item is broken down into payments of $250, it appears less expensive and achievable.
Who Should Use a BNPL Platform?
ECommerce websites that stock many low ticketed items may have no trouble moving stock. For those online stores selling items with hefty price tags, many customers now have an expectation to pay off an item using one of the many BNPL platforms. In fact, even so, some customers rely so heavily on being able to buy now and pay later, that they will abandon their cart if the option to pay later is not provided to them.
Unlike the old fashion in-store laybys, once you make the first of the four payments with a 'BNPL' transaction, the goods will be shipped to you, or alternatively, you will be able to access the service. While spending money you don't have may seem great at the point of sale, it is important to consider whether you will have your paycheck prior to needing to pay the next installment as many of the pay later services charge hefty fees for late-payments which is how they often make a profit.
---
Terms and Conditions of PayPal's 'Pay in 4'
Like all 'Buy Now, Pay Later' style services, they all sound great, to begin with, but are you wondering what the catch is?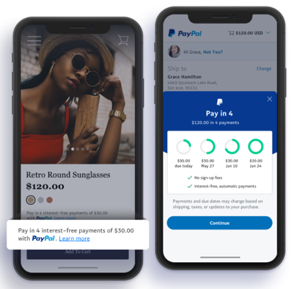 If you are the website merchant, it appears that 'Pay in 4' will only benefit your business. Unlike 'Afterpay' who charges the merchant a fee for offering the option to customers on their website, PayPal handles their pay later platform differently. This means that PayPal charges the merchant no additional fees to offer 'Pay in 4'.
'Pay in 4' is a new option offered by the payment giant PayPal so there is no surprise it is currently limited to those located within the United States, even more specifically unfortunately at the present those within Georgia, New Mexico, North Dakota, South Dakota, Missouri, and Wisconsin are unable to use the pay later option.
Who Can Use 'Pay in 4'?
To use Pay in 4 you must:
Live within an eligible state within the United States
Be at least 18 years of age or older
Be a PayPal account holder
Agree to have a 'Soft Credit Check Completed'
Complete a transaction valued between $30.00 and $600.00 USD
There are some exclusions such as certain goods and services that 'Pay in 4' will not work for. While the majority of those with a PayPal account will be approved, for certain reasons, such as bad finance history may mean you are knocked back from using 'Pay in 4' by PayPal. PayPal will send you an email explaining why you have been knocked back if that is the case.
While there are no upfront fees for using PayPal's 'Buy Now, Pay Later' option, you need to be timely with payments otherwise you run the risk of a late fee.
---
How Many Payments are Involved in 'Pay in 4'
As the name suggests, there are four payments you will need to make when signing up to use PayPal's 'Pay in 4'. The total cost of the goods/services you are wanting to purchase is split into four even payments. The first of the payments you will make then and there after being approved to use this PayPal service. The next payment is then due 15 days later followed by another in 15 days and then the last payment due 15 days later. While the service is currently only available for those in the US, the good news is, any currency currently accepted by PayPal can be used to make the payments. Please note, currency will be converted to USD at the time of the transaction, and conversion fees will be applied.
---
How Do I Make a 'Pay in 4' Payment from my PayPal Account?
'Pay in 4' payments are automatically deducted from the credit or debit card that you have stated upon signing up to use this 'Buy Now, Pay Later' style of payment. This is great for those who may forget when a payment is due as all the hard work is completed. All that needs to be done is to ensure you have the funds ready to be transacted from your account. You can keep track of your 'Pay in 4' payments from within your PayPal dashboard. From within the 'Pay in 4' menu you will see your plan/s and then upon clicking on the plan in question you will be presented with the amount still owing on that plan. You also have the following options that often are unavailable when using other 'BNPL' schemes:
The ability to make an additional unscheduled payment so that the plan can be concluded sooner
Pay off the entirety of the plan at any point in time if you have the finances available
---
Benefits of 'Pay in 4' By PayPal
Like any 'BNPL' service, it allows a consumer to purchase an item that they potentially only have a quarter of the purchase price currently sitting in their bank account. This means that a customer is more likely to purchase an item rather than attempting to save in advance. For many websites, this leads to an increase in sales and the ability to sell to new customers who prefer to pay off an item over time.
While the customer will pay the entirety of an item off over four payments, the merchant will be paid the total of the item upfront without incurring any additional fees to offer this service unlike the hefty fees charged to merchants from other big brand 'Pay Later' services. The only fees associated with using this service are the basic PayPal transaction fees that you would pay with any regular sale made using the PayPal Payment Gateway.
Gives your customers a range of different ways to make a payment
Reduces the amount of abandoned carts
---
'Buy Now, Pay Later' Comparison
PayPal was not the first company to introduce the option for their customer's to buy an item now, and pay for it later, nor will they be the last company. As the consumer demand for a 'Pay Later' style transaction increases, so do the amount of companies offering this way of purchasing an item. Some of the other well-known companies offering customers the option to 'Pay Later' include although are not limited to:
'Pay in 4' by PayPal
Zip Pay
Afterpay
LayBuy
Latitude Pay
Of these providers, you may be wondering which will work out best for you as a merchant, or alternatively which will work out best as a customer. In the table below, let's take a look at these 5 companies and the different fees and services that they offer.
Buy Now Pay Later Comparison Table
| | | | | | |
| --- | --- | --- | --- | --- | --- |
| | Pay in 4 | Zip Pay | Afterpay | Laybuy | Latitude Pay |
| | | | | | |
| Interest Free? | Yes | Yes | Yes | Yes | Yes |
| Any Upfront Fees for Customer? | No | No | No | No | No |
| Late Fees | Differs from state to state. | $6.00 If account is not paid on time. | $10.00 if account is not paid on time. | $10.00 if account is not paid on time. | Between $10.00 and $50.00 if account not paid on time. |
| When are Payments Due? | Fortnightly | Weekly, Fortnightly or Monthly (Up to account holder) | Fortnightly | Weekly | Weekly |
| Do merchants incur a fee for offering this BNPL Service? | No, Pay in 4 is free to offer to your customers and will be automatically available to those in eligible states. | Merchants pay a percentage per transaction. | A fixed fee per transaction (30c) and an additional commission of the sale ranging from 3 cents to 7 cents. | Percentage fee of the purchase price is taken. | Fees apply to purchases greater than $250.00 |
---
How Can I Offer 'Pay in 4' from my Website?
If you run an eCommerce website and would like to offer your customers the ability to pay the total cost of an item off over time, 'Pay in 4' by PayPal involves a simple and easy setup. In fact, if you offer PayPal and you are located in the US, eligible customers will see the option to pay in 4 from the payment popup automatically.
Using TTHQ's very own WP Express Checkout, you can offer 'Pay in 4' to customers from your WordPress website. Allowing your customers to buy and item and pay it off in four equal payments can result in a decrease in abandoned checkouts. The payment process of the WP Express Checkout will still be simple and easy, but when you are located in an eligible US state, selling to a customer who is also eligible for PayPal 'Pay in 4' the additional option to buy now, pay later will be displayed.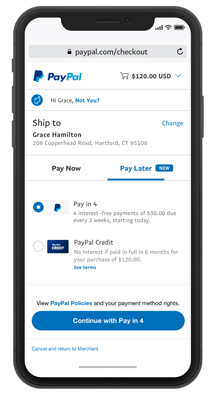 ---
Video Tutorial: Using WP Express Checkout to Offer PayPal 'Pay in 4' Buy Now Pay Later Option
Written Tutorial: Using WP Express Checkout to Offer PayPal 'Pay in 4' Buy Now Pay Later Option
If you wish to offer your customers the ability to pay in four installments, complete the steps outline below.

Please read the T&C's of 'Pay in 4' to ensure you are eligible. The option will only be displayed when a merchant and customer are eligible for this payment type.
Merchant Set Up:
Step 1)
Install and activate the WP Express Checkout Plugin on your WordPress website.
Step 2)
Complete the basic setup required to use this plugin and create your first product.

Since you now have a product available on your website, a customer will be able to purchase the item/service buy clicking the payment button. They can then fill out their details in the PayPal popup window. It is in this popup window that those who are within eligible states will see the option to pay in four installments.
Customer Completing a 'Pay in 4' Transaction:
Step 1)
As a customer you have landed on a product page where you click the payment button ('Buy Now') to purchase an item.
Step 2)
You are displayed the PayPal popup window because the merchant is using the 'WP Express Checkout' plugin to handle transactions on their website. You scroll down and see the option to pay in four installments.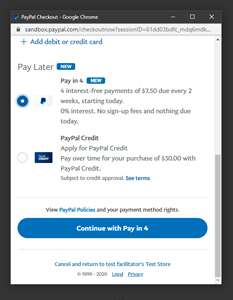 Step 3)
You continue to choose to pay in 4 installments as this will be an easier payment method for your circumstances.
Step 4)
You review how the payments will work and decide to continue.
Step 5)
You agree and apply to be able to use 'Pay in 4'.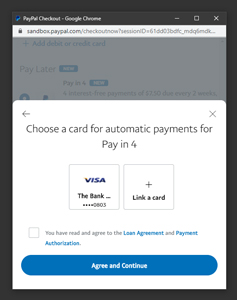 Step 6)
You select a bank card where the four installments will be transacted from.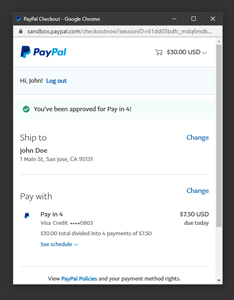 Step 7)
The transaction was successful. The first payment has been taken from your account and you will receive your item/service. You will have three more installments automatically deducted from your chosen bank card.
---