Meet David. David is 28, he recently started an online T-Shirt selling business. He was looking for ways to promote his site to increase sales. Everyone told him to sign-up for a Google AdWords account and use it to advertise his products online. So David signed up for an AdWords account and created some ads.
This is when the problem started…

David realized that his ads were performing very poorly. This was due to the fact that he didn't even have the basic AdWords knowledge required to create successful campaigns.

If your situation is somewhat close to David's then keep on reading as I have shared some tips on how to do well with your AdWords campaigns.
When you first log into your AdWords account it might be overwhelming (at least that was my experience) so try to focus on the important bits first. The first thing you need to understand is how ads are ranked.
How are ads ranked?
The position of the ad is determined by the following simple equation:

Ad rank = Max CPC x Quality Score

Max CPC – Maximum cost-per-click (CPC) is the highest amount that you are willing to pay for a click on your ad. You can set a maximum CPC at the keyword- or ad group-level.
Quality Score – Quality is a dynamic metric assigned to each of your keywords. It is calculated using a variety of factors and measures, how relevant your keyword is to your ad group and to a user's search query.
How to create top quality ads
Now that you understand how ads are ranked lets look at some tips on how you can create top quality ads that perform well.
1. Use proper account structure
Split the account into campaigns then ad groups. The following image and the video explains how you should structure your AdWords campaigns: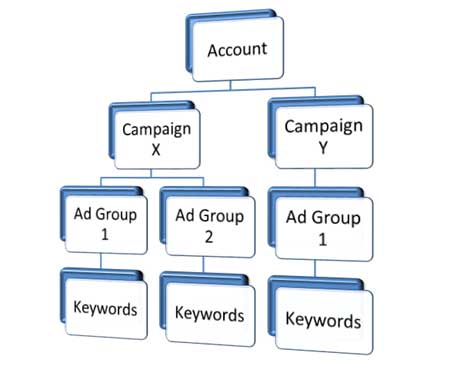 2. Use 5-40 keywords per ad group
This number will definitely vary based on the keywords that you are after but roughly you want to have 5-40 keywords per ad group. There is a 2k keyword limit per ad group, 50k limit for the account.
3. Two or three word keywords work best
To keep up with the dynamic nature of online advertising, you should continue to test and refine your keywords but try to target 2 or 3 word keywords as long tail keywords tend to work better.
4. Be specific
This one is obvious. Try to be very specific with your ad as it will help your quality score.
5. What should be in the ad?
Try to add the following to your ad when you create it as these have been proven to work well:
What the product is (Title of the product)
Special offers (eg. Free stuff)
Call to action (Buy now)
Specific landing page URL not just your homepage
How to review ad performance
Log into your AdWords account then go to the campaigns tab:
Look at CTR, clicks, impression cost etc.
Look at other columns and improve the ones that are not performing well.
Click on an individual ad group and it will bring the keyword specific performance:
See which keywords are not performing well and polish them up.
Pause the ones that are not doing well.
Use rotate ad to see which one works best.
Check the "Network" tab if you are displaying ads on the network sites (not just Google search). You can block some sites if they are not performing well.
How to review conversion
The most important thing is to measure if the visitors are turning into actual customers. Google AdWords lets you track conversions. When you use the AdWords conversion tracking it will show you how many of your visitors actually purchased something, how much each conversion costs etc.
To setup conversion tracking:
Go to "reporting -> Conversions" -> Add new conversion – confirm a few settings.
Get the snippet of code and place it on the "Thank You" page.
If you want to learn more on how to setup the AdWords conversion tracking then read the AdWords Conversion Tracking Setup Guide.
You can link your AdWords conversion tracking with Google Analytics too.
If you are using an affiliate Software such as the WordPress Affiliate Platform then you can use it to track conversions also.
You now have all the basics to log into your AdWords account and improve your ad performance. Don't forget to share your thoughts or tips in the comment area below.